Ochlockonee River State Park, in Florida
Ok, first post to the new camping blog, a companion site to my paddling blog,
Kayak Paddle Tales
. The point of this blog is to give somewhat in-depth information about the campgrounds I visit and the sites I occupy, and to display photos taken while in the campground and on the trails nearby. I don't always camp when I go out paddling in the kayak, but I will pretty much always paddle when I camp. All paddle-related stories and pictures will be on the paddling blog linked above.
This was only my third camping trip, so we are starting near the beginning. Camping season in Florida will run till around April or May, when the nights may get too warm for camping, at least for me...
This was my second trip to Ochlockonee ("Oh-clock-nee") River State Park. This is about 2 hours from where I live, an easy drive, enabling me to get there early. Last time I had site #22, which was excellent from a tenter standpoint--all of these campsite reviews will be from the perspective of a tent camper. I had eyed site #19 last time and reserved it for this trip. This is the most remote site at the campground and the nearest to the river. It's even more remote if no one is in sites 18 or 20, as was the case when I was there. Those two sites face each other. Site 18 is better than 20, as you can set your tent up deep in the back of the site and then park your car to block the view of your site from anyone in #20, and no other sites are visible from there. Another site I can recommend is #16, which is on the main dirt road that runs through the campground, but is sheltered on either side by greenery, and only palmetto plants are across the road from it. I suggest you avoid tent sites 12 and 14--they are filled with attractive scrub oak trees with low-hanging branches but there is almost no ground vegetation in the area.
The bath house at this campground is clean, though it could be more attractive if they had not chosen prison-gray as the color to accompany the institution-green walls. However, there's hot water, soap and paper towels, and spacious shower stalls, so just ignore the poor color choices. The present campground hosts are from Newfoundland and have a large Canadian flag in front of their RV. They are very friendly and helpful.
I got there at about 1 pm and set up camp.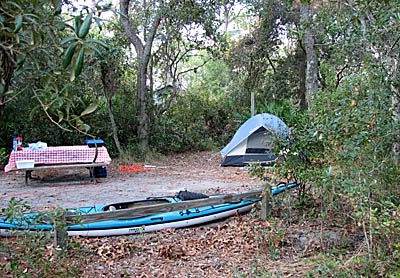 I then decided to go for a walk around the trails. Spotting and photographing deer is one of my main objectives on any hike (or paddle trip). Not an easy thing, though my experience with 3 deer on my last trip to this park indicated that these deer are somewhat used to people and not as skittish as those not living in the woods near a campground in a National Wildlife Reserve area. Both times I have been to this campground I have awakened to find deer tracks in my campsite that were not there when I went to bed.
The land around the campground is all piney flatwoods.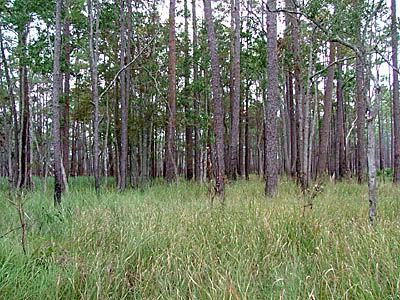 The trails are wide and flat and well maintained. They are not, however, marked in any way except at the entrances. This is a serious oversight. Once you get deep in these woods, on a winding trail, it's easy to lose track of which way the road is. And so when you come to a fork in the trail, or an intersection of two trails, there is no way to know which way to go to stay on a loop that will take you roughly back to where you started, and which way will take you deeper into the woods and possibly to the next town. It's a big forest. They really need to mark their trail intersections. At the head of one of the trails is a paper that tells you the length of the trails. It's .8 miles from one point to the Reflection Pond. I thought it would be nice to see the Reflection Pond. I can now tell you, since I just happened to make the correct turns, that if you leave from the parking lot at the picnic area, you make your first right when you have a choice, and then make a right at the bench (there are all these benches seemingly in the middle of nowhere--probably for hikers who have been wandering these unmarked trails for hours, if not days), you will come to it. If you want to do a sort of loop, then make that first turn a left and you will come back out on the paved road--turning left there will take you to the campground. If you continue on past the Reflection Pond, you are on your own, I have no idea where that leads. But I'm pretty sure you'll come to a bench.
[I mentioned this lack of signage when I checked in at 4:00.]
I sat at the Reflection Pond (there's a nice wooden overlook with--of course--a bench) for awhile, hoping a deer would come by for a drink. No such luck.
One of the reasons I wanted to be at site 19 was so I could take my chair down by the river and have my morning coffee there. So, after a peaceful night's sleep, I did just that.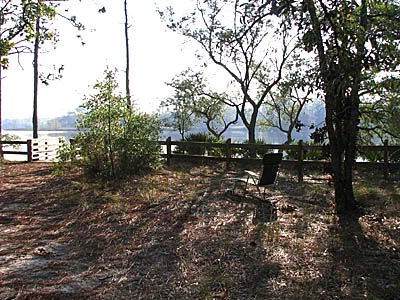 It was such a lovely morning, still somewhat cool (daytime temps for both days were mid-80's or above....still summer here!), and so I decided to hit the trails one more time before breaking camp and getting out in the kayak for the rest of the day.
I followed that same woodsy trail as the day before. As I got near the Reflection Pond, a startled deer took off to my left. I was in mid-stride at the time and came to a complete halt, somewhat like children playing the game of statues. To the right was a mother deer and a younger deer. They had not seen me, they had only registered that the other deer had bolted. Then the mother deer spotted me.
My left foot was forward, with the weight on it. My right foot was behind me, with only the ball of my foot on the ground. The camera was below my waist. And the deer was watching me very closely for movement. I really wanted a picture of this deer.
After standing utterly motionless for what felt like an eternity but was probably only about 3 minutes, my right calf muscle was really fussing. I could hear my watch ticking and smell the powdery freshness of my deodorant, which I assumed was also wafting over to the deer. A small biting fly was having a great time on my ankle. The deer finally lowered her head to graze and I was able to move my feet and get more comfortable. I started to raise the camera.
Surprisingly, the deer started to move toward the path I was on, which would have her crossing right in front of me. Great! I got the camera turned on and watched through the viewfinder for her to come into view.
Got it! She was quite close to me, both of us on the trail. The young one had followed her up to the trail's edge but was wary of getting closer. I decided it was now or never to get a picture of that one.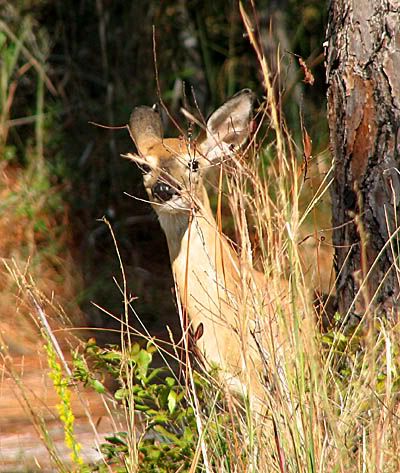 At about this time the mother began stamping her feet at me. This is such a curious thing that they do--does it
ever
work? I felt like I had been standing in one position for hours and I had many pictures, so I started to back away and the two deer went prancing off down the trail.
I went back to the campsite and headed to the boat ramp (see
Paddle Tales
for that stuff).
This is a great park and I highly recommend it. Here's the website:
http://www.floridastateparks.org/ochlockoneeriver/default.cfm
Another camping trip to another destination planned for next week. Stand by for that.