Got to the park early, at about noon or so. I had selected site #44 basically at random and it turned out to be ideal. The only other site I would recommend (this is from a tenter standpoint) at this park would be #11. There were other good sites as well, but those two got top marks from me. They both have 17' square tent pads on them. There is also a tents-only area. I did not even look at these sites as they are true "walk-in" sites--you park in a 6-car lot (there are several of them) and walk through the woods to get to the sites. I'm sure they are wonderfully scenic and no doubt private, but since I have my kayak with me and like to unload that at the site, and I use the car as a combination closet-and-all-purpose-cupboard for my stuff, having it not right there at the site wouldn't work. Maybe it would for you. I set up my campsite before heading out to paddle Lake Wauberg (see the paddling blog for all paddling info, linked below). The sites are spread out nicely and are slightly offset, so had anyone been in the site directly next to mine, they would have been set up slightly forward of me, rather than directly next to me, which I thought was a good plan. The other side of #44 is solid woods, as is the back.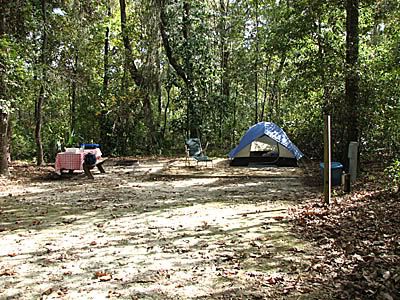 When I got back from paddling, I went for a short walk around the area. I saw some wild turkeys wandering through the campground--took their picture but it didn't come out as well as hoped. When I checked in upon arriving, the ranger said that there were deer "everywhere." I saw this group, and two darted away from me while on a hike, but that's all I saw. In fact, the deer and the turkeys were about it for wildlife spotting.
I decided to drive to the tower that overlooks the actual prairie. This is a very large, spread-out park, unlike Ochlockonee. When I got to the tower area, which is also where the visitor center is, I found a parking lot and a paved trail leading to the visitor center and past it to the tower. It's a nice walk; the visitor center looks new. The tower is a tall structure--there's a picture of it in the "Photo Gallery" section of the park website, which I will link to at the end of this report. It has several levels, with an overlook area on each level. There are bison and wild horses in the prairie. Or so they say.....
When I got to the top, there were 3 people there. Far in the distance were some dark dots that might have been the bison (forgot to take the binoculars...whoops). Other than that....it's a wide open space. Granted, this is rare in Florida, but as an Ohioan, this is somewhat less than compelling or unique to me. Interstate 71 from Cincinnati to Columbus is essentially one long "prairie," and I've seen that enough to hold me for a lifetime. So I didn't linger at the tower.
I started to hike one of the trails near the campground, but it was getting late and I wanted to get in a shower before fixing dinner.
At about 5:30, it got somewhat unpleasant. It was still very hot out from the warm day, and there were hundreds (no, make that thousands) of mosquitoes that descended upon me at about the time my dinner was finished cooking. This sent me running into the tent to eat, since it was not possible to fight that many mosquitoes off, and I would likely end up consuming some of them with my dinner (ew). And of course there's that whole West Nile business to worry about.
So I basically hid out in the tent reading for hours. At around 9 pm I ventured out. I had bought firewood and had even laid out the fire--this was before the mosquito horde arrived. At 9, it was cooler outside and only one or two mosquitoes buzzed around me as I stood by the campfire trying to decide whether to light it. Conditions were less than ideal for a campfire--I was, after all, still wearing shorts and a t-shirt. But still.... it was all laid out... So I lit it.
That worked out very well. The smoke kept the few remaining mosquitoes away, and as long as I didn't sit too close to it, I wasn't overly warm. And there really is nothing quite like a campfire burning in the dark with some night sounds behind it.
Which brings me to the second problem I encountered at this park, and one more permanent than annoying seasonal insects. Paynes Prairie is really close to I-75. This interstate is a busy, major north-south route through Florida. The traffic noise is substantial. I live in a woodsy, rural area far from any busy road. We have train tracks half a mile away, but that's about it for man-made sounds at night. This road noise was a real problem. This road noise is why I will not be returning to this particular campground. If you live in a city or near an interstate, it would probably sound just like home for you, which can be soothing.
So after a less restful than usual night, I got up and made breakfast and decided to hit the trail. I took one that was to lead to a pond (why not?). It was a nice trail that changed as it took me through the woods. It started out sandy, then the ground became harder. It then merged with a road that was grassy underfoot. I turned off of that and was back in the woods, this time walking on pine needles. The vegetation varied from palmettos to tall pines. The trail varied from being one-person narrow to wide open areas.
But the only signs of life I saw were two park employees on vehicles (in two separate places), and these people who had taken their horses to the trail: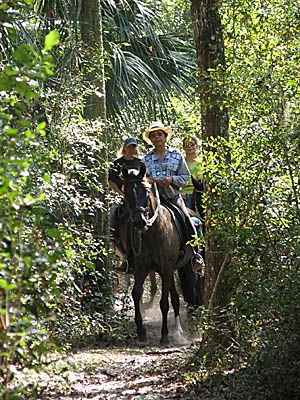 I walked for about 2 hours in total. I never made it to the pond, and since I don't plan to return (it's too far to visit as a day trip), guess I won't be seeing that.
This is a nice park. It's very big and spread out, as I mentioned. The ranger station seems to be occupied during all open hours. They sell firewood there. There was no campground host, but one was due to arrive soon. If you don't mind traffic noise drowning out the quieter night time sounds, I recommend this campground.
The park website is at:
http://www.floridastateparks.org/paynesprairie/default.cfm
For Lake Wauberg and Orange Lake paddling photos and info, visit
Kayak Paddle Tales
.
Next week is Thanksgiving week, so no camping planned, but I hope to get out the week after--when it will be cool enough, hopefully, to sit closer to the campfire.
Stand by.