I decided to ignore the cold weather and head back to this state park for another camping overnight. No kayak this time--it seemed the temps would be too low. My mistake, both days would have been fine for paddling. However, this park has a lot of great trails so I spent hours yesterday and today hiking them, mostly looking for deer to photograph.
This is the state park with the white squirrels, and this one seems to have staked out site #22 as its own. It was never far away.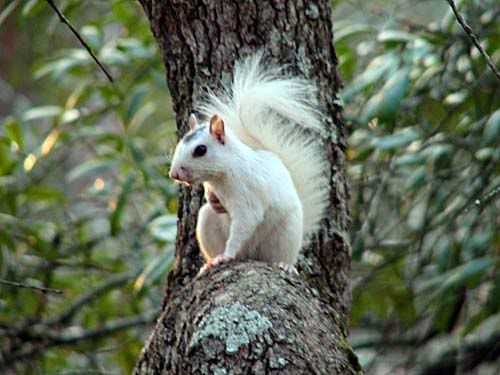 Last time I was here I was in site #18 and I didn't see any white squirrels. There is an earlier post with more information on this campground, so I won't get too descriptive here.
On my way back from hiking yesterday afternoon I saw the same mother deer with two fawns that I had seen on a previous trip here. The fawns are older and a little bigger, though they still have their spots. The mother deer is pretty tame and didn't mind my standing some 7 feet from her (she was in a thicket munching leaves off a tree, no way to get a good picture, though I was close by), but the young ones are still pretty skittish. I did get this one as it contemplated crossing the road to join its mother.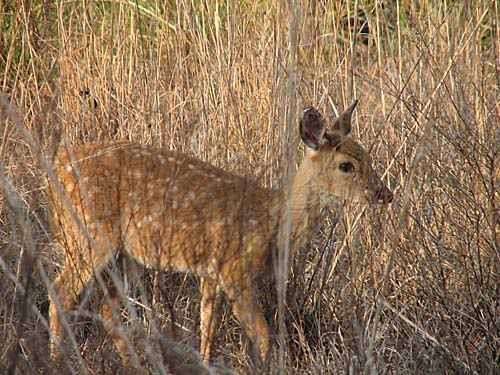 The days were warm enough but it got downright nippy at night. But all the better for a campfire! I did discover on this trip that my ebook reader does not function well at 50 degrees or colder, though.
This morning I went for a long walk down a new trail, one that passes the Reflection Pond. I decided to try out the panorama function on the new camera to see if I could take the whole pond. I should have extended it a bit more to the right to get all the edge, but this isn't bad for a first attempt (and without the camera manual handy so a lot of guesswork went into it):

On my way back from that walk to pack up and head home, I ended up on another new (to me) section of trail. Two deer spotted me and were much more timid than the mother with fawns. I did, though, get this one crossing in front of me. She's pretty far away but I like the way the sun lights her.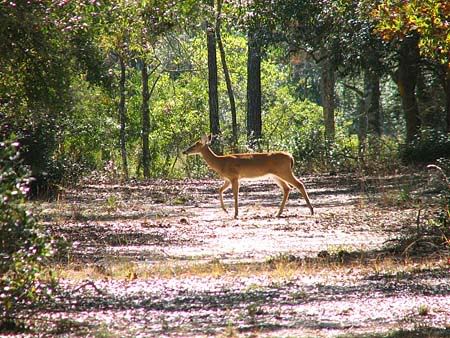 If the weather doesn't get any colder, and I can get a couple of days with no rain or work to keep me here, I will be heading out again some time next week.
Stand by.