This is such a great park! In fact, though I usually only camp for one night, I have decided that my next trip here needs to be for two nights. The paddling is too good to limit the time spent on the water, but it turns out their hiking trails, though not as extensive as at Ochlockonee, are more interesting. More on that later.
I had reserved site #7 with the thought of moving into site 8, which is not reservable. Site 8 is closest to the boat ramp. When I got there, I decided to look around a bit at different sites. Last time I was there, there were more people than this time--when I arrived, only one tent was set up in a distant site. Well! It turns out that site #9 is ideal--it's right on the lake and next to the pier. It's a little close to #10, which is their only RV pull-through site, but this time of year, particularly on a weekday, there's a good chance 10 will be empty. It's also set a bit back from 9, so even if someone were there, they wouldn't be right next to you. So I checked to see if #9 was available and got the ok to set up there.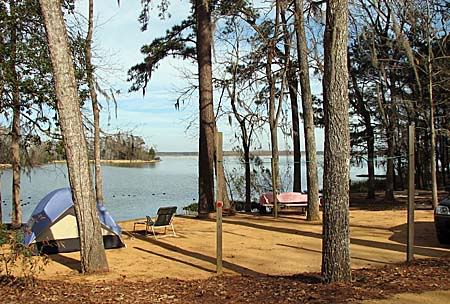 I paddled for a couple of hours and then at about 4:00 headed off down the hiking trail that leaves from the campground. I came to an unmarked fork. I went straight--it comes out at the boat ramp. I turned around and decided to take the other route. But by then it was 4:30, I had no idea if it was a loop, and if it
was
a loop, was I 1/4 into it, halfway through it, almost finished? The sun was getting lower so I decided to head back to the site.
Another excellent feature of site 9 is that you can launch and take out a kayak right at the water in front of it, no need to go down to the boat ramp (which is close, anyway). It offers a lovely view for dinner, as the sun goes down and turns everything golden: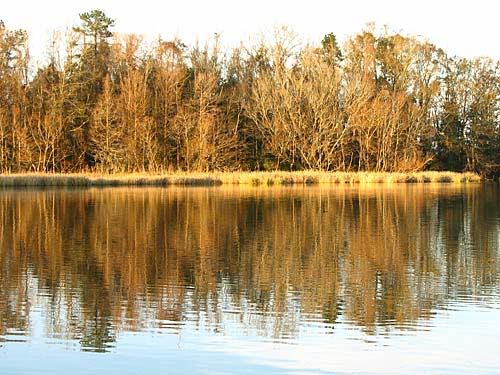 After dark I discovered one small flaw with this site. The bright security light in the center of the campground beams into it. If you have an RV or truck camper, this would not be a problem, but it lit up the tent in a big way! So I spent some time trying to resolve this problem. My first thought was to take off the rainfly from the tent and double it up and drape it over the back to block the light (this light might not bother someone used to sleeping in a bright environment--it's pitch dark where I generally sleep). So I took the rainfly off...only to find that the light came in equally on one side as from the back and the fly would not cover all that when doubled up. I put the rainfly back on and considered draping a fleece throw I had over it. The throw was not large enough. (Fortunately there were no campers near me to witness all this.) So I had to go to Plan C, which was to pull up the stakes and move the whole tent forward, which left enough room to pull the car up behind it to totally block the light. That worked fine, and next time I will know where to position the tent in the first place to eliminate this little problem.
After all that activity, I was sitting by the campfire enjoying the flames. I was about 6-7' from the picnic table. As I sat there, I saw two raccoons approach from the lake side, well illuminated by the fire and the security light. One walked under the table and beyond to investigate the kayak paddles I had leaning on a nearby tree. The other got up on the table. All the food I had with me, as well as the cooler, were in the car. The raccoon rooted around up there for awhile through the stuff spread out on the table (a hand towel, pot lid, washed bowl, etc.), apparently totally unaware of my presence. It finally got bored and they wandered off and I went back to enjoying my campfire.
The next day I paddled for awhile and then decided to pack up the tent and explore the Eagle Trail, which leaves from the picnic area.
It's a wonderful trail!!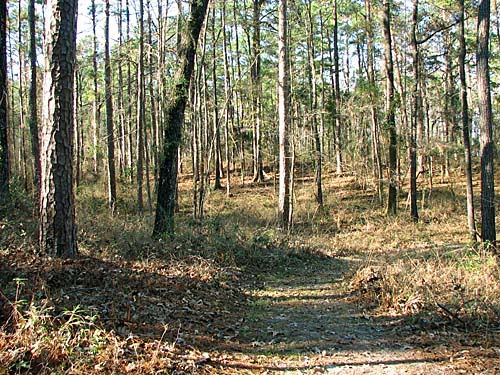 This part of Florida is oddly hilly (though the photo doesn't show this aspect). This makes for very interesting hiking. Walking along shallow ravines and hills gives you much more of a landscape view than walking in a perfectly flat area. They say that there are fox squirrels here, which, in the pictures they provide, resemble the white squirrels at Ochlockonee. I didn't do the whole trail but didn't spot any this time. Next time I will be able to cover more ground since I won't be trying to fit everything into a period only a little longer than 24 hours.
I decided to walk through the spacious and open picnic area, which is right on the lake, to look for squirrels--mostly I was postponing leaving for home. As I was walking near the lake, I saw this: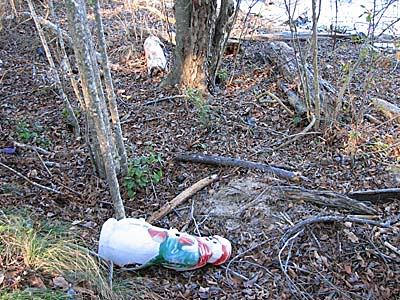 Was this poor snowman the victim of foul play? You decide.
It's likely that this park will be my next camping trip destination if the weather is suitable for paddling. With more time I will be able to get out in the kayak
and
explore their trails to a greater extent. I saw deer tracks over most of the Eagle Trail--maybe I can spot one next time.
Visit
Paddle Tales
for the kayaking report from this trip and wildlife and scenic pictures.
The website address for this park is
http://www.floridastateparks.org/threerivers/default.cfm
Stand by for the next camping trip report.