Well, ok, technically I was camping at Three Rivers State Park. I have been here before and this trip was no different, camping-wise, from the previous ones blogged here. No new pictures, pretty much the same experience (though wonderful—this is a great campground).
So I packed up the campsite this morning and since it was too windy to paddle, I decided to check out Torreya State Park as a camping destination, and also as a place to hike. I have heard very good things about their trails. This park was a couple of exits off the freeway on my way home.
I went to the campground first. It has more greenery between the sites than Three Rivers does, but it is oddly planted. It's thick toward the road, but nonexistent near the back, where one would put a tent. This is another campground that is very RV-oriented, where privacy is not an issue. Since there is no paddling available here, I think I will back-burner this spot till fall, when it is too cool to paddle but ideal for hiking. At that time, I will choose between two sites. Site #30 (the only one available on this day, interestingly) is the best for tenting as far as privacy. It would be fine. It's across the road from the one yurt that this campground offers. On the other hand, site #17 has its appeal as well. It has basically no privacy, but what a view! This was taken from an overlook that is immediately adjacent to site #17. I wouldn't mind setting up a chair to have my morning coffee overlooking this hilly vista that is peculiar to this area of Florida!
I decided to go for a hike on one of the many trails that this park has. Given the hilly terrain, these trails provide excellent exercise. I understand that one of them is known as the "Torreya Challenge"—a 7-mile hike. I opted to take the River Bluff trail, which drops down a ravine to follow, for a short way, the Apalachicola River. What a pretty trail this is!
At the start of it, you are above the river, looking down at it.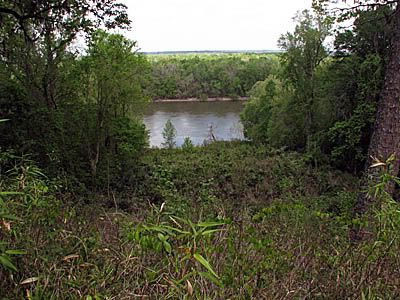 The trail winds downhill, using both man-made steps and tree roots to offer footing in the steeper parts. Eventually it gets close to the river and offers some super views.
I was the only one on the trail, so it was very peaceful. Yellow wildflowers are scattered all along the way.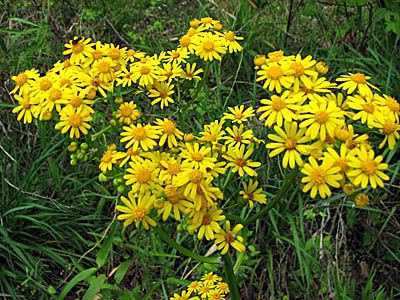 This particular trail is a relatively short one, taking about 45 minutes to an hour. This was a warm day and there were a few mosquitoes out and about. It may get a lot more buggy in summer.
As a viewer of the TV show "House," I got a kick out of these signs, of which there were many:
In this case, however, Gregory House is in fact an actual house (rather than a cranky doctor), a Victorian mansion that was moved across the Apalachicola River piece by piece and reconstructed in the state park (I don't know the particulars—tours are available on weekends and there is a visitor center and gift shop, which was closed when I was there). This is the back of Gregory House:
The River Bluff trail starts behind the house, and in fact the photo above looking down on the river was taken from the back of the house.
This is a fine park that is located in the only area of Florida that is actually hilly instead of flat. Great campground as far as the view from the overlook by site #17. The bath house is very nice with two hot-water showers. They have something I have not encountered before in a campground, which is large sinks with hot water that are provided for washing dishes. That's nice!
I plan to get back out camping again in a couple of weeks, stand by for the next report.