Another great camping trip to Three Rivers State Park! I didn't blog the last trip here since it was essentially the same as the one before, as far as the camping experience. Hike, paddle, campfire, sleep, breakfast…and repeat. It's great. Our season is winding down and I will be sorry to have to put the tent away till fall.
This time was a little different for two reasons. First, it's April, and therefore it's spring vacation somewhere, all month. As a result, there were children in the campground this time. This was novel; usually, since I camp mid-week during the school year, I am actually the youngest person in the place (and I am no spring chicken myself). But this time there were boys and girls having a great time on their vacation, and I enjoyed having them there. They rode bikes—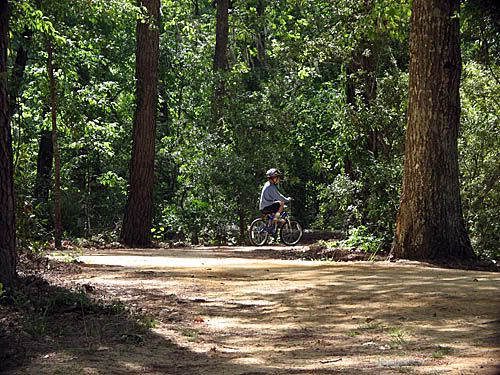 and they were out on the pier late at night with flashlights fishing. They had a good time.
The other thing that was different this time is that April-June is gator mating season. It was eerie—all night they could be heard all along the shoreline (and I was in site #9 so I was right at the shore) grunting at each other. Very strange; a little alarming at first but I got over it.
The squirrels at this campground are like those at others—very tame and used to being fed by campers. I had a regular visitor this time who seemed partial to Planters peanuts and partial to me when it discovered I was willing to share. I'm not usually a huge squirrel fan, but this one
was
kinda cute…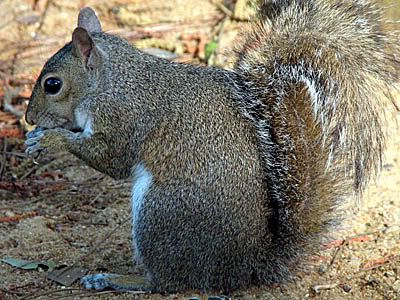 Hopefully we will have enough cool nights left for me to get back to this park one more time this year. I hope to also get back to St. Joseph Peninsula State Park as well. Stand by to hear about those trips. Meanwhile, the paddling portion of this trip is posted on
Kayak Paddle Tales
.