Ah, the first new post in this blog for quite awhile! I did go camping at Three Rivers again earlier this month, but it was so similar to all the previous trips that I did not blog it. I have several new campgrounds in mind to visit this camping season so this blog will finally have some new posts!
Trips to campgrounds for the first time are not my favorite outings. There are a lot of unknowns. This campground has over 90 campsites in two loops (I think there is also a primitive campground and a youth campground). I had reserved site 91. I asked when I checked in at about 2:00 if I could look around and if I prefer another site, change. The woman at the entrance said yes and told me some sites that were available for my two nights.
I did not like site 91. It was in Hickory Loop. I decided to explore Magnolia Loop, across the road. Most of the sites are there, and they have some tent-only sites (with power and water). I wasn't too far into the campground when I spotted a large group of deer just milling around in the wooded center part.
I spent some time photographing them—they were curiously unafraid. Then some dogs nearby spotted them and started barking. I discovered that the only residents in this area at that time were two tenters across from each other. One of them was an older guy with the two dogs. I have several barking dogs of my own at home and so I didn't want to be anywhere near barking dogs on this particular trip. But I wanted to be in this loop because of the deer. So I chose site #44, as far from them as possible, and set up camp.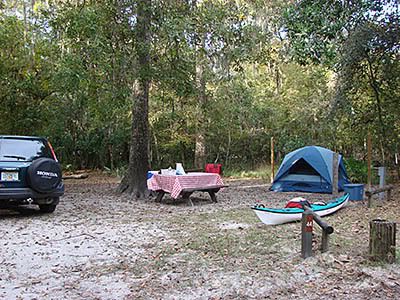 At about 3 pm, as I was finishing, the older guy walked by with his two dogs. Well, actually, he staggered by, pretty clearly inebriated. This wasn't encouraging, but the tent was up and he was staying all the way across the campground. And I figured I could take him if he bothered me… So I finished setting up camp and had a late lunch. At 4 pm I decided to walk over to explore the spring area. As I was passing by the dumpster near the entrance to Magnolia Loop, I saw this older guy throwing a six-pack's worth of empty glass beer bottles in the dumpster one by one. Hmmmmm…it was only 4:00. And he was with someone else, who was an unknown as far as age and demeanor but could very well also be drinking at this level at this time of day. My husband and I have an agreement that we will do our best to stay alive and well in order to fulfill our plans for the future together, and I didn't think he would be real happy knowing that I was sharing this entire campground with these two. I went back to Hickory Loop and selected site #82. A ranger was driving by so I explained the situation and asked him to radio the entrance (which is some distance from the campgrounds) to see if #82 was available. It was. So….back to #44 to take everything down and toss it in the car. It took three trips to get it all moved and it was 5:20 before I was set up again—only to find that site #82 had no power in the outlets! I always check that first thing, but this was not a typical situation. The rangers all leave at 5:30 and lock the gate, so I hurried back to the entrance and told the woman there about the problem; she said she would send someone. This was not a huge deal—I carry a 100-ft extension cord that would easily reach the outlet in site #83, and I knew this. No one was in site #83. Site #82 was wonderful. However, I later decided that #83 is a little better, and #84 better still—but none beyond that as the bath house floodlights shine brightly into them. The nice thing about #82—and I recommend any of those three—is that there are large empty spaces (brush, trees, etc.) on either side. However, it is directly across from the campground host site. While there is less space between #83 and #84, it is across from grassy parking spaces and not other sites. Also, it is a little better distance from the bath house—not far, but not right next to it, either. At any rate, I was extremely happy in site #82. I was the only tenter in the campground but there were several RVs set up.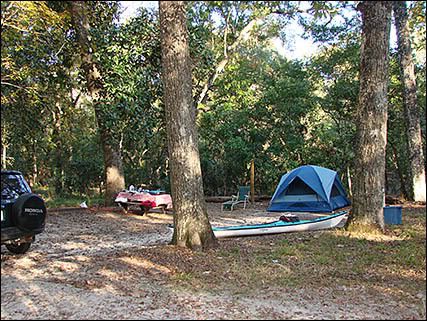 Ok, so anyway, that's how my first day went.
That night I had raccoon visitors while I sat by the campfire. One of them came over to me and actually walked right under the footrest part of the chaise-type folding chair I was sitting in. It then stood next to me on my left, as if it were going to jump in my lap like a cat. This might not be great, so I said "Hi…" to it, in case it didn't realize I was animate. It wasn't particularly startled but did wander away. More on them later.
I could hear the dogs from Magnolia Loop barking in the distance through the night.
The next day I took a walk to Manatee Springs. There is a boardwalk that circles half of the spring area and then continues alongside the "spring run," a channel that leads to the Suwannee River. The water was, of course, a bright turquoise, made even more vivid by the reflection of the bright blue sky.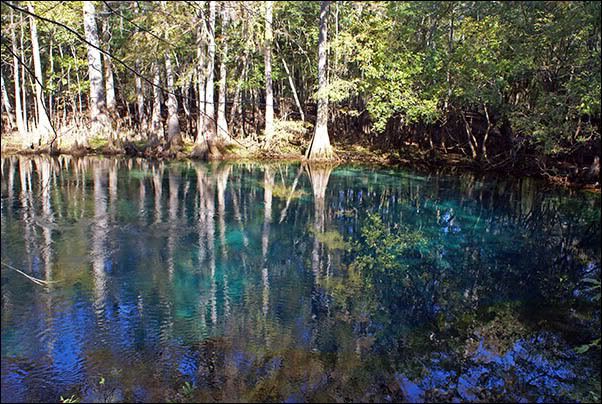 I walked along the boardwalk, which juts out over the water at intervals.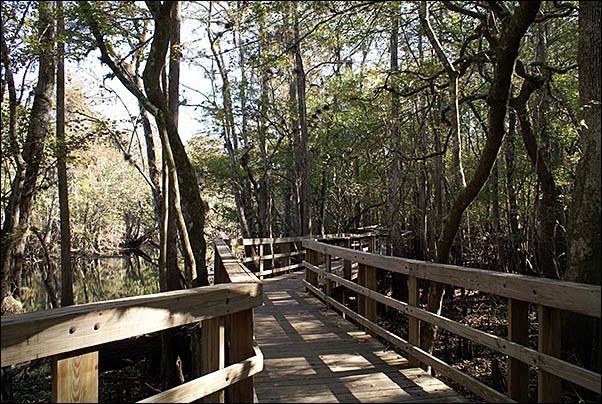 On the other side is an expanse of cypress knees. The boardwalk is very well-maintained and ends at a large dock on the river.
When I got back to the campsite, the deer were in Hickory Loop. The story from the ranger is that the campers have been feeding the deer and so they have become somewhat tame and that's why they hang around. While I agree completely that this is not a good thing—how many people carry appropriate deer food (as opposed to potato chips, etc.) with them on camping trips?—I can't help but enjoy being so close to them.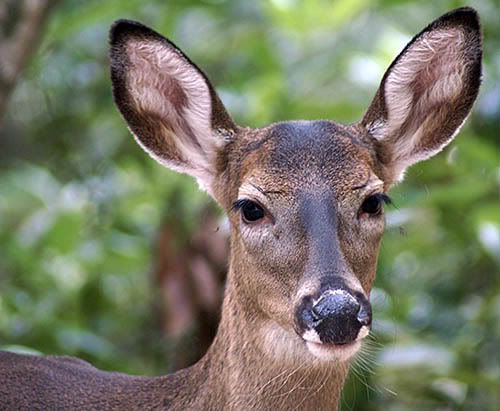 This one is looking at me but its ears are listening to something behind it…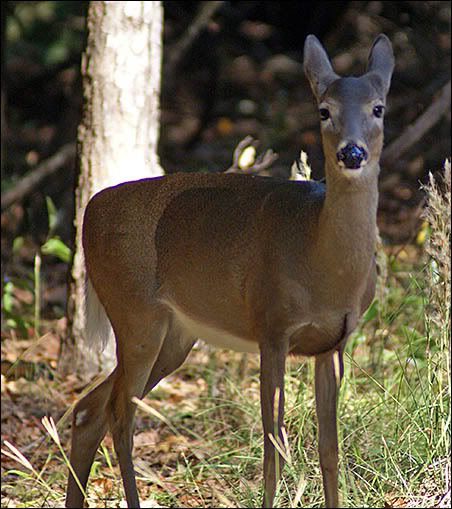 I went out paddling for a few hours. As always, that story and accompanying photos are on the
Paddle Tales
blog.
When I got back I decided to go for a walk along their somewhat short nature trail. It's short but it is very nice. I usually go on these hikes hoping to see deer and raccoons. However, the deer and raccoons were in the campground. This is the only wild animal I saw on this hike.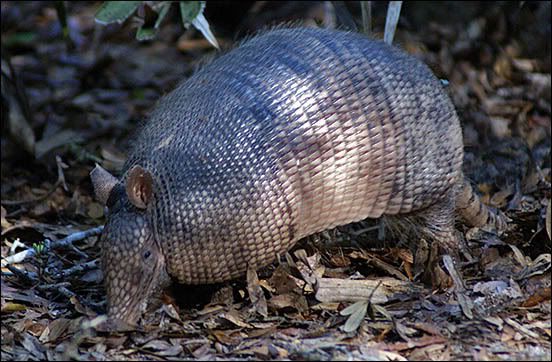 (It's an armadillo. These are extremely common in the southeast states.)
Behind site #82 is a strange depression with water in it. I asked the ranger about it. There are water-filled caves under the park. Apparently divers will start someplace—probably the spring—and swim through these caves. He said there were three holes like this where they would come up, and then follow the caves to the next hole. I didn't see any divers, but it was very clear that there were springs under there as the surface water was moving in a way that indicated upwelling water.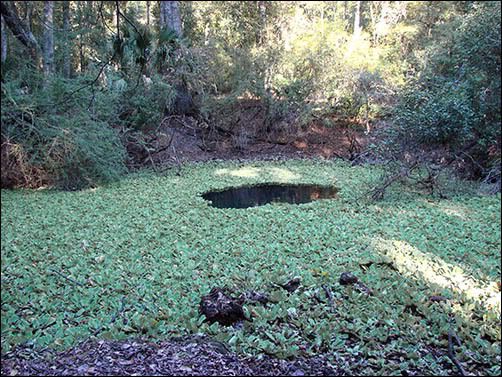 So the next night I was ready for the raccoons. I had the flashlight and the camera next to me. I sat by the campfire. Sure enough, here they come again.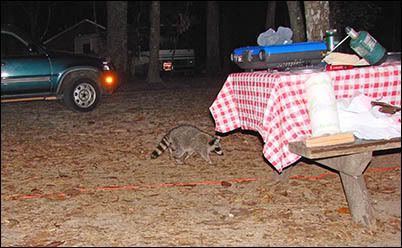 One of them explores under the table while two others check out what's on top.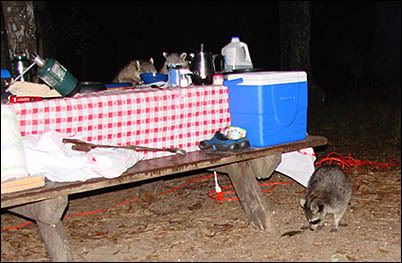 And then, at about the same time, the raccoon and I both realized that there was a trash bag on the picnic table bench. Whoops!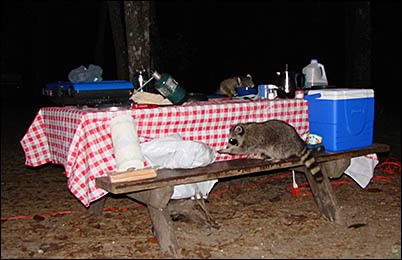 It grabbed it and dragged it away while I went after it to retrieve it. I won, and after picking up the trash that had scattered, put it in the car. And went back to the campfire.
I knew it would be back.
Where's that trash bag?
This one thought there might be something good in the kayak.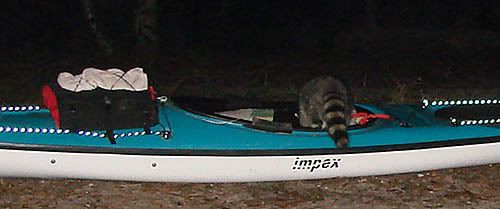 (It looks like I have strung it with Christmas lights but that's just the reflective deck lines showing up under the flash.)
I spent some time that last day wandering through Magnolia Loop checking out campsites. After all, the old guy and his dogs and his beer are not always going to be there. Here are some notes I jotted down about good tent sites. These may not be great for RVs, I wasn't looking with those in mind. Site #2 is private and roomy. However, it is far from the bath house. In fact, all of the best sites seemed to be far from the bath house in Magnolia Loop (which is actually two loops, an inner and outer). Sites 26-38 are for tents only, all with water and power. #26 was good, as were #29 and #34. Site #36 had a raised tent pad, as did #37. (Others may have as well, but I was only noting the ones with enough greenery on either side to afford privacy.) #83 and #84 remain my recommendations for Hickory Loop. Also, the trail leading to the spring is between sites #93 and #94 in Hickory Loop, so those sites will get more people wandering by. All of the sites at this campground are dirt and sand—no gravel sites. The bath house in Hickory Loop was surprisingly minimal—no soap dispenser at the sinks and no paper towels. The shower stalls are very small with no outer area or bench to put your clothes on—only the handicapped one was of any size. I had no cell service there, but both loops had pay phones. There were posts for clothesline but no actual line strung at any site, so if you want to hang towels, etc. up to dry, take your own line. This park is located at the end of a road far from any interstate—there was no traffic noise at night whatsoever.
It's a good park. I hope all the other ones on my list turn out as nice. Stand by for my next camping report.