This park moved up to the top of the list when I found out that they are draining their lake on December 9. It will stay low through the end of January. So it was pretty much a matter of going now or putting it off for quite awhile. I decided to go now.
This park is only about an hour away from where I live, but I had never been there before. I find that the webpages for Georgia state parks are less informative than those for Florida parks. Also, they do not allow you to reserve a specific site—you can reserve
a
campsite and when you get there just hope all the good ones aren't taken. Of course this is not much of a concern in the middle of the week this time of year. I read a review of this campground written by an RVer, who mentioned that the campground had been recently improved and now had gravel sites. I called the office last week (which is when I found out about the planned lake-draining) and was told that tenters were allowed to set up off the gravel, and that they had several sites ideal for tenting.
I got there around noon, as usual. There are actually two campground areas. There were a few RVs set up, almost all of them in the open middle section. I looked at all the available sites and found several that looked good. I settled on #11, which I think is the best tent site in the campground.
As you can see, there is a rectangular gravel area for an RV, and the square area to the left is also mostly pea-gravel. However, the rest of it is pine-straw-covered dirt. I decided to also take a picture of the tent area. Very nice and woodsy. The sites on either side are drive-throughs and so are set much closer to the road than this one.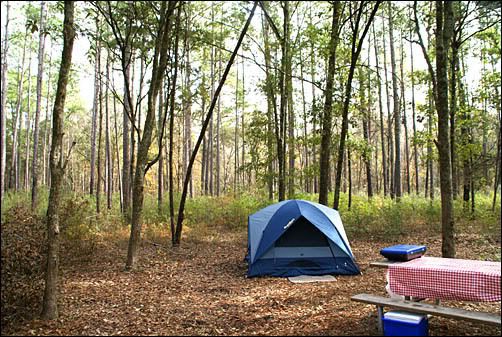 While the view from the site is of the open center area, #11 extends far enough into the woods that it allows a certain amount of privacy from those in the center.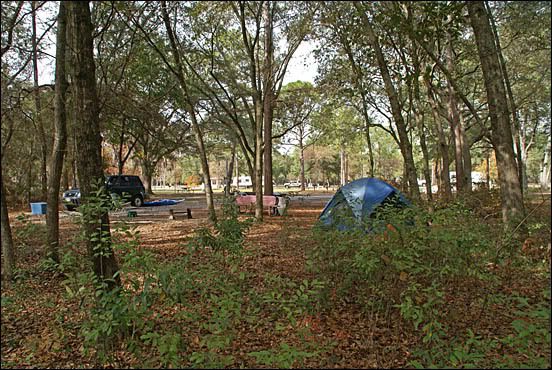 It was overcast for essentially the entire time I was there, except for the mornings. Both mornings started out with blue sky and a few clouds, but by 10:00 the gray clouds were back. It rained both nights, which delighted me since I was warm and dry in my tent and the pattering sound of drops on the rainfly was wonderful. This is the first time it's rained on this tent and I found that I could leave all the windows open and stay dry. (Probably not the case if there's wind, though.) I was glad that my tent is large enough to accommodate a chair as well as the bed, so I could read in the early evening while it rained.
The daily threat of rain put a bit of a damper on my paddling outings, but did not change my hiking plans. They have really great hiking trails at this park. I chose the longest one, 2.5 miles, for my first hike. All of the pictures from this trip, both here and on the paddling blog, are a bit darker (let's say
more dramatic
) than usual due to the lack of sunshine.
The longest trail leaves from a parking area at the end of the park road. Shorter trails branch off of this one. I often refer to park trails as being "well maintained," by which I mean there are no fallen trees, no trash, low areas that might fill with water are either covered with a walkway or a go-around is provided, etc. The beginning of this trail takes "well maintained" a bit far, given that it is
gravel.
That goes on for awhile. I had hoped to perhaps see some deer, but walking on gravel is very noisy so I just enjoyed the scenery.
And then after awhile it becomes a boardwalk that is raised off the ground.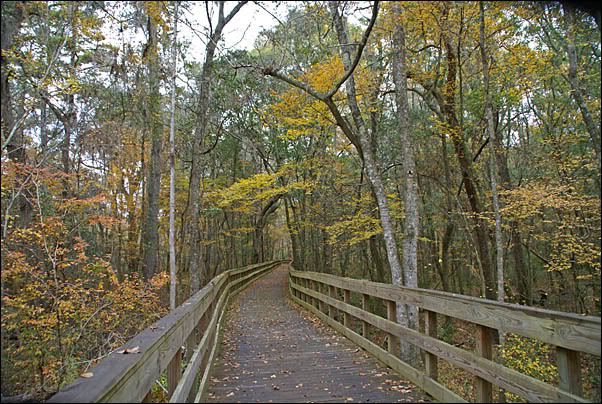 This boardwalk goes over marshy, swampy areas that at this time were only partially filled with water. Given all the warnings posted around the park about gators in the lake and river, including a picture of a resident 15-footer, I expected to see at least one in what looked like a perfect environment for them. No such luck. However, the boardwalk is very scenic, particularly now with some fall color remaining.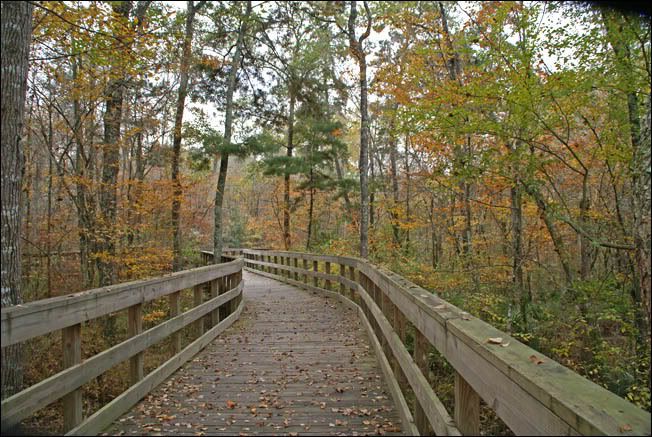 So then later the boardwalk ends and the trail becomes a normal dirt path that runs right next to the river (a few feet away), with no fence or other obstruction between the trail and the water,
in which resides the 15-foot gator
.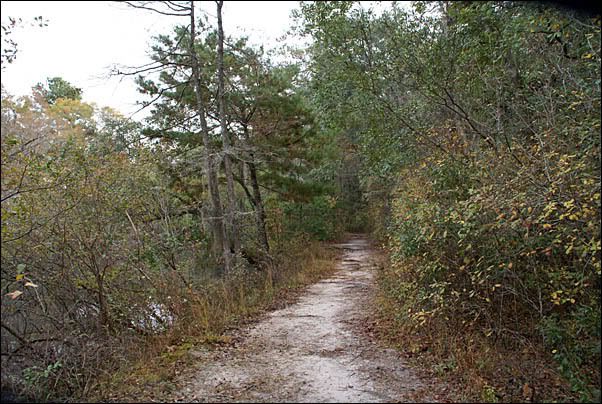 That goes on for a way. I was glad when it veered off into the woods. I have no worries being in a kayak on the same water as a gator; I'm not as comfortable on foot.
These trails are extremely well-marked, but I came to an intersection that had no colored arrow or sign of any kind. I took the path to the right. Next time I'll take the other path. The one I was on turned into another boardwalk. Another feature of these trails is the regular spacing of benches along the way. I thought this one was particularly nice: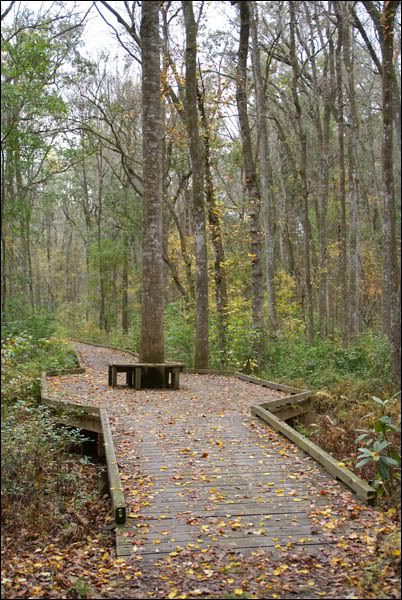 Eventually I returned to the parking lot. This park has a lot of gopher tortoises. On my way back to the campground I passed a large section that has many, many dens or holes or whatever they are called that these tortoises dig. On the left I saw a tortoise just outside the entrance of one, but by the time I stopped the car, parked, and got out, it had retreated back inside. Later I came back on foot and walked slowly alongside the area with many holes dug out—the wildlife people had marked them all with different colored flags (some sort of monitoring project). I spent a lot of time walking slowly back and forth but never saw even one tortoise, except that one I spotted from the car. Later I walked the half-mile "Gopher Tortoise Trail," which is very nice but revealed no gopher tortoises to me. In fact, the only wildlife I spotted on land in the park was the armadillo that visited my campsite after dark one night.
The paddling at this park was excellent, as described in the
Paddle Tales
blog. I recommend this park as a camping destination. There are hot showers, flushing toilets, and a washer and dryer available. There are bikes for rent, as well as canoes. While I would not choose to come here in summer, it offers a lot of activities—there is a swimming beach and a miniature golf course. This is a popular water-skiing lake and so the paddling would be bad in summer. I also suspect that the bugs would be a major problem—I had mosquitoes coming around after dark even at the end of November. It's a good off-season spot, though. There is a large catfish restaurant immediately outside of the park gates. The town of Adel is about 6 miles away and has various things to offer, including a few outlet stores, if you enjoy mixing shopping and camping.
The next trip is planned for two weeks from now; another new place. Stand by.