I have been planning a trip to
St. Andrews State Park
for some time now. I saw a photo in someone's Webshots album of site #108 and realized that I could launch the kayak right into the Grand Lagoon
from the site
, which is fantastic. However, this is a very popular park and only a few sites are set up in such a way that launching from the site is possible. In fact, those sites are 106, 108, 110, and 112. And, being waterfront, they are popular. But finally #110 came up available for two nights.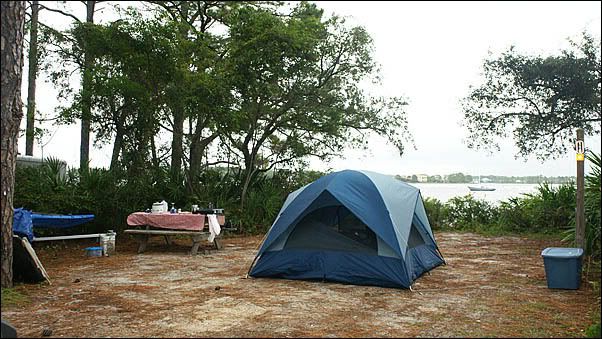 As with the recent NC trip, I had rain nearly all day of the 2 days I was there. But in between drizzles (never a real downpour, just enough to keep you under cover) I was able to get out and about. For a few hours on my only full day there there was beautiful blue sky and sunshine. Photos of birds are posted on
Paddle Tales
(even though I never did actually get out in the kayak).
The campground is located on the lagoon. The Gulf is only a short drive away within the park--you could certainly ride a bicycle there, and possibly walk to it as well. During the sunny part of the day, I drove over to the Gulf. It was in a form I have rarely seen--the surf was very high (it was very windy) for as far out as you could see. I noticed that it was breaking over a rock jetty and so I braved the wind and sand to walk down and get some (many) photos of it. Again--we just don't see this that often along the Gulf (during non-hurricane times).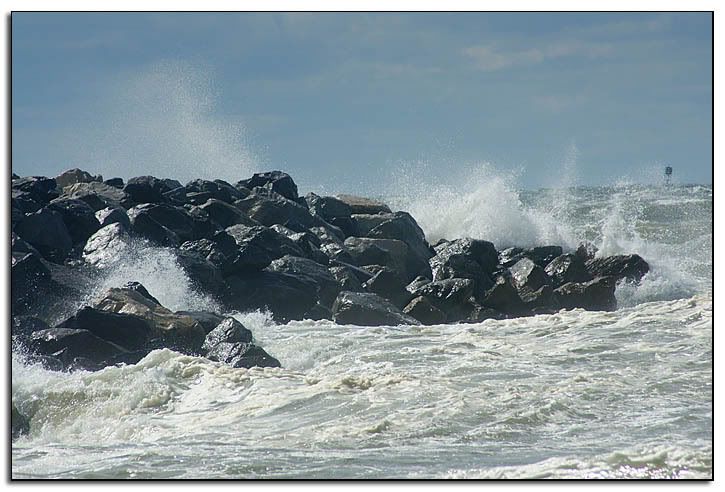 That jetty is at the end of a point, which is where the Gulf runs into the lagoon. I walked around the point and discovered a beautiful beach stretching along the lagoon. The difference in the water was amazing. This was taken about 15 minutes after the photo above, only a short walk around the point: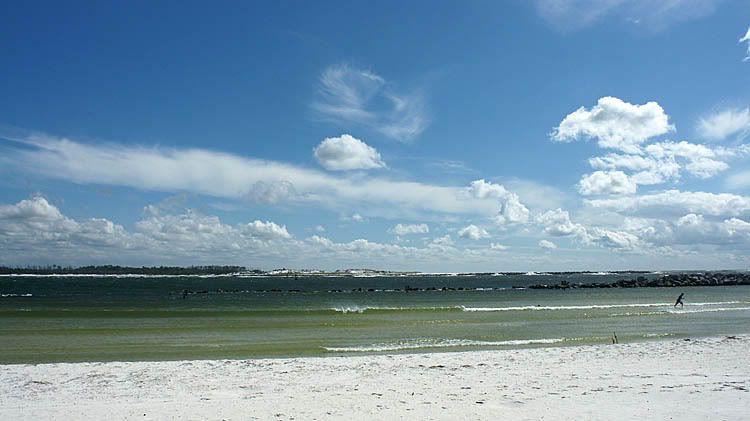 Here's how that same beach on the lagoon looks in the other direction--away from the Gulf and toward the campground: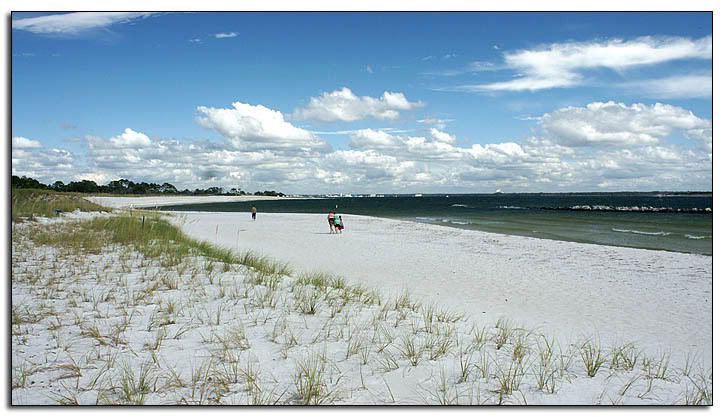 I would imagine that this area gets extremely crowded on early summer days before the real heat hits but when everyone is tired of winter weather. It's well-maintained, you have a choice of the Gulf or the calmer lagoon, there are rest areas and changing rooms. There are many picnic tables under shelters that overlook the water.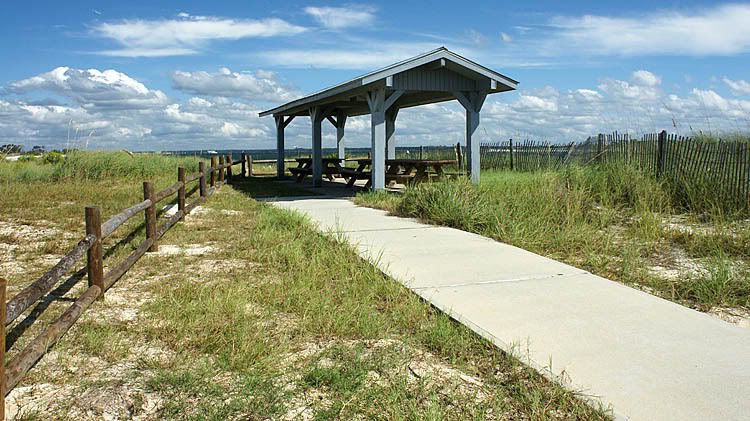 I went back up to this same area later as the sun was setting.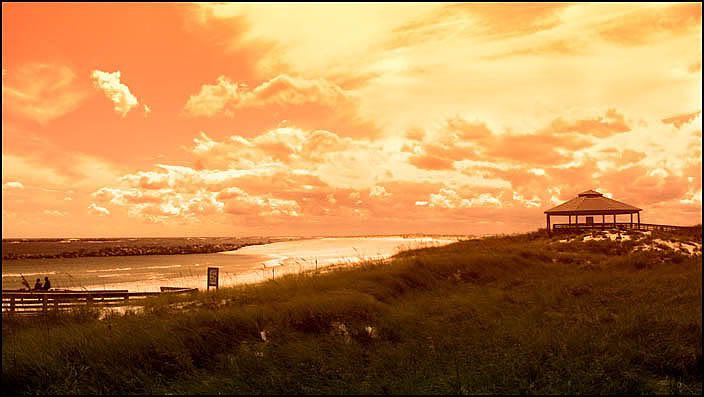 I like this campground a lot and plan to return soon. There is enough to do that I may leave the kayak at home next time.
Captain Anderson's
restaurant, a favorite in Panama City, is extremely close by, along a drive that does not include any heavy traffic. The
Treasure Ship
restaurant is even closer to the campground. The campground itself has a large playground. The bath house is roomy and was very clean (great water pressure, too). Some sites are covered in gravel so tenters will want to be aware of that when reserving. The sites are small, which is ideal for tenters or those with pop-ups or little trailers. The people in big rigs were a bit cramped in some of the sites. This campground has been there so long that thick vegetation has had time to grow between sites. I had low palms on either side of my site that totally blocked the views on either side. Even-numbered sites from 106-112 are long and narrow. Simply parking my car in the entrance also gave me privacy from the road side. The view across the lagoon is of condos and other developments. However, not only did I hear a great blue heron squawking as it flew back and forth at night, but one day at about 4 pm I was checking the crockpot to be sure that it was still cooking in the rain and a great egret
walked into my site
. I held completely still. It wandered around, getting to within about 10 feet of me. It was wonderful. I saw deer twice while driving back and forth to and from the Gulf. Interestingly, I saw no raccoons in my site at night, which is somewhat rare. So, although the surrounding area is highly developed, wildlife is present in the park. The campground was nearly full the entire time I was there, which was midweek in late October (a time when many campgrounds are less than half-full). There were only a few other tenters.
I recommend this campground.
While I was at the Gulf on the first day, I saw several kite surfers in the water and took some photos of one, which I compiled into a slide show, which is posted in the
Photo Miscellanea
blog.