I decided to return to this park to camp since I haven't seen deer for a while, and I know this is one of several parks where they are relatively easy to spot. The good news was that I finally had a camping trip without any rain! The bad news was that I was there on the two coldest nights we have had this fall, with temps dropping below freezing with "patchy frost." Just what you want in a tent. But it was dry!
It warmed up during the day though to excellent hiking weather. This was my first deer sighting. She was in a group of about 5 does.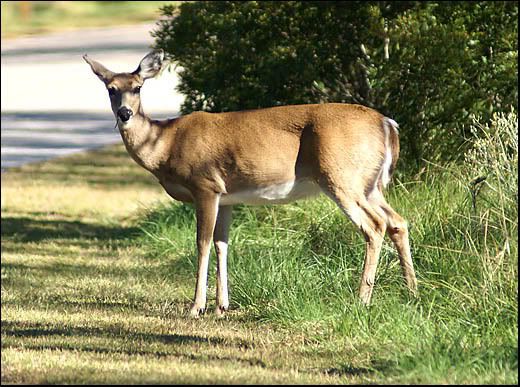 This is the campground with the white squirrels, though I only saw one on this trip. He was darting here and there through an empty campsite.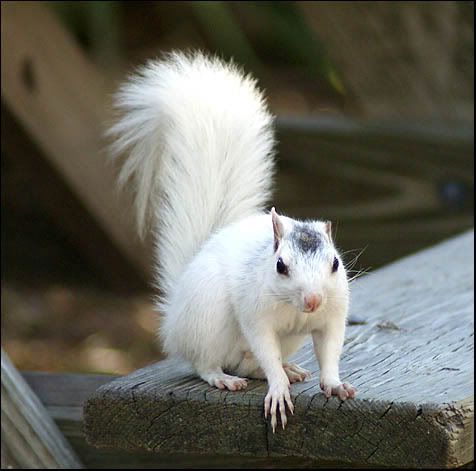 ---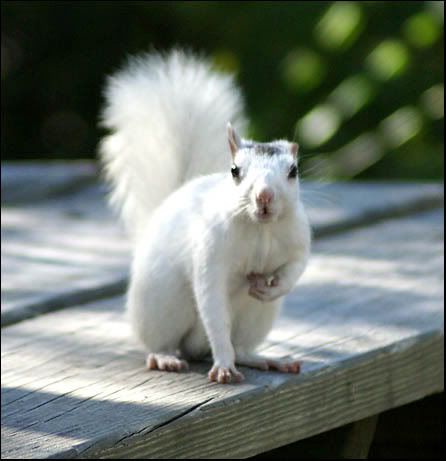 What? Is there something special about me?
I spent a lot of time on the hiking trails and sitting by the reflecting pond. The scenery is so pretty throughout the piney flatwoods that the trails meander through that it was thoroughly enjoyable even if the deer were napping and out of sight. There are a lot of wildflowers blooming,
as well as these puffy things (no idea what they are... but they are pretty when the sun is low in the sky):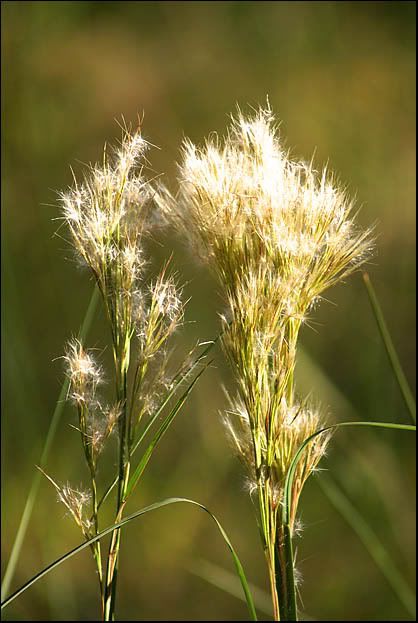 The second day I was there I headed back out to look for the deer at one of the best times to see them, which was around 4 pm. I'm sure early morning was also an ideal time, but a tad too chilly for me to come out of a warm sleeping bag for anything less than Bigfoot himself.
One of the does in the park had 2 fawns with her. On this walk I spotted her in the woods just a short distance off the trail.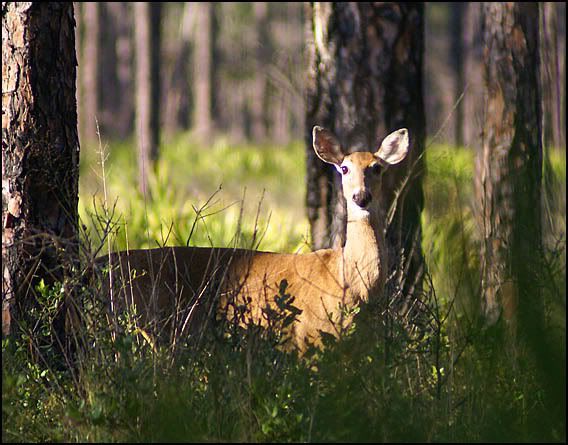 One of the little fawns was behind her and looked back at me as they moved off into the woods. Check out those ears!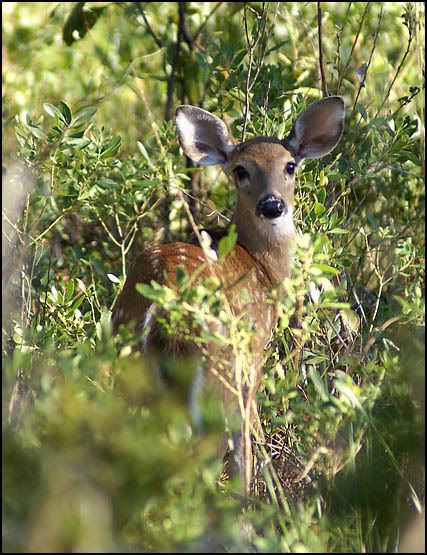 I stayed in site #16 this time, which is one of my favorites, but I believe that I might try #29 next time. The disadvantage is that it is right by the road, it's the last site in the loop, but an advantage is that I saw deer tracks in the sand of that site and I suspect that the deer often come in off the road as far as the site, which could be interesting.
I have my next three camping destinations all planned, but after 2 very cold trips, with one also rainy, I may wait for this cold snap to end, hopefully soon.