Time to try a new campground! I have been reading the few reviews of this campground that exist and while they varied a bit, it seemed worth a try. Very pricey for the sites along the Suwannee River at $44 and $48 a night, depending on the site. The interior ones are less. I wanted to be on the river, so I chose site #13, a $44 one. The photos on the campground website (
yellowjacketcampground.com
) are very deceptive since they show two views of the same two sites, #1 and #3 (#2 is offset somewhat from those two), the only two sites with an unobstructed view of the river. The rest of the sites are set back from the river and the view is obscured by palmetto bushes and shoreline cypress trees. Here is my little camper set up in site #13.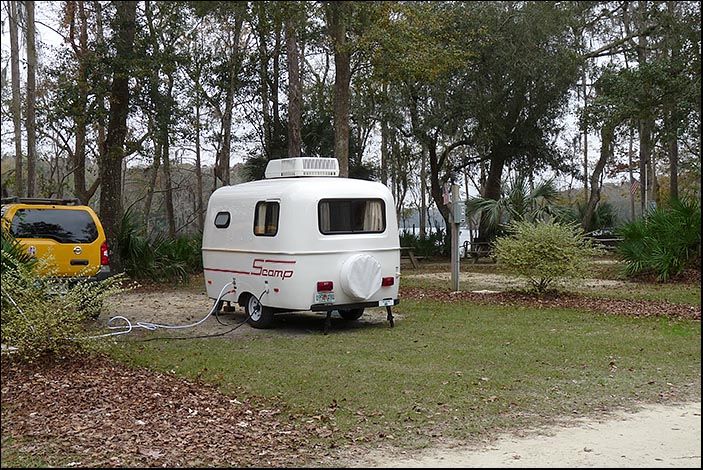 This is the view of the river from the far end of the campsite, where the picnic table and fire ring are located. This is the same view from every premium site from #4 upward.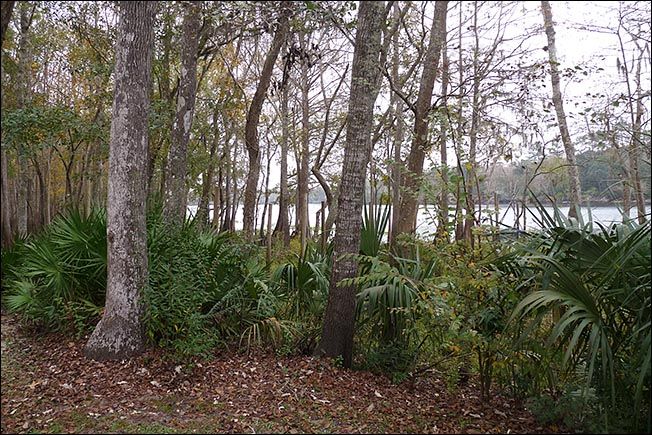 I did not formally meet the owners, though I did speak to the man at one point and saw the woman riding her bike through the campground. I was checked in by a very nice woman named Kathy. I discovered several advantages to a privately-owned campground over a state park, including the availability of ice. In addition, they had a very tempting freezer in the office stocked with ice cream and other goodies...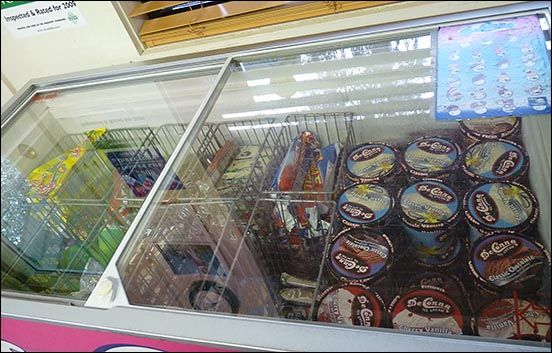 They have free wi-fi at this campground, though it was out the day I got there. It was back on the next day and stayed on for the remainder of my stay there (only two nights). They also had a heated pool and hot tub. Another thoughtful convenience is that in addition to two large dumpsters located by the side of the road near the exit, as often found, they have groups of five trash cans lined up in several locations throughout the campground, so you are never far from a place to discard your trash.
The bath house surprised me, but this is only the second privately-owned campground I have been to, so perhaps this is somewhat common. Basically it was a large building with standard doors lined up on either side; doors with doorknobs and deadbolts. Each of these doors led to what was essentially a full bathroom, including a sink with a mirror over it, a toilet, a stall shower with a curtain, a large checked bath rug, and many hooks set up high on the wall. Since each room was a full bathroom unto itself, they were unisex. I thought this was just great.
The best sites are #1-3, with #1 being ideal for a paddler. I did not take my kayak this time since I knew it was going to be extremely windy (as it was). Next time I will get site 1, which is right next to a huge sandy launch area for canoes and kayaks.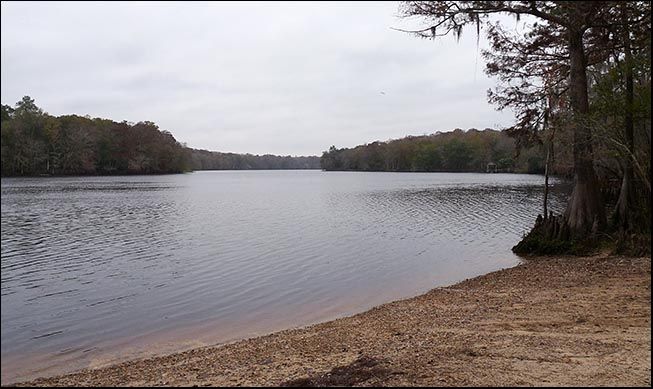 This sign was next to the launch area.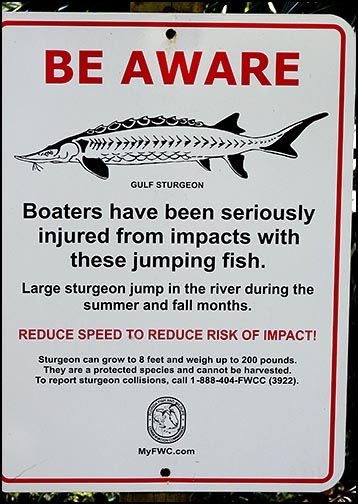 They say that they have a nature walk, but I did not find it. This is, however, a really large property, and so I went exploring the first afternoon I was there. The tent sites are at the far end of the campground. This campground is referred to on their signs as an "RV Resort." This usually means that tenters, if they are allowed in at all, get short shrift when it comes to sites. This is not the case here, though. The tenting area is basically a very large space with bushes and trees and power and water poles, along with picnic tables and fire rings. The site boundaries are not designated, but there is power and water for each. The tent camper can set up basically anywhere in the vicinity of the power and water pole they want to use. It is quite far from the bath house. It's a very large area and hard to photograph. I took these photos while there.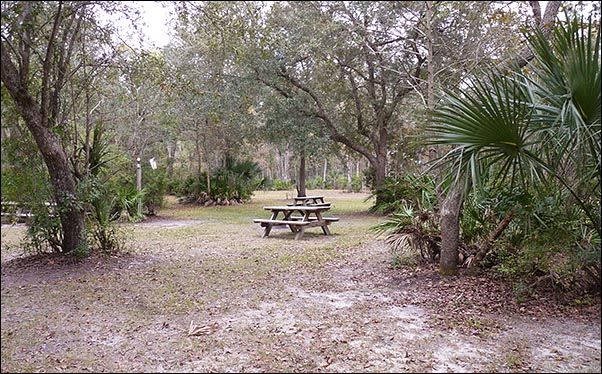 ---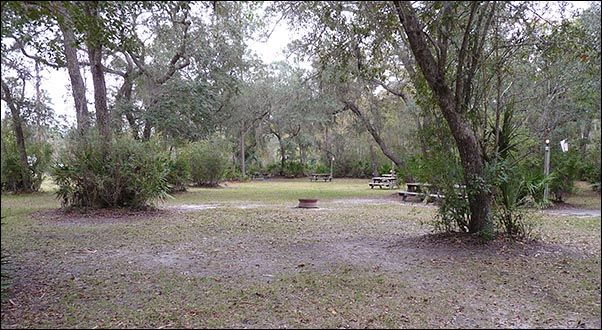 Walking beyond the tenting area takes you to more open area with three ponds.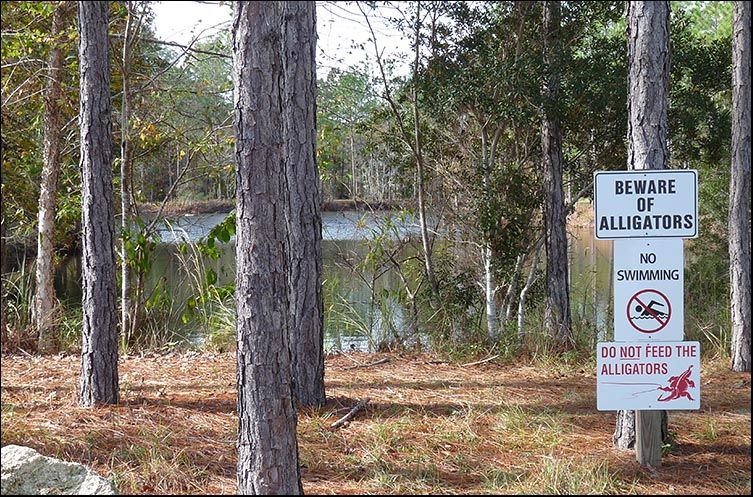 Back to the RV sites. They are of normal size. The owners have just started the process of putting in greenery between the sites to offer some privacy. They were working on site #15 while I was there.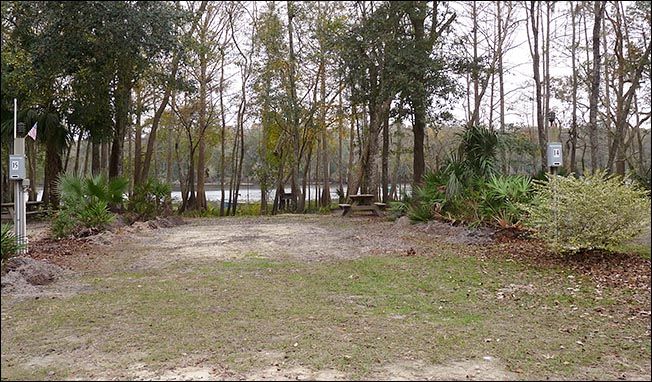 I also thought that site #4, a premium $48 site, was particularly attractive. The fence along the right side borders the path to the dock.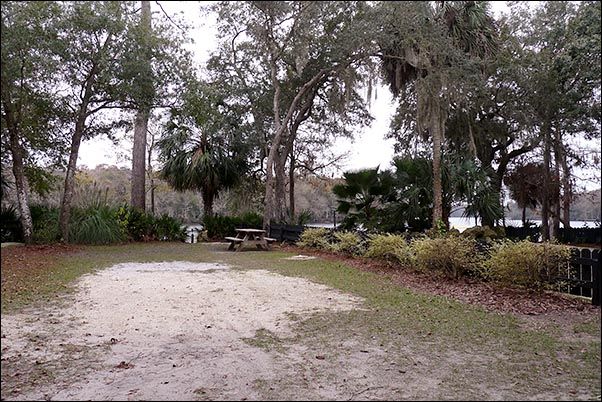 Sites #63 and 64 are both very nice, very long pull-through sites with trees and shrubbery nearby. I advise against site #61, it seems to have squeezed into its spot as an afterthought.
This is an excellent campground and I felt that it was worth the cost if one was only going to stay a few days. It was only about half-full, and I was the only camper in the row next to the river; the rest of the campers were staying for several weeks to a month, which would be expensive on the premium sites. I will definitely be going back when I can take the kayak, and stay in site #1.