I didn't go very far afield at all with this one, which was barely over an hour from my home. I had read a lot of good reviews of this campground. Given the cold temps that were predicted, the presence of wifi was appealing. I do a lot of reading on my camping trips, but greatly prefer to sit with my book outside during daylight rather than in the camper. On this trip, chilly winds forced me inside by 4 pm both days I was there.
This is a very small, privately-owned campground. The owners, Anthony and Yvonne, are very friendly and helpful. I believe there are only 15 sites, which are lined up in a row next to a small pond.
Here is a closer look at the pond.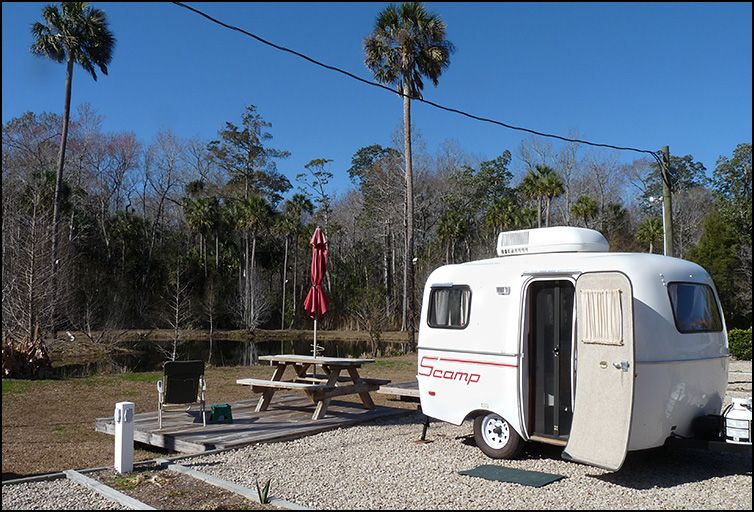 The campsites are very close together with almost no privacy. I think the owners would do well to plant some pittosporum or tall grasses or something between the sites so that you would not be looking out your window and into your neighbor's during busier times. There were only two other RVs there at this time and I had empty space on either side of me, so this was not a problem.
This is a relatively small property and it was oddly like camping in someone's front yard.
They have a pool --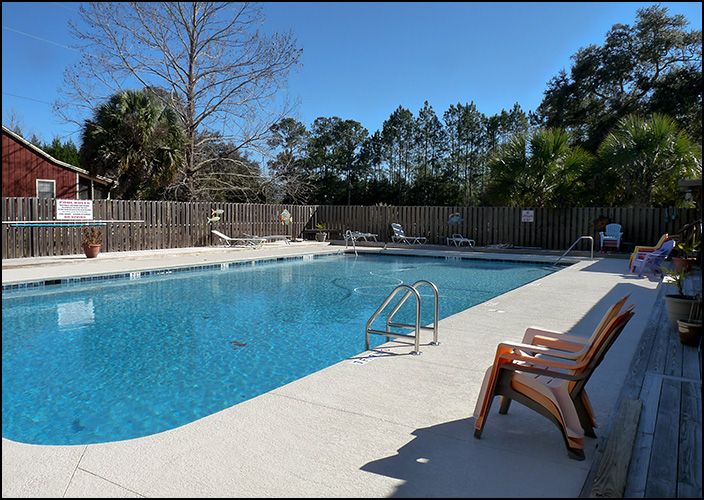 --and next to that is a deck with several picnic tables and a large gas grill. This would be an excellent place to hang out if you were camping with a group.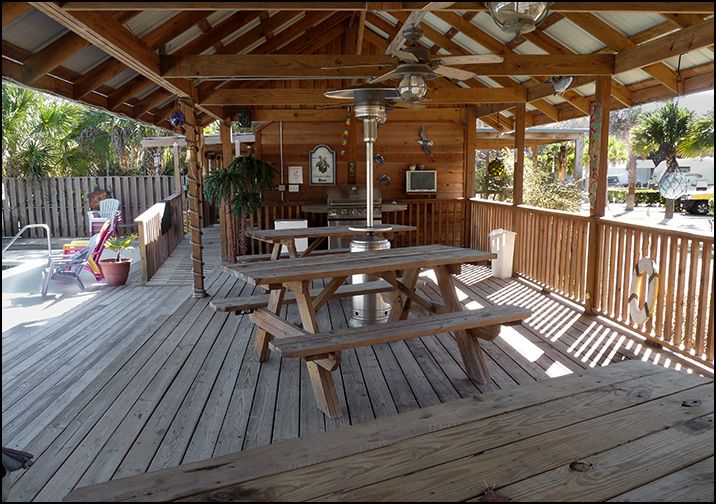 There are several cats, but they are extremely skittish; all but this black one took off running before I could get close enough for a photo.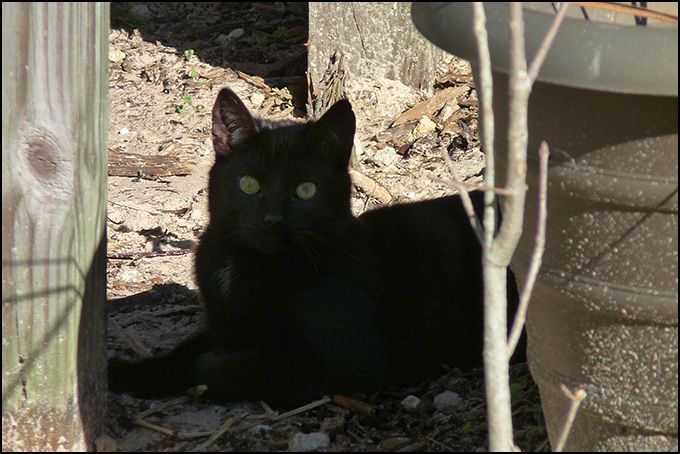 The town of Steinhatchee is small, but it is only minutes away and has two good restaurants. Fiddler's is the fancier of the two, with Roy's being more family-style. I chose Roy's for lunch on my first day since it is right on the Steinhatchee River where it empties into the Gulf, and the pelicans and gulls put on a good show soaring around outside the windows.
On my second day I went in search of those pelicans and found a large group hanging out near the Gulf Breeze condominiums.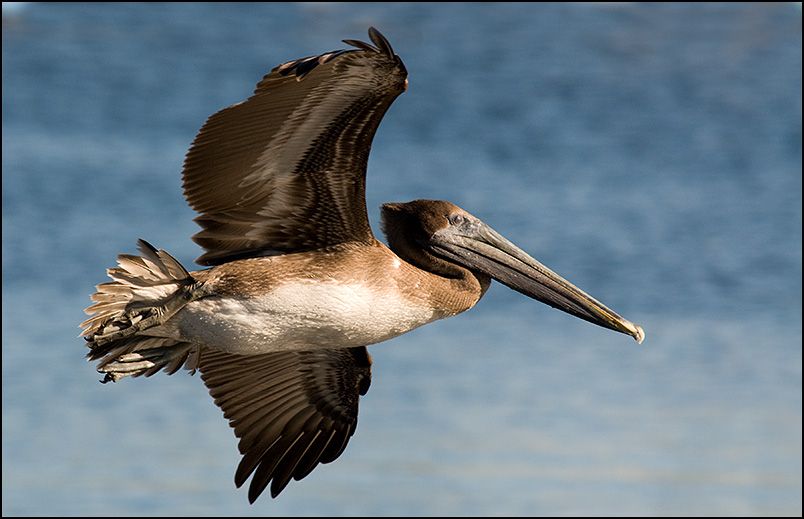 ---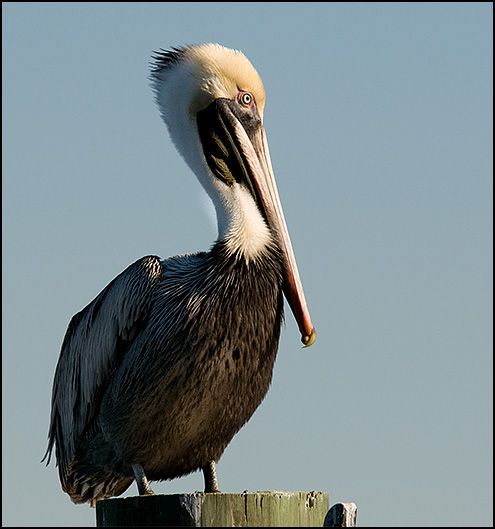 I decided to check out Steinhatchee Falls, an area on the river where the water supposedly drops about 3 feet over some rocks. It's not far from the campground off Hwy 51; there is a short dirt road that leads to it. When I got to the falls area, I discovered that it has been developed into a park of sorts; there are picnic tables along the river and it is extremely scenic. Unfortunately, the large amount of rain we have had recently brought the water to such a high level that it was just flowing rapidly over the falls--wherever they were. There were a couple sets of stairs leading down to the river, the bottom few steps on each of them were totally submerged.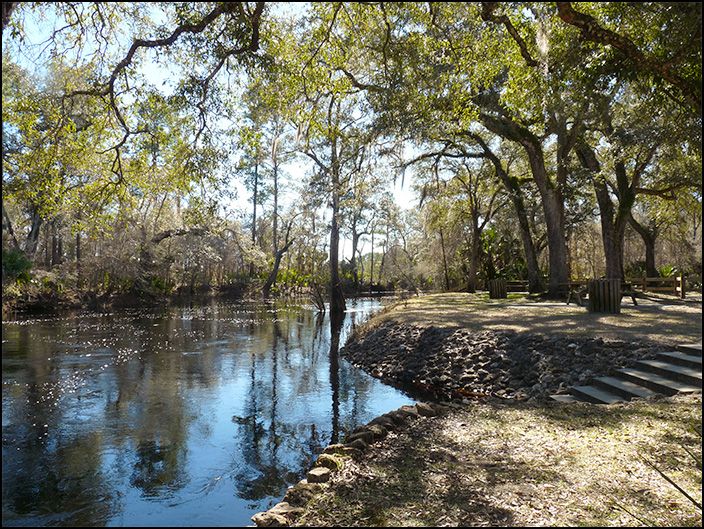 It was getting late and chilly when I left. I took one more turn through the condo property to see if there were any herons or egrets around. No luck there, but I did get more pelican photos.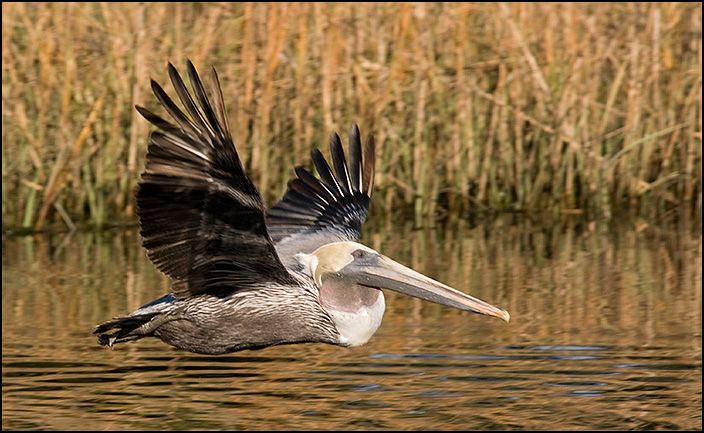 With all the new (to me) campgrounds still to visit (and familiar ones to revisit), I'm not sure I will get back to this one again any time soon, but I am giving it a thumbs-up if you are going to be in the area. If you like Gulf fishing, this seems like it would be an excellent place to stay.