Last week's trip to Steinhatchee put me in the mood for saltwater camping so I decided to return to St. George Island--a known place for me, and one that I have enjoyed twice previously in this camping season.
On the drive into the campground, I noticed a small Aliner camper in a site on the right side. I had been set on getting an Aliner very nearly up to the moment that I called Scamp to place my order for the camper I have. I had decided at that last moment that, having been a tenter for years and having dealt with setting up and taking down my little home away from home, I didn't want to have to do any setting up, as required (very minimally) by the Aliner. As I was just finishing backing into my site at St. George (#20 this time; no photo as it is virtually the same as #16, which is pictured in an earlier post), two people walked into my site. They told me they were in the Aliner and had been considering switching to a camper like my Scamp. My car was still running, so I suggested they stop back by in a few minutes and I would give them the Grand Tour. We introduced ourselves (they were Linda and Jerry) and they went on their way and I unhitched and connected the power and water.
They still hadn't come back when I was finished, so I decided to wander down to the beach. It was an overcast day, as has been typical in north Florida of late. There was a breeze, and the water was somewhat choppy. But that didn't keep the pelicans away. This one very nearly caught me off-guard as it swooped overhead.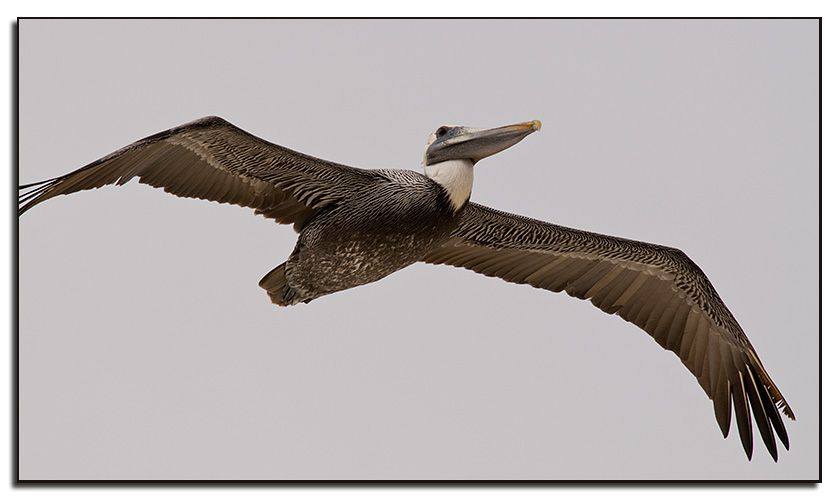 I walked a little way down the beach. This group was taking a siesta along the shoreline.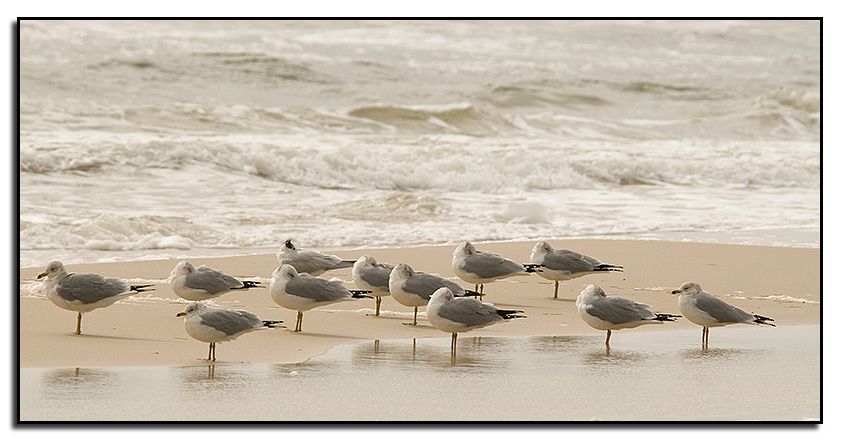 When I got back to the campground, I settled down to read for a while, and later had dinner. No sign of Linda and Jerry. I decided if they didn't come by the next morning, I would mosey down toward their site to say hi.
Many people had their pets with them, as usual. On this trip I saw more cats than I typically do, though there is always at least one site with a cat in it, it seems. One guy had a large black-and-white kitty that he walked along the campground road on a leash. It seemed very happy. And then on one of my walks I saw a pet I don't often see on a lead at a campground.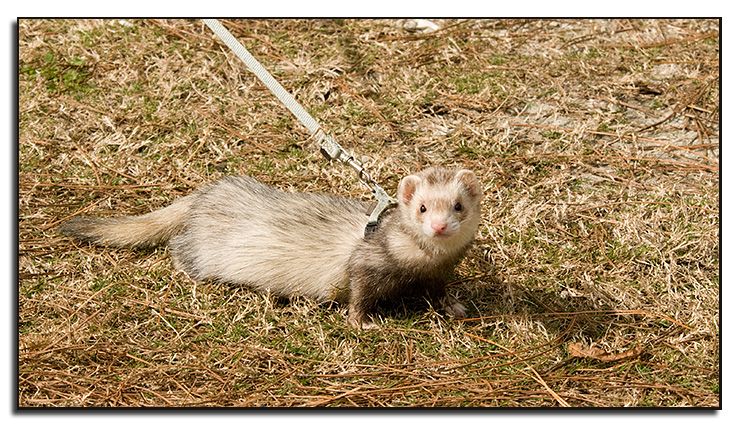 The next day moved from breezy to windy, and the sky was gray. The surf roared in the distance. As I was just finishing washing my breakfast dishes, Linda and Jerry came to the door. They looked at the camper interior (seemed to like it), and we chatted. They had been for a walk on a trail I was unaware of that leaves from the campground and winds through some wetlands and ends up on the beach. When they went on their way, I headed out to the trail.
The sign very clearly indicated that it was a 1-mile trail. Hm, seems pretty short, but off I went. It was sandy and clear and started out winding through scrub pine and other beach-y type shrubbery. I came to the half-mile marker in no time. I continued on from that point, which was over a boardwalk. The "wetlands" weren't wet at all, just brown grasses. The first boardwalk is very long and offers a nice view of an estuary in the distance.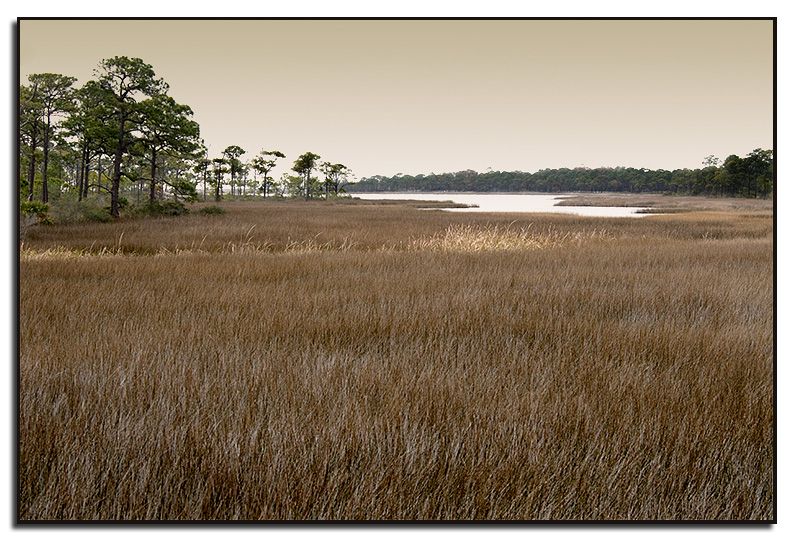 I walked some more. And then a little more. I started to wonder where the mile marker was....this second half-mile seemed significantly longer than the first (I never did see another marker). I walked. And walked. I eventually started wondering where exactly this was going and would I be better off turning around or continuing? Clearly this was more than a mile. About an hour after starting off on this simple, short hike, I came to a guy walking from the other end. I asked him just how far it went. He said I was very nearly to the road, it was just a short "bloop" around a bend. "And just where on the road will that put me?" I asked. He said I would be at the first set of shelters.
The first set of shelters???
Good grief, that was a LONG way from the campground! I continued on for two reasons: first, it would have been weird to turn around then, since that would put us walking together, which would be awkward; also, if I continued around that
bloop
, I would at least have new scenery.
I later measured the distance (using the car odometer) from my campsite to those first shelters, which was 1.8 miles. That was approximately the same distance I had walked before getting to the shelters, based on the time it took. Slightly longer than the simple 1-mile hike I had in mind. However, it occurred to me while walking along the beach right next to the surf, since the sand was firmest there, that I could be in a worse place. I could be in an office cubicle with no window in sight. I could be fighting my way across a frozen parking lot while sleet fell around me. I could be in any number of less pleasant spots. So I was content to put one foot in front of the other with the waves stopping just short of my feet, while the gulls and pelicans soared overhead.
And then when I finally got back to my campsite, I got in the car and drove the short distance into Apalachicola and went into Boss Oyster, where I had a cold beer and a dozen raw oysters on the half-shell at a table right over the water. Of course.
When I got back to the campground I noticed that Linda and Jerry were at their site, so I walked over. I had never actually seen the inside of an Aliner, and theirs was the size I would have purchased. They were nice enough to let me go in and look around. I could go on at length about my impressions, both of the camper itself and their choice of conditions inside it, but I won't. I will just say that I now feel certain I made the right selection with the Scamp, just on a size/shape basis (for the same price). I've never been inside any of the other campers or RVs at the various campgrounds, so I don't know what is typical in terms of space usage. It occurred to me that I have posted several photos of the outside of my Scamp here, but have never given you a peek at the inside. So I took a few quick photos.
This is the dinette area as it generally looks during the day. This converts into the bed, but I don't change it till bedtime, and I put it back this way before leaving the camper in the morning. The pillow is there because I often sit sideways across that bench seat to read. It's right by a window and really comfy and well-lit. I took these during a moment of sunshine.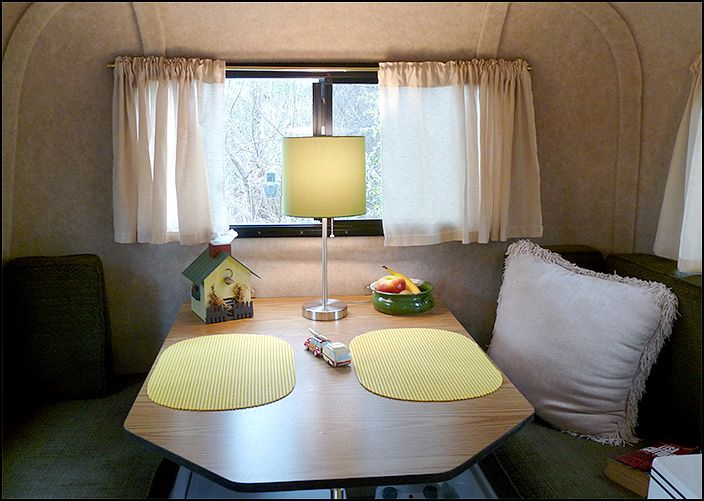 Here's my kitchen. It seems impossible to take a straight picture of this, I think it's a perspective thing. I had to stand outside the door to get it all in (it's a small camper!). That's a small window over the stove.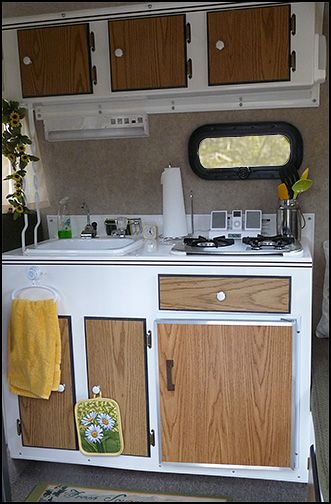 Here's the couch at the front of the camper. It magically converts to bunk beds, but I doubt that will ever happen in this particular one...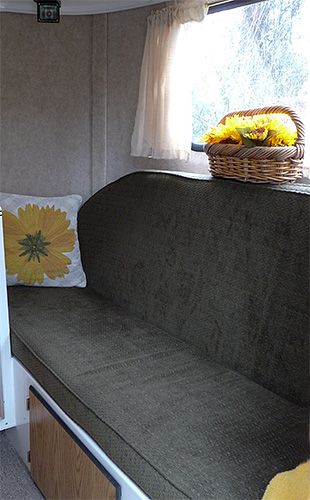 On my second and last night there, the wind was fierce and the surf was a constant roar. The rain started at about 7:30 and continued on until and while I prepared to leave at about 11:30. On the drive out of the park, I was astounded at how high the surf was. Normally the Gulf is placid, sometimes even lake-like. I pulled over into one of the little access areas, opened the car window, and quickly took this photo of the surf from the road.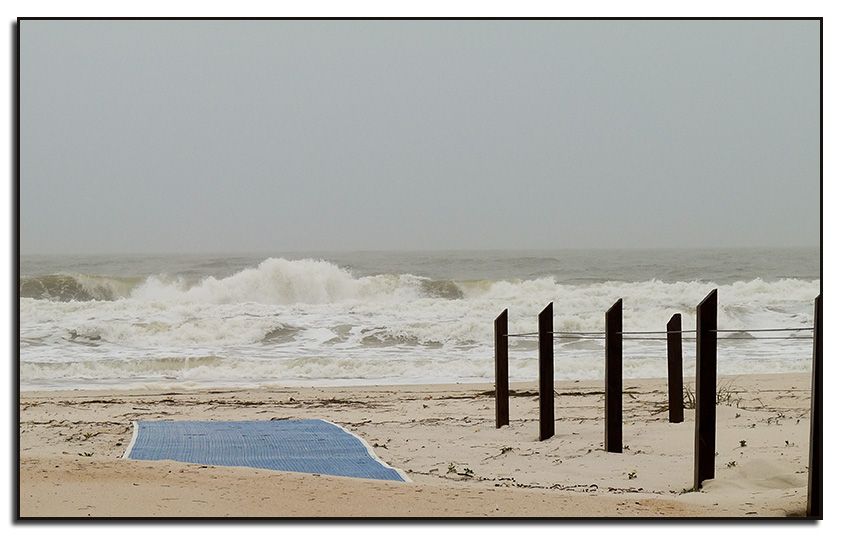 (The blue in front is part of the handicapped access....which doesn't look very accessible.)
Another great camping trip! I have reservations to get out again this week to a new (to me) campground. Of course more rain is predicted, as well as overnight lows in the low 30's....looks like more quality reading time is coming up! I'll let you know how it goes.