One of the many things I am enjoying about having my little camper is being able to go to new places without worrying about being in a less-secure tent. It also opens the door to the anti-campgrounds, or RV Resorts. That's not necessarily casting aspersions on them but just suggesting that they are different from, say, state park campgrounds.
Williston Crossings is an RV Resort. In my opinion, staying there puts you at the extreme outside border of the realm of camping. Not that it isn't a fine place, but if you enjoy nature, this might not be the spot for you. There was very little nature to be found (though I did finally stumble on some; keep reading).
The registration office is very similar to that found in highrise/condominium resorts. Among other things, there was a large painting that represented the proposed shopping center complex that is planned for this property.
A man named Roy escorted me to my site in his golf cart and helped me back in. The sites are concrete, the back-in ones resemble a driveway with an apron at the top. There are mature trees between the sites, which in many cases leaves only the trunks to provide privacy (a bushy boxwood might be a nice addition here and there).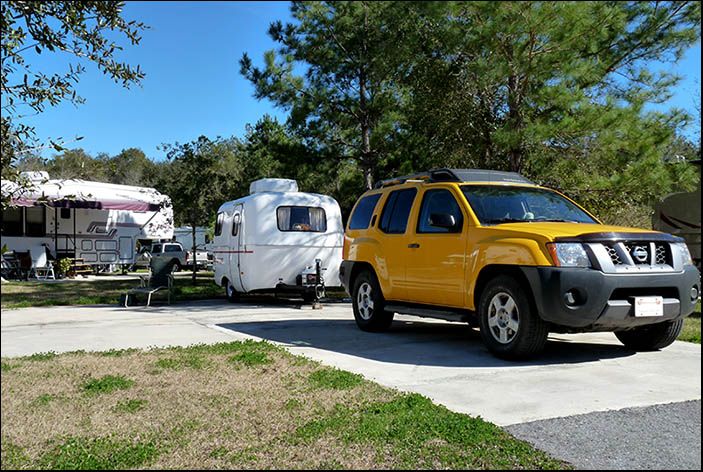 The site numbers are on lighted posts at the bottom of the "driveway." Trash pickup is at 10:00 every morning; leave your (no smaller than 13-gallon size allowed) bag at your address sign and they will take it.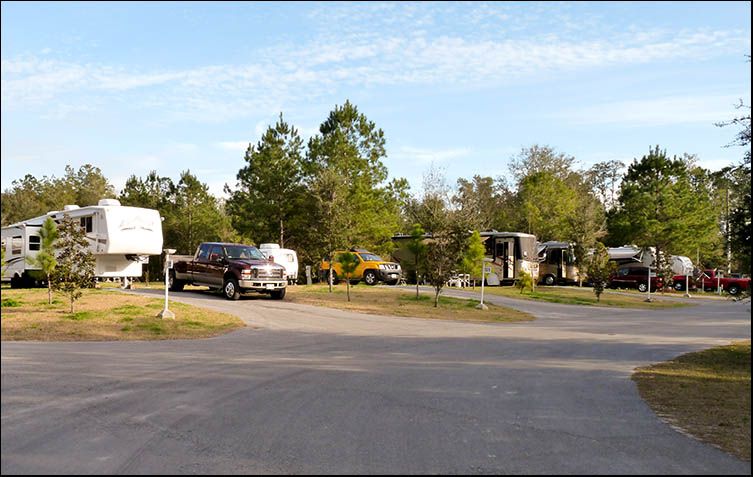 Needless to say, I was in by far the smallest camper there; I thought I was the only unit without multiple slideouts until I spotted a long Airstream. I'm not sure how many sites there are, certainly well over 100, and a workman told me they had plans to put in 160 more.
I had asked when I made my reservations whether there were picnic tables at the sites and was told that there were. So I brought meals geared toward grilling. There was no table at the site. I walked back to the office and explained the problem. The woman said they would provide a picnic table and would bring it by in an hour, which would be 3:30. I was getting concerned at 5:30 that I would be crouching down to use my little grill on the ground, but they did indeed provide me with a table. I think my neighbors were jealous. Of course there is wifi provided (if spotty at the far end of the resort) and so I wasted no time in locating a roll-up table and ordering it, so as to prevent a repeat of this problem.
I asked about the lake and got directions to it. I walked past the clubhouse and into an undeveloped area, except for steps and platforms down to the lake. The water level was very low; the lake depends on the aquifer. It's interesting that we have standing water everywhere in my part of Florida and the rivers are very high, while just a little south of here they are so low. This is the long view of what there was of the lake visible from the steps.
The next day I went exploring beyond those steps and wandered down a gravel road. It led to an open area (nature!), possibly the site of the next 160 sites, and got me to the lake. This dock shows how far down the water was--those steps should lead
into
the water.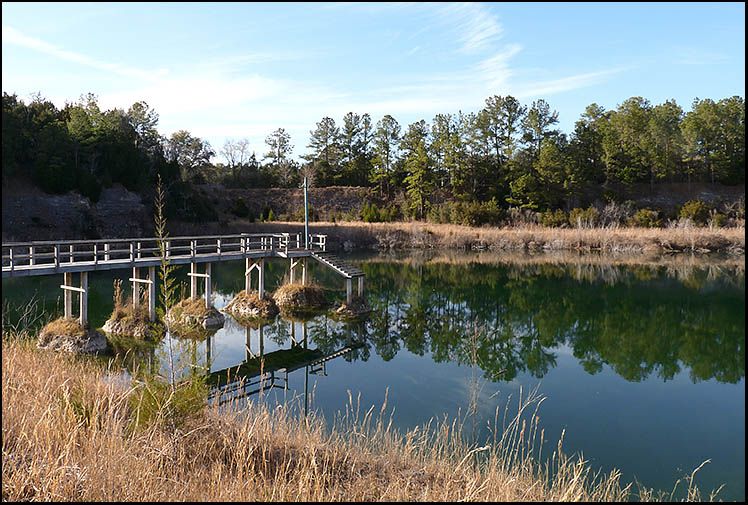 On the way to and from the lake, I passed these derelict trolleys; kind of an odd sight.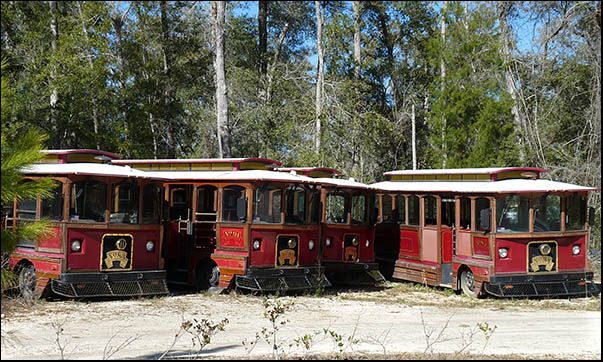 I wandered around the resort and took a few photos. Here's the community firepit: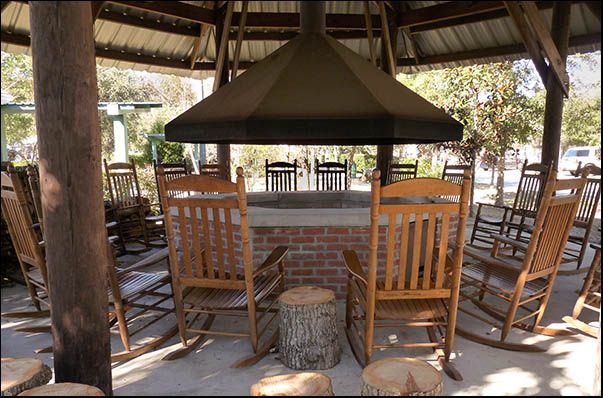 Shuffleboard, anyone?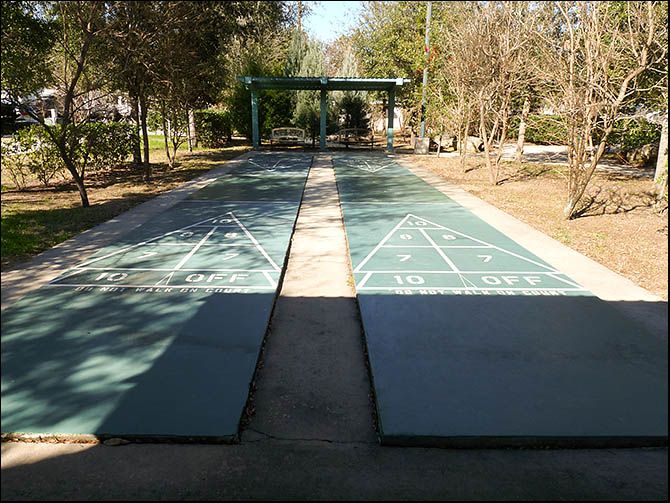 I saw these little stops or stations scattered here and there,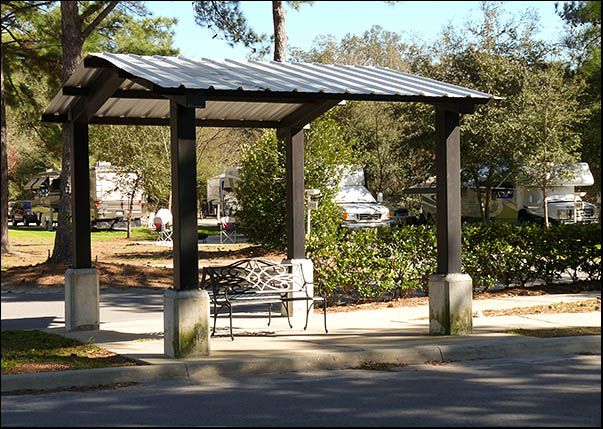 and finally put the pieces together. The painting of the planned shopping center, the 160 additional sites, the abandoned trolleys...they are probably planning on being so large that you can take trolleys from one part of the resort to another, boarding at these stops. Yikes.
I walked back to the Community Center. Last time I had peeked in, there had been some sort of ballroom dancing gathering going on (at another time, a woman bicycled by my site with a yoga mat under her arm...they have a lot of activities here). This time no one was around. It is a
huge
room.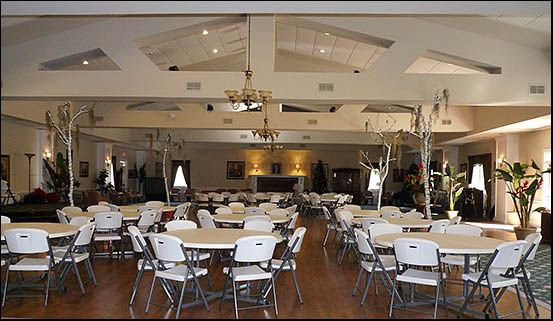 This Christmas village was set up in one corner.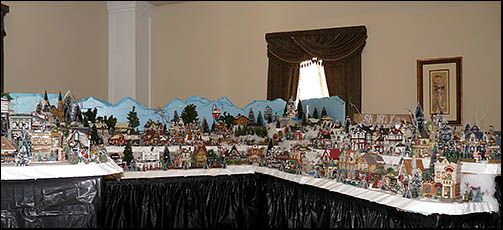 At the other end was a large fireplace setting.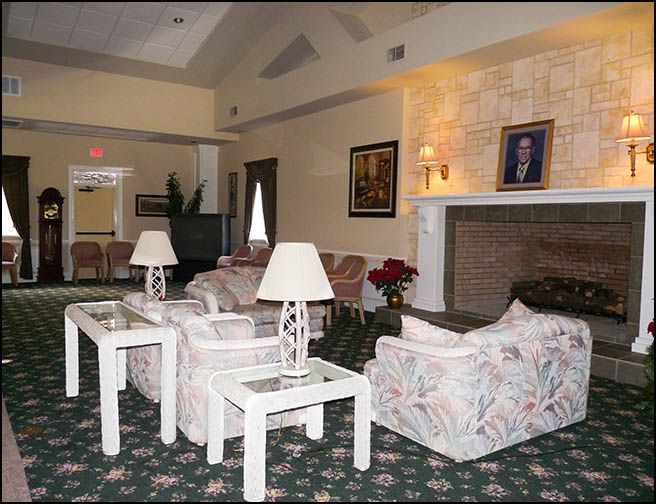 Across from the Community Center is the future home of the pools. They are starting with a shallow kids' pool. Next to that (though now it is a neglected-looking sandlot) will be the adult pool, with a bridge connecting the two (I got all this from a workman I peppered with questions). I pointed to this: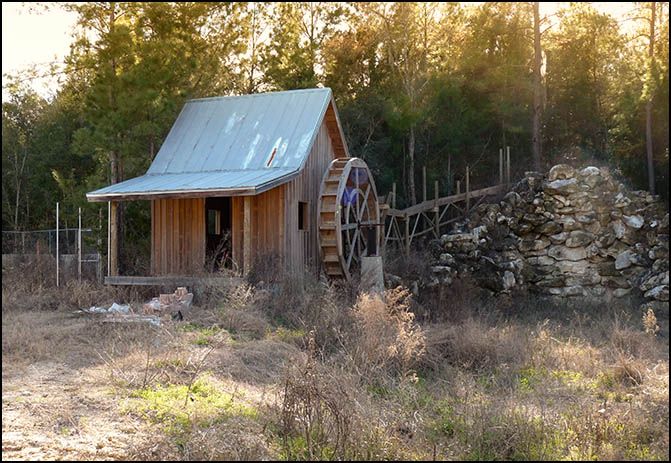 and asked what that was going to be. Well, water is going to run along that flume, with some of it spilling over to fall down those rocks, and some of it will run the water wheel. Beneath all that will be a large koi pond. All this is in addition to the 160 new sites and the shopping center (and the trolleys).
I usually can spend my entire second day just hanging around the camper and reading....but I am also usually enjoying a view of a lake or woods or perhaps a wandering deer. Not that the RV across the road wasn't nice, but I decided to go somewhere. Rainbow Springs State Park wasn't too far away and so I thought I would explore that.
The park and the associated campground (which I toured and didn't care for) are located far apart (7 miles). At the park itself, you leave your car in the lot and the rest of it is all on foot, along paved trails that go by many waterfalls and gardens, as well as the spring. I was very sorry to have left the equipment I would need to properly photograph the waterfalls at home.
Here is a view of the spring from the walkway above it.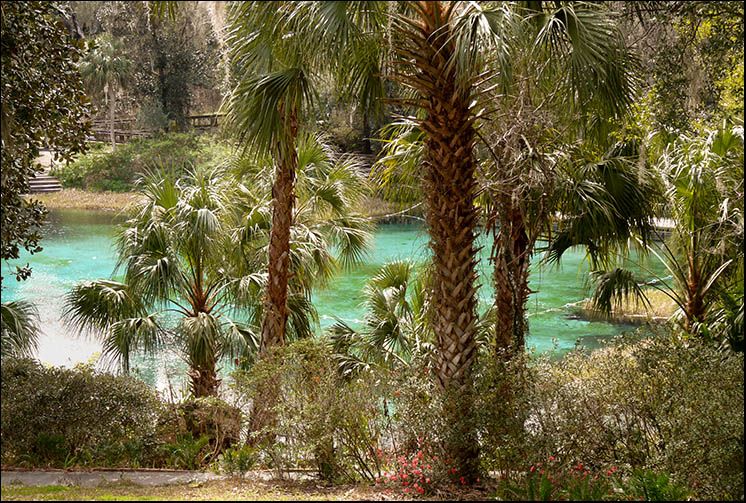 Here are several of the waterfalls: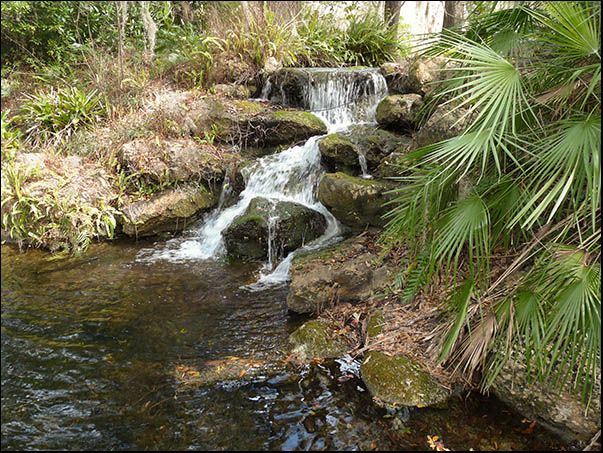 ---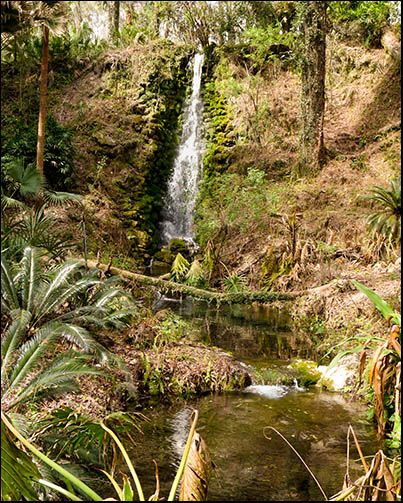 ---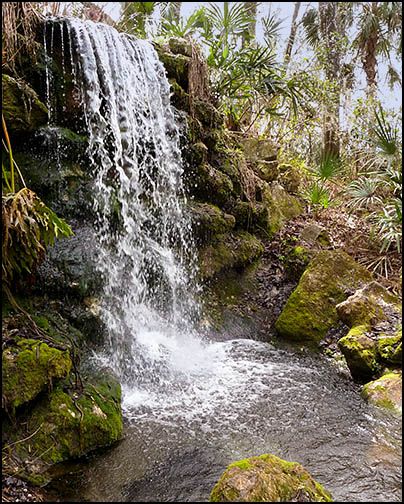 The waterfalls are actually water that is diverted from the river and cycles back to it. The rocks that make up that large waterfall were taken from the river.
Here is the water leading from the spring to the river. The spring is to the right.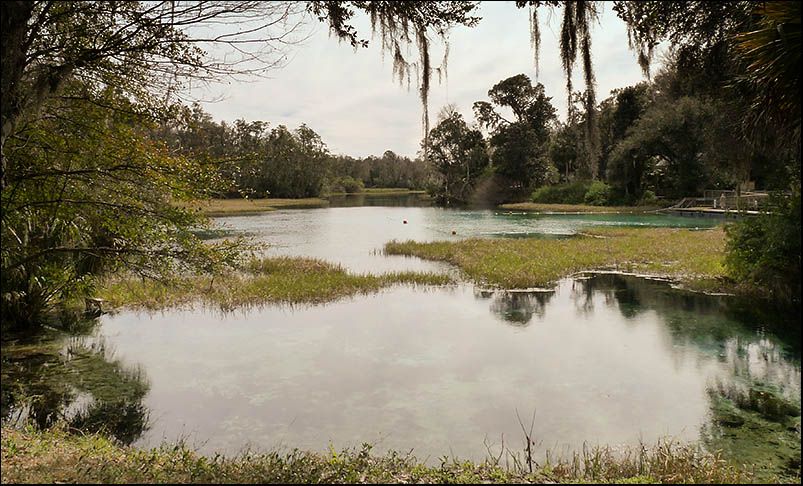 This water is so clear! I took this from a bridge over the water (not from in the water):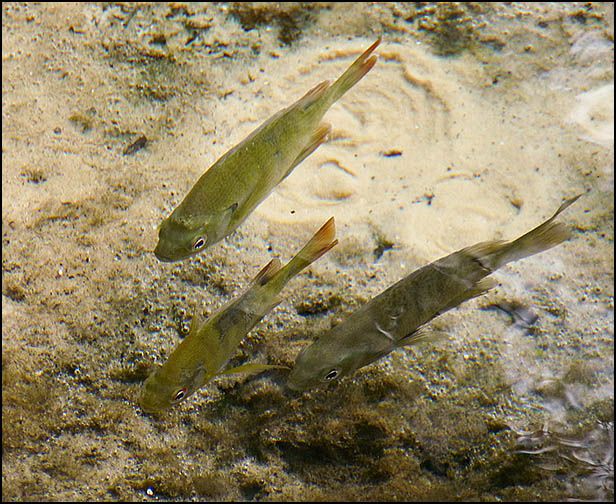 And some flowers were blooming!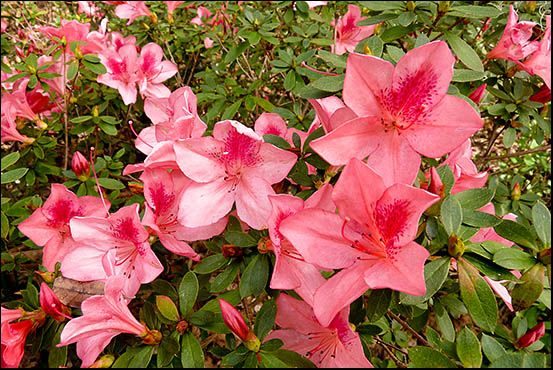 ---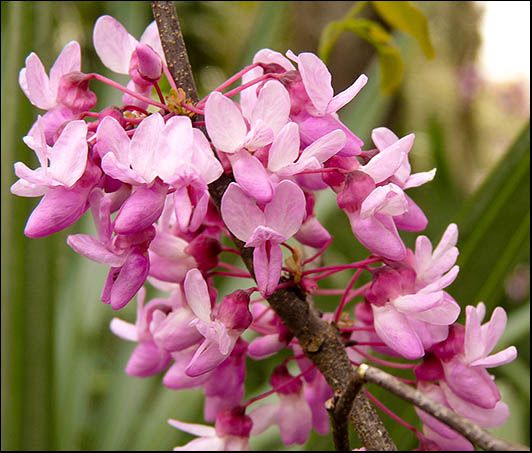 ---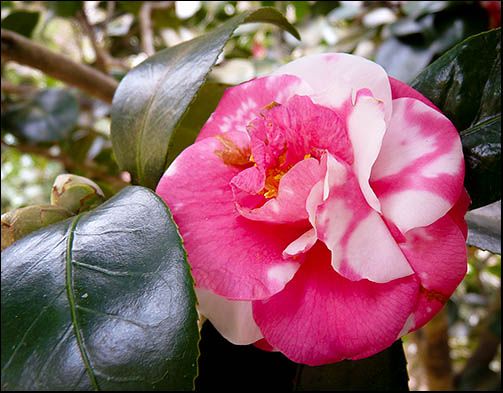 I walked back to the butterfly garden (nothing growing there now) and was following an old decrepit and torn fence along the pathway, when I saw this great blue heron perched on top. That was unexpected.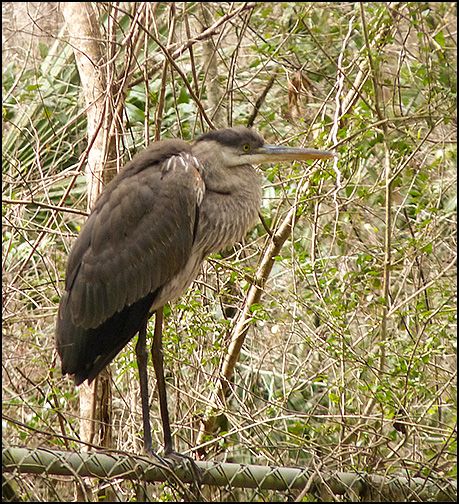 Later on this cardinal looked bright against the drab background.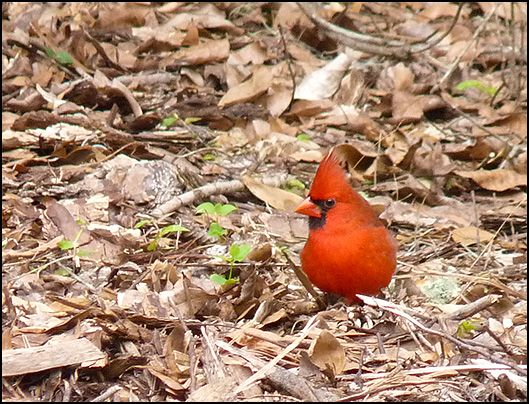 When I first got to the resort and saw what it was like, I thought this would be a very short post, but instead it's very long! While this resort is significantly different from my usual and preferred destinations, I actually ended up enjoying it as a change of pace. I found four sites that were more private and/or more wooded (at least on one side), and it seems possible that I will return to this place before the season ends. They are very reasonably priced for what you get (good grief, the bath house was huge. The showerheads were those dinner-plate sized rainshower type (I know, isn't every shower like rain?) and were mounted at least 4' over one's head, which made for a very nice shower experience!). I discovered that many people stay here for 4-6 months of the year. Everyone was extremely friendly, both campers and staff. One guy came to my site and said his wife had told him there was a Scamp at the resort, and so he had to come and say hi; he said he had a similar one and that although he was there in a large RV (for three months), he greatly preferred his little camper. I know I like mine....
By the way, all the photos from this trip were taken with my little Panasonic Lumix DMC-FZ28 point-and-shoot camera--a very basic camera and not even the latest in the line, but one that I think is very capable for images like these. I had only taken the long lens for my #1 camera and, aside from the heron and the waterfalls if I had had the right accessories with me, there was no need to use that one. It never left the car.
More camping coming up (back to state parks for a while).