Well, back to state parks. But I have to say that of all the parks I have camped in, this is definitely at the bottom of the list. I'm glad I went, I have always wondered what this park was like, but once is enough. The road into the campground looks like a logging road, and in fact Dogwood Campground (one of two in the park) looks very much like a logging camp. They must be doing some sort of major landscape renovation, as there are many high piles of tree debris as well as several large felled trees scattered everywhere (the advantage: free firewood!). As usual on a first trip to a campground, I had to take my chances with my chosen campsite. I did pretty well this time--not the best in the park but far better than some. On one side I had woods and a downward incline leading to an empty site, so total privacy there. On the other I had a guy in an old small camper who was working elsewhere during the day. He would arrive at the site at around 5:30 and would be gone early the next morning.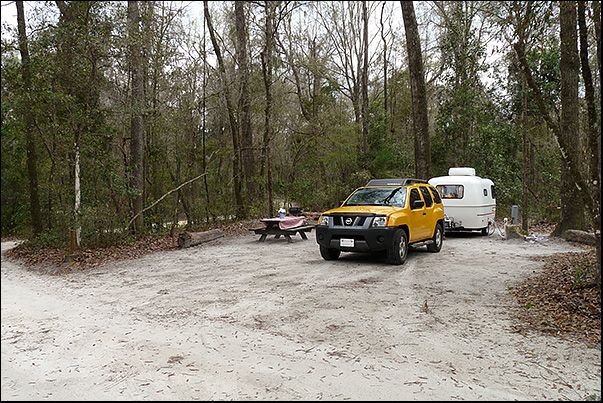 The bath house was in the center of the campground, with foot trails leading from it to every site. This bath house was the largest, newest, and cleanest of any I have encountered anywhere. Very low water pressure but plenty of hot water.
My biggest problem with this campground was the ground itself. It was covered with what seemed to be a bizarre mix of fine sand and ash. This powdery substance stuck to my shoes, almost immdiately became packed into my welcome mat, rendering it useless, and was impossible to avoid tracking into the camper. The full day of rain didn't help matters much.
I walked the mile and a half to the Santa Fe river from the campground along the park road (no deer in sight). They have a very large and impressive picnic/exhibit area near the river. This sign greets you as you approach the water: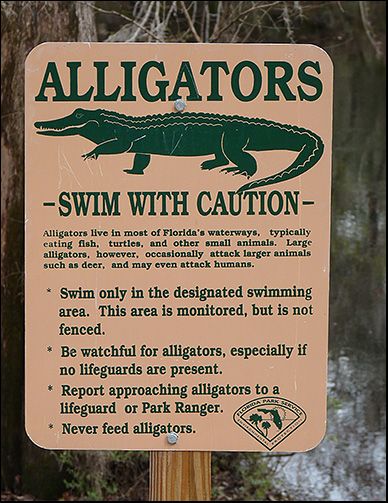 This is a view of the river from upstream of the suspension bridge that crosses it.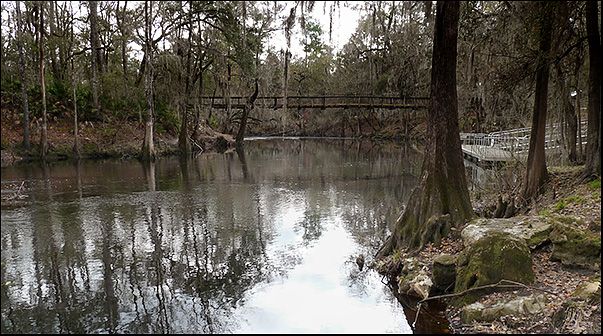 I walked to the bridge,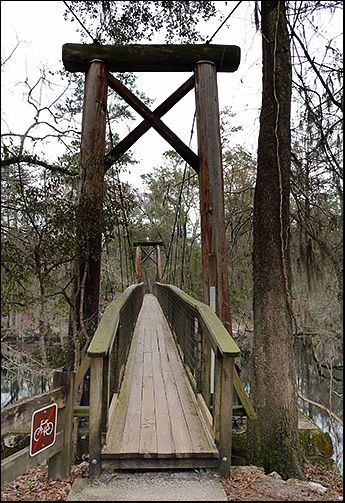 and then across it. At first it seemed rock-solid and I thought it must not be an actual suspension bridge. But as I got to the middle, it had developed a definite sway. This is the view of the river looking downstream from the bridge. You can see from these photos what a cheery bright day it was....(not):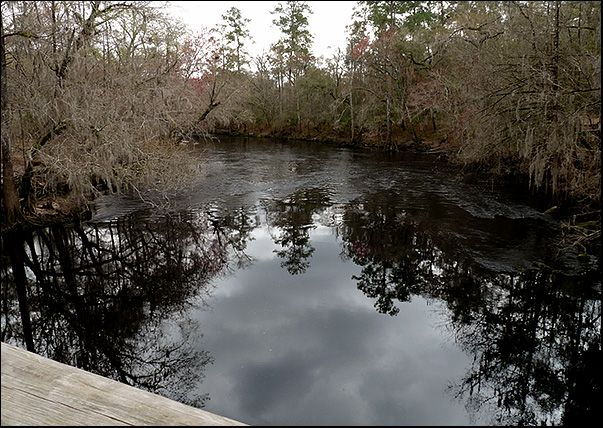 As I said, they have quite a few exhibits, and a statue, in this area, describing the logging history of the town of Leno. I didn't linger long as the sky was getting very dark gray and I had the mile and a half to walk back to the campground. I did stop on my way out to get a photo of this, a gristmill exhibit.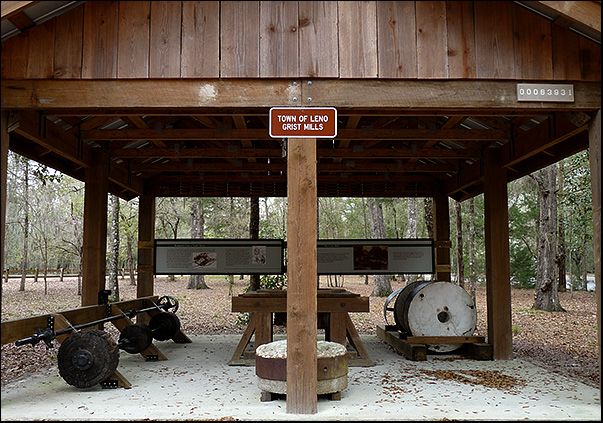 Given the other parks in the area, including Paynes Prairie not too far away, I can't really recommend visiting this park. Perhaps in a couple of years when they get all the tree stuff cleared away it will at least be more scenic. It's not conveniently close to a grocery store or any attractions. I'm glad I saw it but I don't anticipate returning. The next trip will be back to St. George Island, which has already appeared here at least twice, so I may not post that trip unless there is something new and different to show. After that I plan to try a new place in St. Augustine. I'll let you know how that goes.