Tacking the words "RV Resort" onto (or in place of) "campground" seems to be an arbitrary action made by the owner of the property and does not in any way actually reflect the nature of nor amenities at that facility. This one falls a tad short of being a resort. That was fine with me, I was not looking for another resort!
Strange place, and it took me a while to figure out where the out-of-whack vibe was coming from. As with most non-state-park campgrounds, there was no privacy in the sites--no shrubbery of any sort. I gather that they are kept that way to make it easier to mow. I also suspect that I am more sensitive than many campers to this. If you live in a residential neighborhood, you are used to being in full view of your neighbors while you grill, wash the car, mow the lawn, and anything else. Therefore, this would seem normal, and they probably feel isolated when surrounded by woods on three sides. I can't see any neighboring houses from any of my windows here at home, so I feel sort of like I am in a fishbowl in these open parks. But that wasn't the odd thing.
The bath house was very small, but clean. The showers (2) were small stalls with no little enclosed adjacent areas in which to dry off and dress and put all your stuff. More lack of privacy.
When I got to the campground, there was no one in the office (though there was a sign on the door with a phone number). I drove around the property looking for a site, but it was very confusing, with some of the roads just looking like openings between trees. For example, this is a view of several sites....not that you can really identify them as sites too well...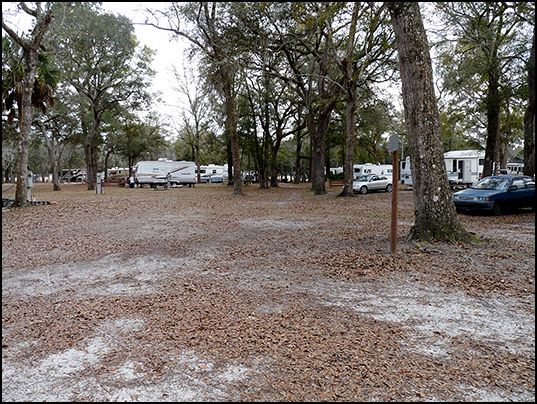 I parked the car back at the (still empty) office and decided to try walking around to see if I could get a better idea of the lay of the land. Some people from the power company passed me and the driver stopped to ask if I was looking for Nancy. I said I was looking for whoever is handling the office, and he told me that Nancy was on the Deere golf cart. Ok, so off I went looking for that. I came to the golf cart, but no woman in sight. There was a maintenance man, though. He turned out to be Harold, and he was very helpful. We couldn't find Nancy, but he said he would drive me around to look at sites. He suggested #101; he said that there was a very quiet older man on one side and a couple that are rarely there on the other. I said fine, I'd take it, could he drop me off back at my car? On our way there we passed a convoy of four monster RVs in the middle of the campground. The driver of the one in front stopped and seemed very peeved. He hollered to Harold,
"Where am I going?"
Harold asked "Well, where are you headed?" and the man said "Well, I don't know! There's nobody in the office!" Harold asked him if he could back up and he said no, not towing a car! He was pretty mad, and I don't blame him. I told Harold I would walk back, he should go ahead and tend to them, but he said he had to get into the office anyway (I guess to check on any sites that might be reserved) so we went back there, he got campground maps for everyone, and I drove to #101 and set up.
My site should have been ideal, being on the outer loop and overlooking the spring.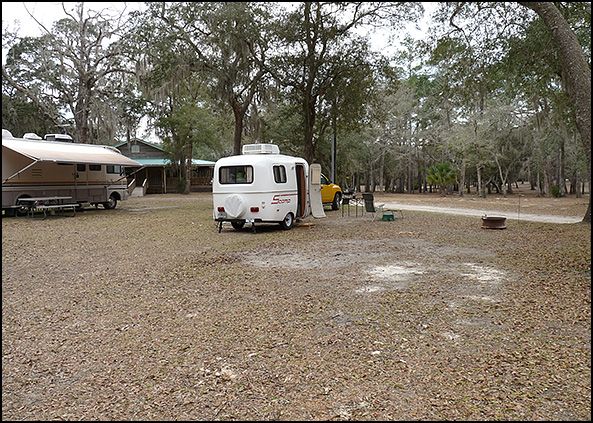 Here is the view of the spring from outside the camper: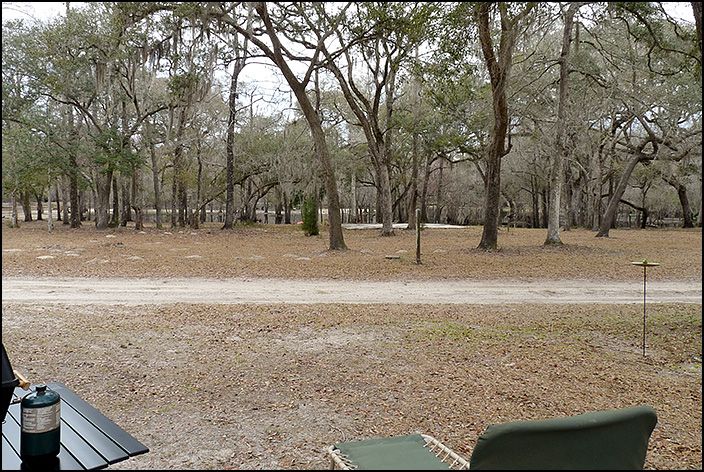 Unfortunately, the spring was flooded so it was just a dark swampy mess.
There is a nature trail there, a mile long, that leads to the Suwannee River. I considered walking that the next day.
They have a pool. I had taken a suit, just in case I wanted to use it. I went to investigate it after setting up, but the door was locked. There was a sign on the door saying that they keep it covered in order to keep it heated, and something about locking the door for guest safety. It said if you want to swim, find someone (probably Harold) to unlock the door and uncover the pool. I'm not a fan of overheated pools and that seemed likely if it had been covered, so I decided swimming wasn't going to happen.
The next day was gorgeous and sunny. The campground is near Chiefland, which in turn is near Cedar Key--and I get to Cedar Key at every possible opportunity, so I headed out there the next day. I had another reason to go that way--I wanted to investigate Shell Mound. I had read that this was a good paddling spot, and I also had heard from two people that there was a campground there. The first guy who told me about it seemed to think that its location was some sort of state secret and that he could only give out minimal information about it. At that time I found only very oblique references to it online and all his hemming and hawing led me to think he had confused it with somewhere else and just didn't want to admit his mistake. But then I reached someone who had actually been there. He told me more about it, including the suggestion that it might not be the best place for me to camp. It was on the way to Cedar Key, so I stopped in.
There is indeed a campground there, and if I were camping with at least one other person, I can see a camping/paddling trip there, but I would not camp there alone. Possibly the unshaven fellow in the tent that seemed to be held together with duct tape contributed to my hesitation. On the other hand, if you drive past the campground and on the dirt road through the wildlife refuge, you come to a very pretty area. This walkway extends out over the water, ending in a fishing platform.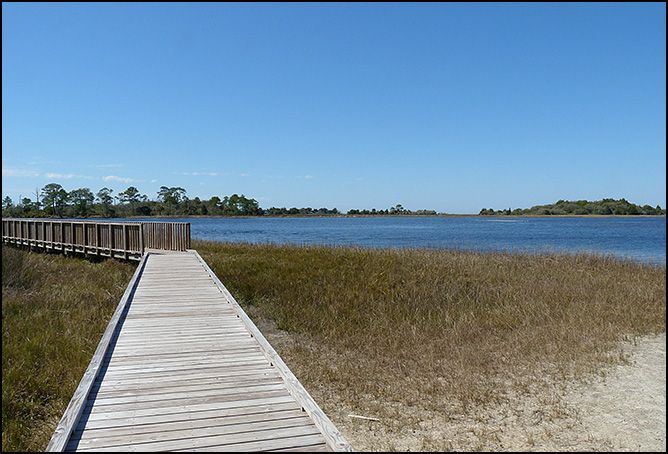 I stood on that walkway and took this of the boat ramp.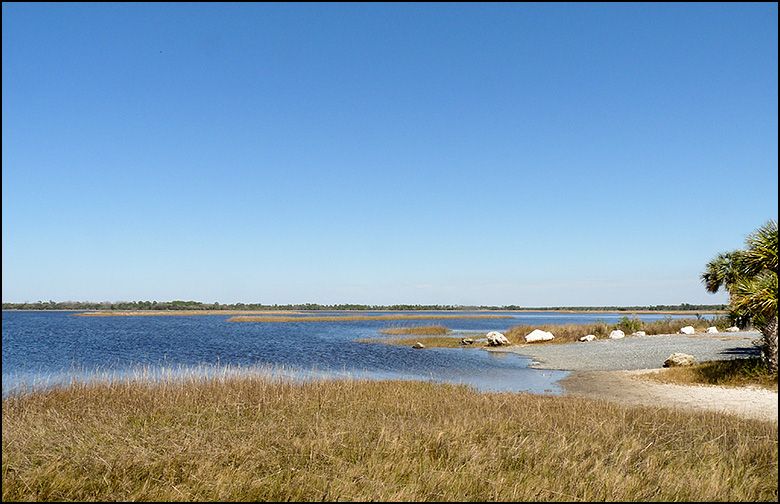 There were a lot of egrets flying around, but I didn't get any photos of them.
On to Cedar Key. I checked at Fenimore Mill to see if Spike the egret or any other birds were in the water there (what? What sign on the dock?). This snowy was wading in the water near the fishcleaning station.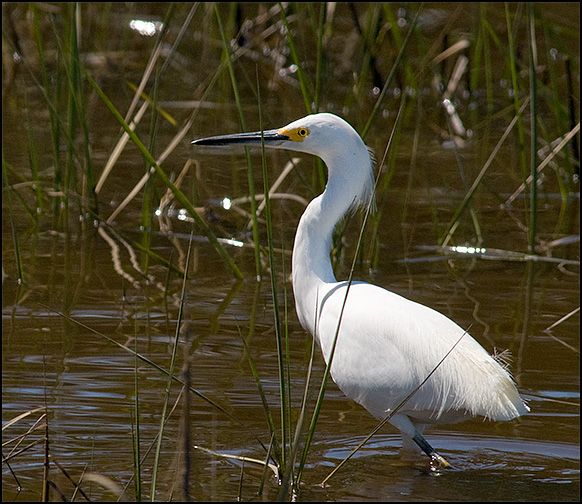 After that I wandered over to Nature's Landing and walked out on their path alongside the channel. When I got to the end, I startled two pelicans, but they decided I was harmless and did not fly away.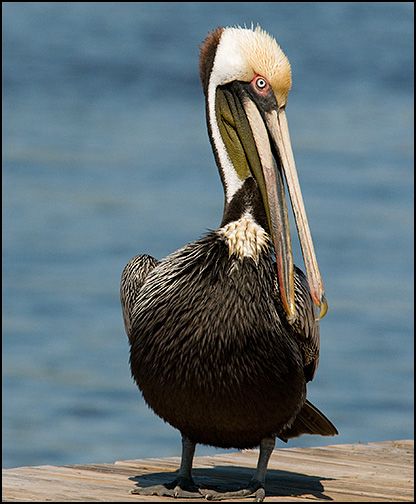 ---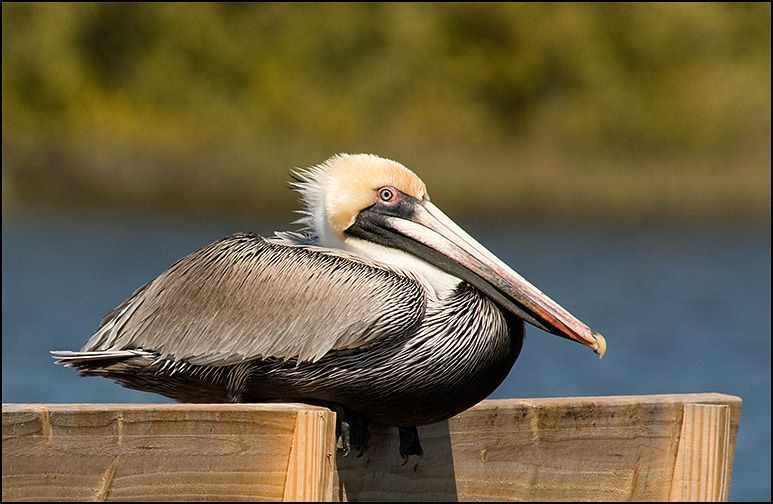 I walked from there along Dock Street. This fellow was out on the water enjoying the warm day: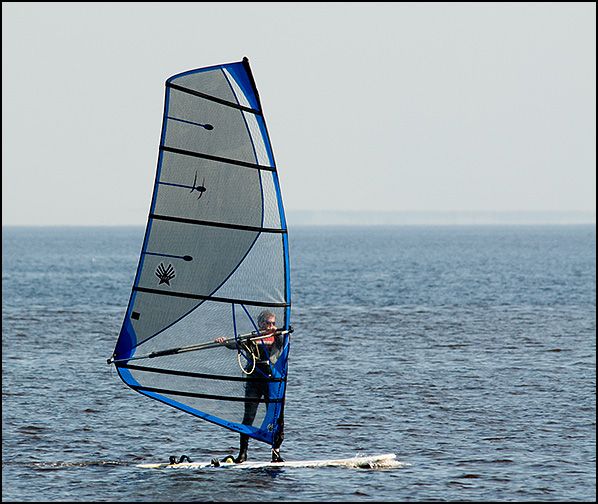 As I approached Seabreeze restaurant, I saw this huge gathering of gulls, pelicans, and cormorants on the old dock over the water behind the eatery.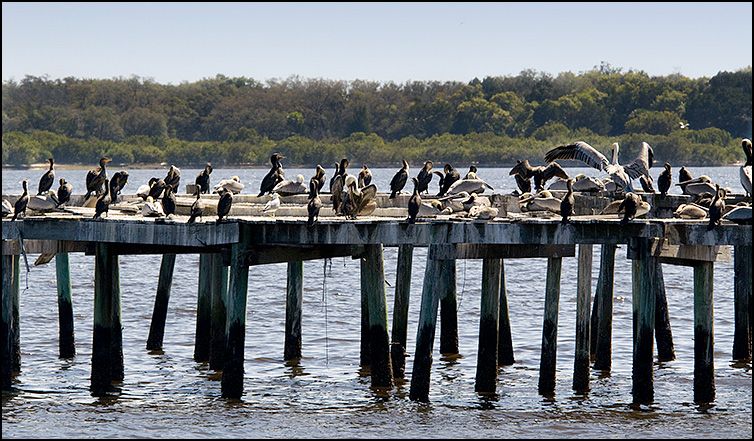 I continued walking to the new fishing pier and wandered along that. This guy was at the very end, with a very opportunistic pelican right next to him!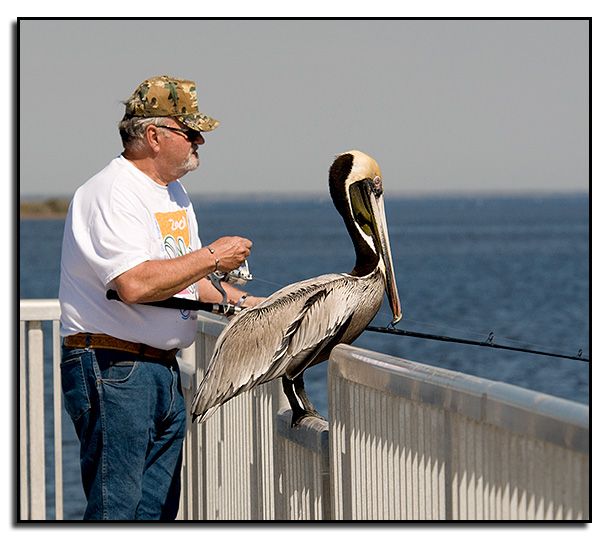 When he caught a little fish, that one and another adult and a youngster (pelican, not child) came in for their share.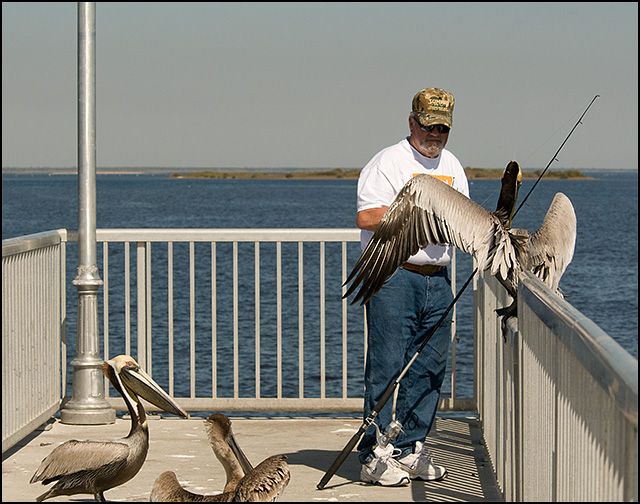 The fisherman left the area temporarily; one adult pelican flew away. I was watching that one and lost track of the others.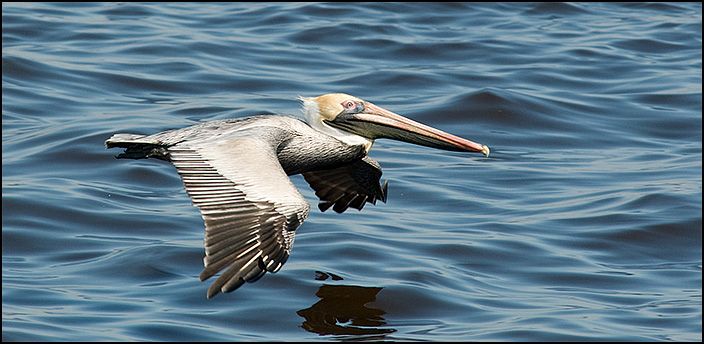 I brought the camera down and became aware of a sort of quiet slapping sound right near me. I looked down and the young pelican was walking by me, its webbed feet slapping the pavement, less than a foot away. I could have easily reached down and patted its head! I just stood there watching it walk by; my mouth was probably open in my amazement at how close it was (and how tall!). When it passed me, it turned around and paused.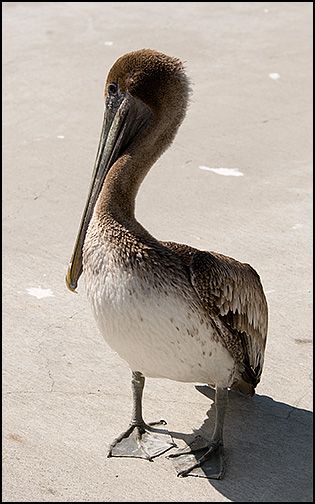 Very strange and very cool. The other large one was perched on the railing.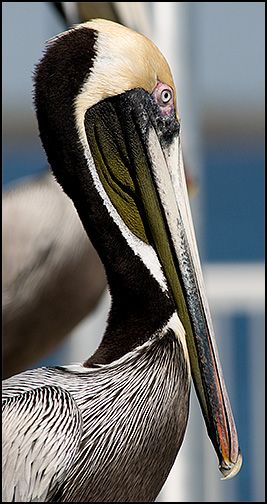 When I got back to the campground, I discovered what was so odd about it--it was the other campers. I realized that they had been far less friendly than those I had encountered at other campgrounds, with the exception of Harold, and also Larry, a volunteer helper. Most of them did not speak when they passed you walking on the roadway, nor even smile or meet your eyes. When I returned from Cedar Key it was about 4:00. The lights were on in the pool building, so I walked over there and opened the door. It was steamy inside, and there was a woman, perhaps 65-ish, in the pool. I smiled and said "Hi!" She did not smile, just gave me a frosty (good trick in there) hello. I had intended to put my hand in the water to see how hot it was, but her tone stopped me in my tracks. I said "Is it warm?" and she said yes, 82 degrees. I said oh, okay, and left. The woman in the site next to mine glanced at me quickly as I passed but said nothing. That's about when I realized that's it! That's the vibe! Unfriendly!
At about 8:15 that evening I gathered up my stuff to go shower--the bath house is next to the pool house. The pool lights were still on. I peeked in; nobody in there! I felt the water. It had cooled down perfectly. I checked the sign--open until 9:00. So I went back to the camper, threw on my suit with shorts and a t-shirt over it, grabbed the shower stuff again, and went into the pool building. It was wonderful--I had time for several laps before Larry showed up at about 8:50 to close up. I asked him for five more minutes, got in a few more laps, and then gathered up my stuff and went to the shower. So that was
great
.
It started to rain at about midnight and was still raining when I left at about noon. Despite the rain and unfriendly residents, I still had fun on this trip, enjoyed getting back to Cedar Key, enjoyed being in my cozy camper. Though I won't be returning to this campground. Off to a state park next week.
9/13/10--Well, this post has suddenly gained a lot of comments, so I feel compelled to add some clarification. As I stated, both Harold and Larry were very friendly and helpful to me while I was there. It was the other campers (and not all of them) that were very cold and unfriendly. This is something wholly out of the control of the park staff....but not something I have encountered in state parks. Again--crabby residents but friendly staff.