I was making another trip to the bird rookery, but this time I wanted to camp closer to the interstate, so that I would not have to tow the camper through several miles of very busy city traffic, as I did last time I went to the rookery (when I camped at Anastasia State Park). On my way out of St. Augustine last time, I passed this campground and it looked nice enough from the road. I read the reviews of it when I got home and it sounded fine. So I stayed here on this trip.
This is
by far
the best privately-owned campground I have visited; in fact, it's the only one I have really liked. I had a wonderful site, #77. When I was checking in, the woman said she had planned to put me in 66 (which was also a good site) but she told me that 77 was the one she would want if she were camping there. Great choice. It also was suitable for my small camper.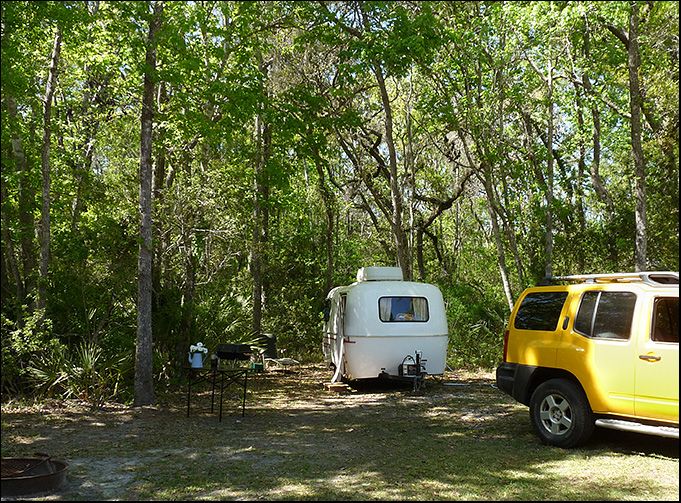 The camper was 100% shaded, which was appreciated since we are getting warmer here. I had a nice view of the small pond nearby.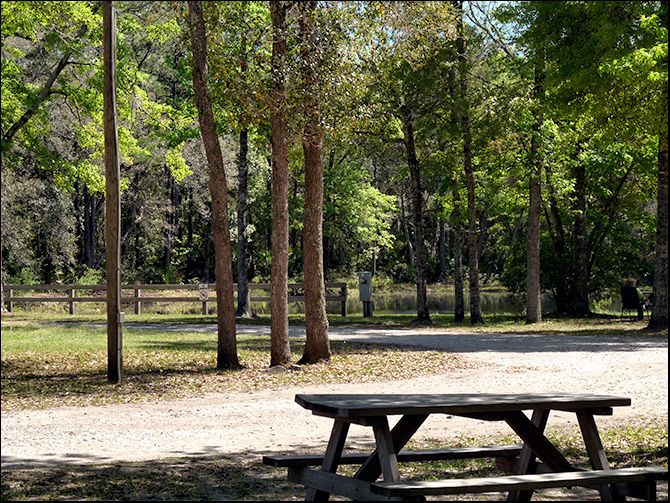 It was a little strange how many people in the campground were from Ontario--and in particular Quebec. People walking around, women I encountered in the bath house, and my neighbors in site 78 and their friends that visited them all spoke French. I was walking through the campground one day and passed a large rig that had a TV set up on the table outside. The guy was watching something that was being broadcast (or had been previously recorded?) in French. It was very much as if I were the one in the foreign country who did not speak the language. DH told me that the Canadian dollar value puts them at a significant advantage right now, and maybe that has something to do with it, but it still seemed odd that so many French Canadians had found this particular campground in this particular city. It's a very large, sprawling campground and I don't think all of them could have been part of a group traveling together. It would be a very, very large group. Anyway, kind of unusual.
I think the best site here is #71. It is an extremely large site. I would like to request it next time, but they may prefer to reserve it for the very large RVs. It is right next to the pond. Here is the view from site 71: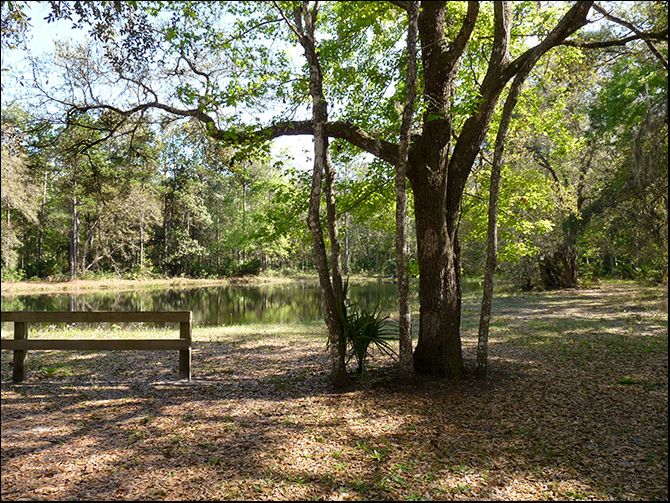 I doubt I will get back to this campground again until next spring, since I have no other reason than the rookery to go to St. Augustine, and by the time I make my next trip there in a couple of weeks, it will likely be too hot to camp. But I very highly recommend this campground if you are going to be in the area. My site was along the row farthest from Rt. 207, and there was still some traffic noise at night, which doesn't bother me. They do not allow tents.
I'm heading back to St. George next week for what I am sure will be the last camping trip there until fall! It was hot and buggy there last week, I wonder if it will be hotter and buggier this time?