I didn't plan to post this trip--I have already posted two trips to this park in this season, and I didn't imagine there would be anything new to show or tell, but it turns out there is.
It's spring break all over the place and so there were a lot of families camping this time, with a
lot
of kids, aged about 5 to 15. Lots of tenters. All the sites were taken. And one of the bath houses was closed for renovation. I wonder if they considered the timing when they planned that...
I had managed to nab site 34 a couple weeks ago when it magically became available in the midst of all the reserved sites--probably a cancellation and I happened to check the website at the right time. I have been in this site before, it's a good one. I had the campground host on one side and a group of three adult couples who were tenting on the other, with a lot of foliage at each side. I have added a new element to my site, a colorful pinwheel that brings a certain festive flair.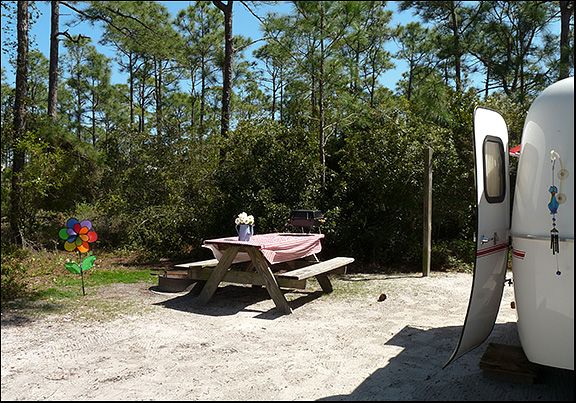 Another new element I added a month or so ago is the birdfeeder. I had a few cardinals come to it on my last trip, to O'Leno SP; prior to that, no takers. Well, I was still setting up the camper this time when a cardinal showed up. The feeder was at the edge of the woods, on the far side of the camper in the above site photo.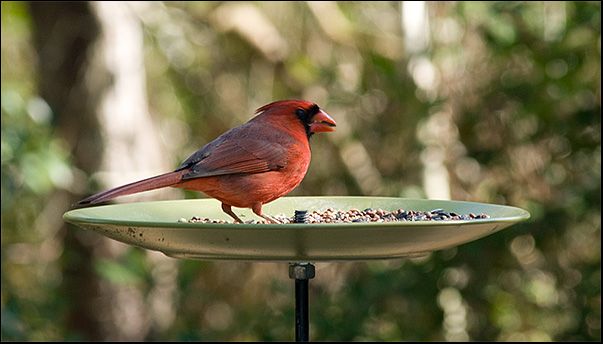 And that was just the start. (I ended up purchasing more birdseed the next day since I had not brought nearly enough.) I was particularly excited to discover my new favorite songbird, the rufous-sided towhee. What an incredibly vivid bird!
---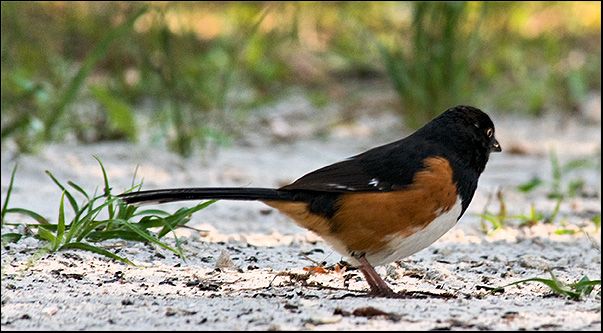 There were several of them that were regular diners at my site, including a female.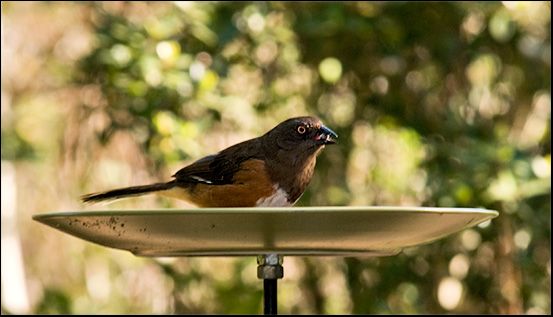 After a while the grackles and blackbirds discovered the feeder. When they were there, the other birds stayed back.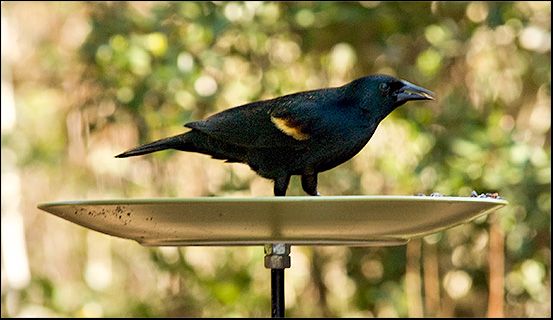 Then they would move on, and the others would return. As you know if you read my blogs, I always need help with small bird identification, and never more than on this trip! No idea what this one is. Solid gray with a dark cap on its head: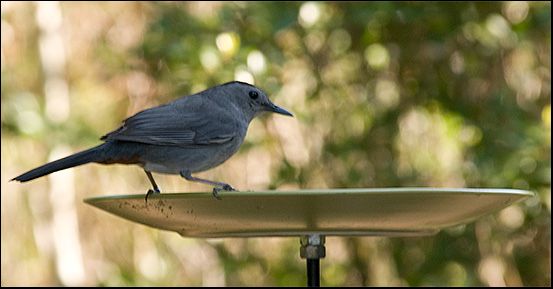 And this one, which was the same shape and size as the towhee, but light gray with darker gray wings: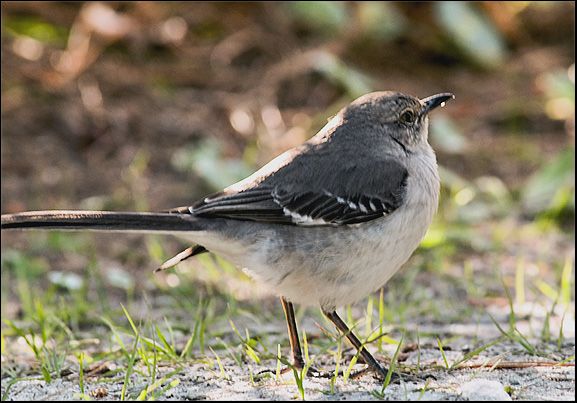 While the one above had mockingbird colors, and certainly the right tail for a mockingbird, it seemed too round-shaped to be one.
This next bird appeared for the first time in the afternoon of the second day. It was very shy and mostly stayed on the ground just inside the wooded area between my site and the tenters'. It spent a short time once in the feeder. I looked this up when I got home and it seems to be a brown thrasher.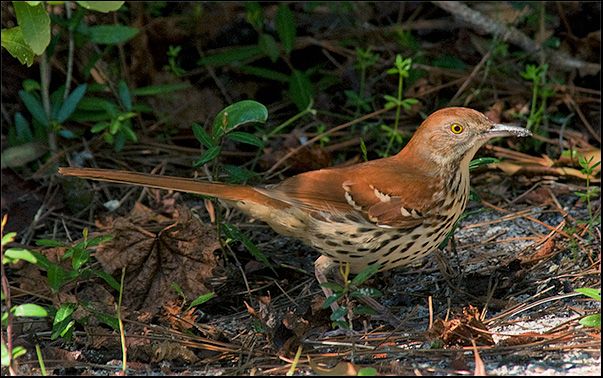 Normally when I sit outside to do some reading, I face my chair toward the campground road so I can watch passers-by, but this time there was a lot more of interest going on at the feeder, so I spent a fair amount of time sitting there with the camera and my Kindle. I was surprised to see a red-bellied woodpecker (edited after a comment corrected my initial identification!) decide to have some seeds!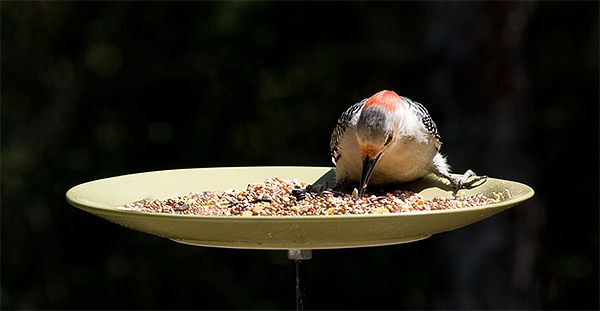 --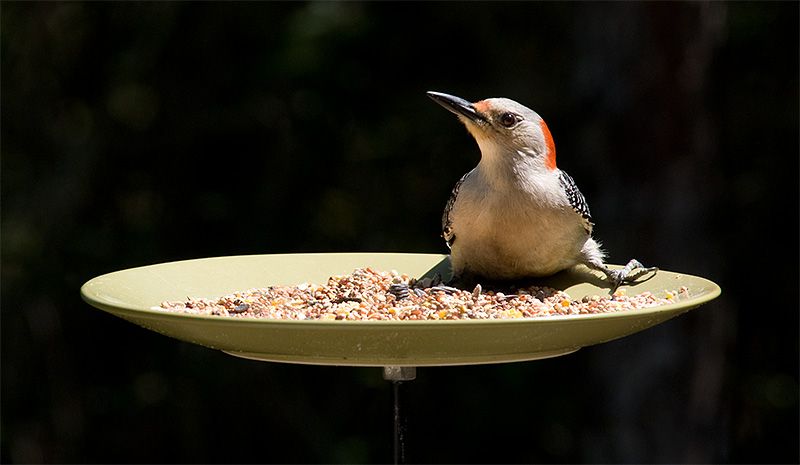 And speaking of sitting outside, it involved citronella candles and spray-on repellent this time. The bugs called
no-see-ums
were out in masses, which probably means that my camping season is winding down. When I got the birdseed, I also bought some stuff to spray on my camper screens to keep them out, and that worked well. But if I can't sit outside without dousing myself in chemicals or covering up from head to toe....why bother going? I have reservations to return to St. George soon--I'll be taking the screen enclosure on that trip! And that may be it for this campground until the fall.
There are two freshwater ponds between the campground and the Gulf, and a resident alligator that travels back and forth between them (actually, according to the ranger, it's not always the
same
gator in the ponds...). He was on the bank showing off his jaws when I walked by.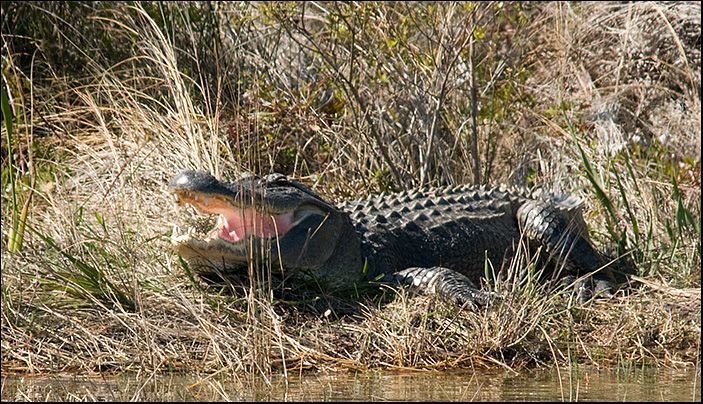 Of course I spent a lot of time at the beach, which was beautiful, as always. On the first day, the water was very flat and calm. I sat down to enjoy the view and almost immediately saw the familiar fins of dolphins passing by.
The sandpipers and gulls were gathered here and there as well.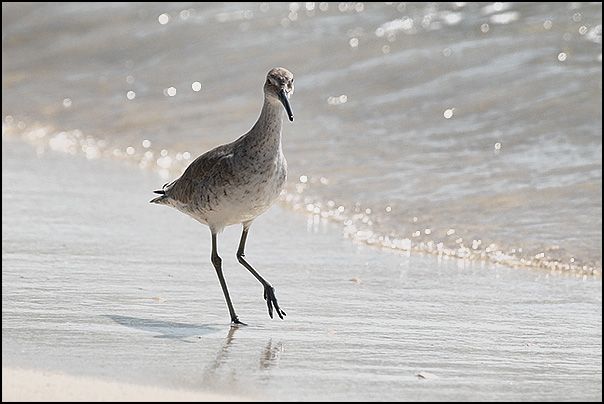 There were a lot of people fishing along the shoreline.
On the second day I thought I would walk toward the end of the island. This couple seemed to have had the same idea.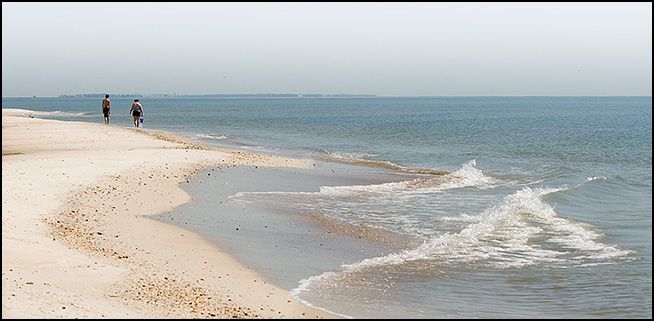 I didn't make it all the way to the end (the couple turned around before I did), maybe next time. On my way back down the beach, I came to an interesting sight.
Which of these objects is different from the others?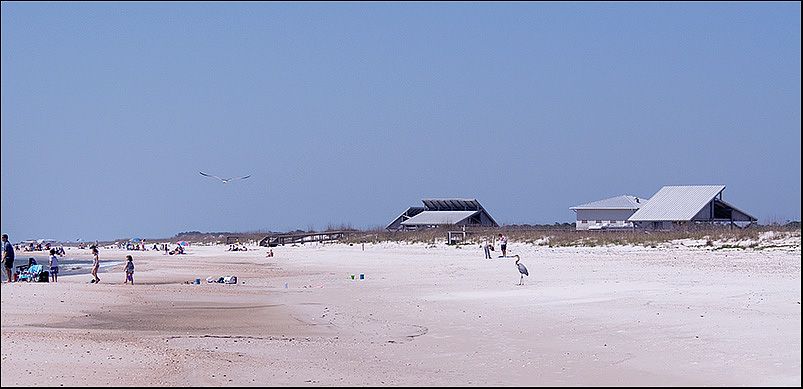 Yes! It's the great blue heron on the right! He was just standing there, quite close to all the people, and unconcerned about any walking by him. I took pictures as I got closer and closer, expecting him to move off at some point. He didn't.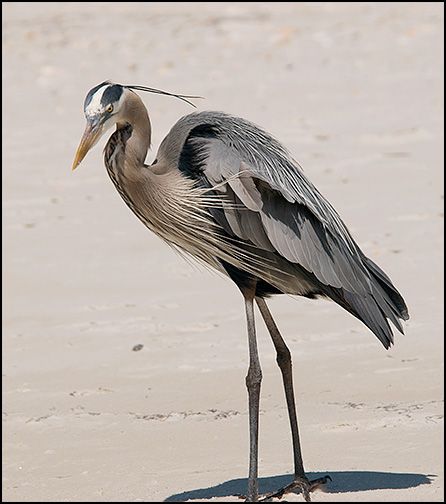 Time to do a little preening.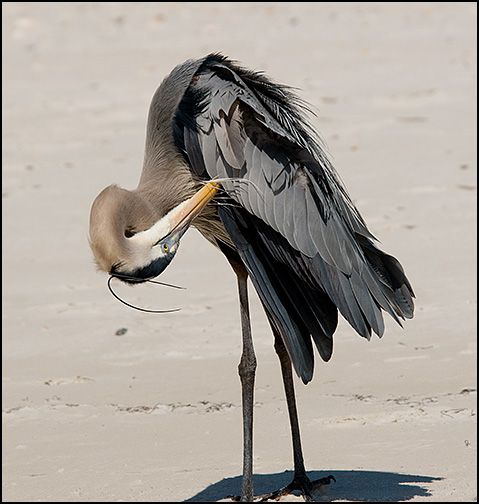 He stayed there as I passed him, and was still there when I left the beach.
Another great trip to St. George, despite the bugs! This is a wonderful campground--if you are going to be there any time soon, don't forget bug spray, and bring some birdseed!