Ah, and now I came to my favorite spot of the whole trip! I had never heard of this park, did not know what to expect. I registered and was warned that they had just gotten new signs and they were wrong and confusing, so to be aware of that as I drove around looking for a site. The woman in the office recommended a site near the top of the campground (which is very large with many loops and turns in a wooded area) on the lake. I made the mistake of following signs to try to find it...luckily I ran into Bob, one of the campground hosts, at a bath house and he pointed the way to the lake sites.
There was no one even close to those sites except for Jim, another host. The lake was a small brown pond and not much to look at, so I drove on. And I found the
best
campsite I have
ever
had, bar none. It was next to a shallow, swift creek (Hard Labor Creek itself?), which turned to follow the site perimeter. I couldn't see any other campers from the site. A Canada goose swam by while I was setting up, following the creek current.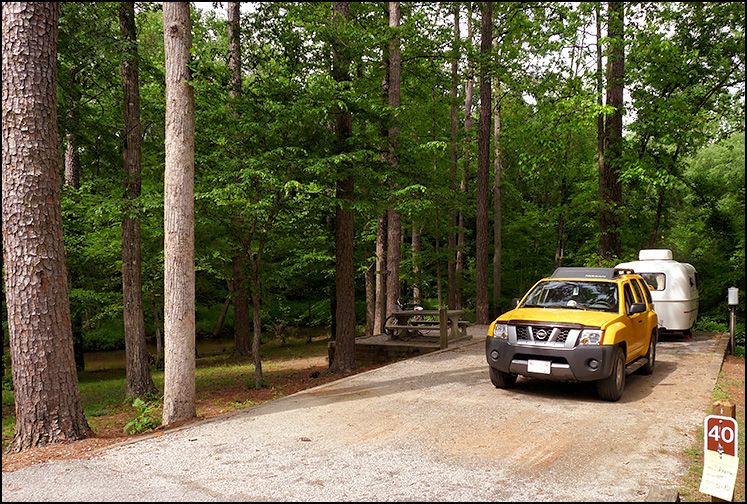 The stream is in the background of that photo. Here is the view of the stream from the camper.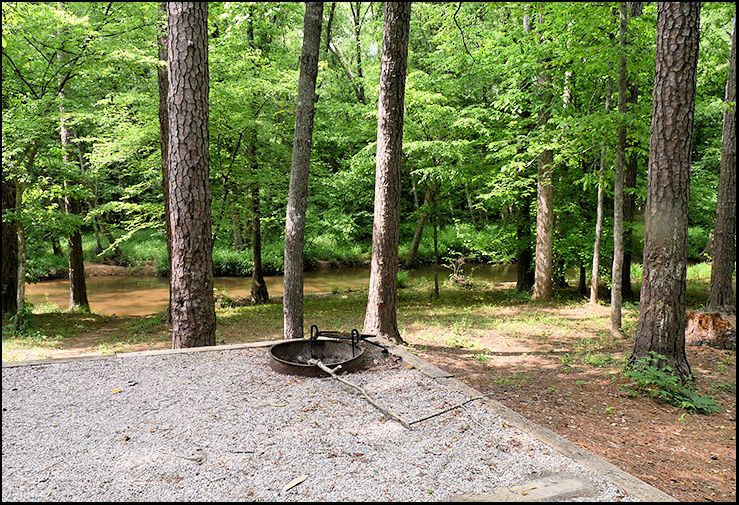 And the bike finally got some use, though not a lot yet.
If I had known this site existed, I would have simply stopped here on my way north and stayed here for all my vacation days!
Again there was no cell service at all. I drove back down to the office and used my calling card on their phone rather than leave the park to find cell service. On my way back to my site....I got lost. I honestly could not find that road I had followed to get there! It was site 40, but following the sign (I had been told to ignore signs,
hadn't I?
) that had the arrow pointing to "Sites 38-51" of course took me on a loop that started with site 45. Luckily good old Bob was still around in his golf cart and again pointed to the narrow road leading to the creek. It didn't seem likely that I would have neighboring campers that night.
My last pleasant surprise at this campground was that when I turned out the light, it was pitch dark. I don't know if they have security lights in the lower level closer to the entrance, but there were none around site 40, and that was a joy. In every other campground, I had security lights shining so brightly through my curtains that I could have read by them. I got my best sleep at this park.
However, I don't plan to return to this park, since I cannot reserve this site. It would be a long drive to end up in any other site, which would be as likely as not. Their policy is very puzzling to me.
I had only a short drive to make to the next stop so I stayed here past noon the next day, just enjoying the peace and quiet. If you go to this park, try to find site 40--you'll like it!