Wow! In a word (actually three): Best. Camping. Ever. I had found this campground back in September when I was camping nearby at Tallulah Gorge. I had made reservations last spring to stay at a campground near Hiawassee for my fall trip, but I had noted that over the summer, reviews for that campground (Enota Mountain Retreat; don't stay there) had been getting progressively more negative. I was concerned about my big fall trip, so, since I was so close at Tallulah, I drove out to Enota to check it out. And decided I did
not
want to spend 5 days there. What to do, when it was already September? I had seen the website for the Georgia Mountain Fairgrounds campground on Lake Chatuge in Hiawassee back when I was looking for a place to camp and it wasn't too far, so I decided to check
it
out. And reserved my site while I was there (#84)!
When I got to my site, I was the only camper in this campground (they have two, this side closes November 1 and re-opens in April. The other side, not nearly as nice, in my opinion, is open year round). My site was surrounded by water on three sides, with the highway bridge and some lakeside houses to the left and just trees and water straight ahead and to the right. It was overcast when I got there--I took this picture a couple of days later when the rain had passed:
It rained hard that first night, which was actually very pleasant. The next morning I emerged from my camper and looked out at the lake. The sun was trying to peek through.
There was more drizzling on and off that day. In late afternoon it seemed to be moving on, so I went outside to read. A double rainbow showed up on the bridge side of my site. The top layer is hard to see in the image, but there are two.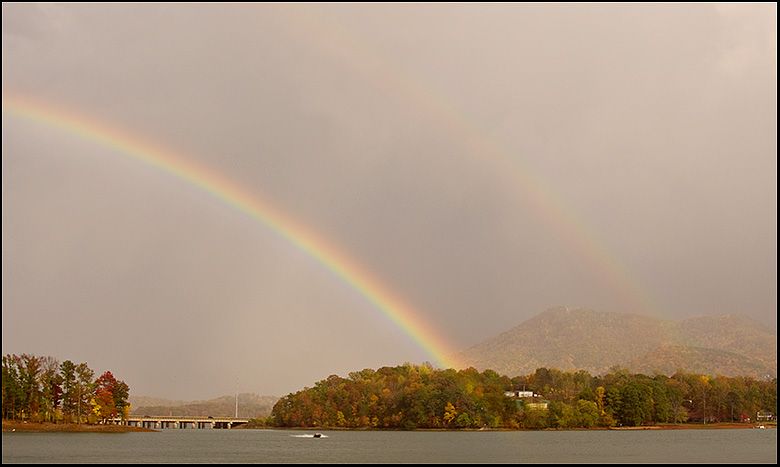 The next day the sun came out and stayed for the rest of my time there. I went for a walk through the campground, which was still empty except for me.
Later on, an RV pulled into a site up the hill from me. Turned out to be Kathy and Conrad from St. Augustine. They were a lot of fun and we spent a fair amount of time chatting over the next few days. Eventually another RV set up down the road from them, and two more appeared at the other point that extends into the lake. I still had my point to myself, which was just wonderful (there were about 6 other sites on it that anyone could have taken).
I spent a lot of time reading by the lake. A line of yellow trees across the water lit up every day when the sun reached a certain angle in the sky, at about 4:30 or so.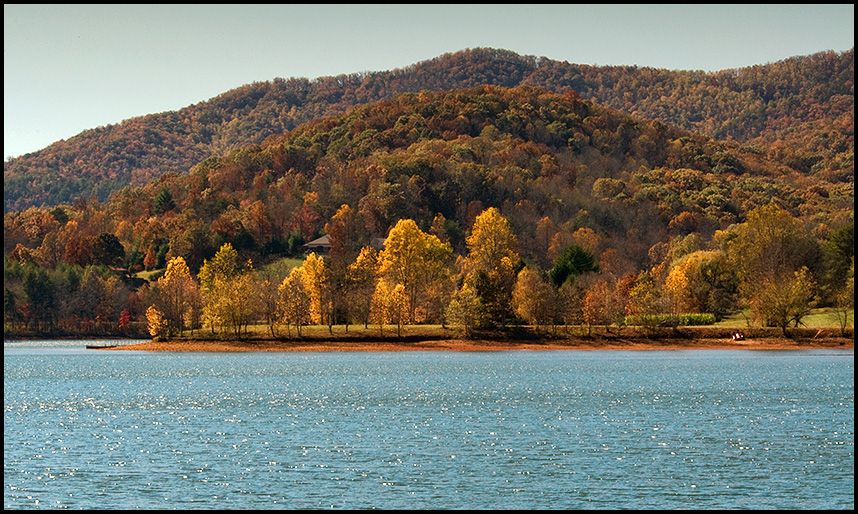 I took a panoramic photo to try to show more of the view (it was spectacular). I tended to face this direction most of the time rather than looking at the highway and homes. In this image, the rest of the campground is to the right and up a slight rise. I took this standing next to the Scamp.

Kathy and Conrad had gone to Brasstown Bald (highest point in Georgia) and it sounded like something I'd like to see, so I drove over there the next day. When you reach the parking lot, you have a choice, if you wish to visit the observatory at the top of the bald, of either paying $3 to be driven to it, or hiking the very steep half-mile paved trail to it. I knew if I took the shuttle I would feel lazy, so I set off on the paved trail. It was .....steep. Very steep. My calf muscles are still yelling at me. (It was not a good day to be wearing Earth shoes, which drop your heels down, as does walking up a very steep incline.) It was similar to hiking up to Clingman's Dome in the Smokies, with the same phenomenon when it comes to fellow hikers. Those hiking
up
the trail are trudging (with the exception of young children) with a somewhat stricken, lost-all-hope look on their faces. In contrast, people coming
down
the trail are jaunty and ebullient, all "Hi!" and "How's it going?" and hail-fellow-well-met about the whole thing. I spent time, while resting on benches and rocks, chatting with two different couples who were also climbing. I made it to the top. I could pick out my yellow car in the parking lot below.
The views are very good from the observatory and I spent a lot of time walking around and taking photos.
And then it was time to walk back down. A shuttle was stopped and I jokingly offered the driver $1.50 to just take me one way (too late, the worst was already over). This is the path
smart
people took to the top:
The next day was my last so I spent it at the campground, except for a quick drive into town for ice and to put gas in the car. While I was sitting outside reading, I happened to glance up into the sky and saw this:
Cool! Hang gliders! There were seven of them and I watched them through binoculars for a long time while they swooped back and forth above the mountain ridges.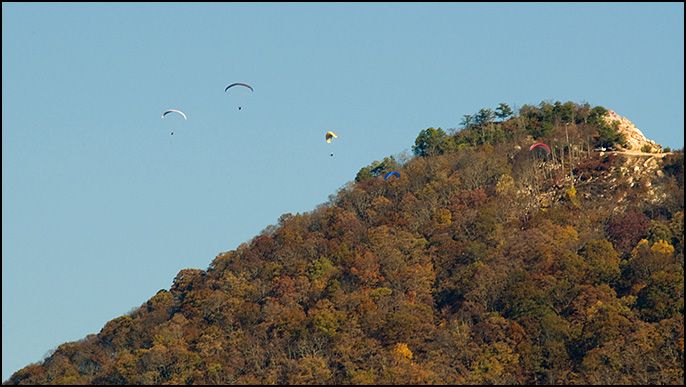 There was one resident great blue heron on the lake who I heard squawking now and then. One morning he was on the beach right outside my camper door. There were some ducks on the lake (mallards?) and I saw a few grebes swim by my site. And several times a day Canada geese flew back and forth. I love Canada geese. So of course when they landed and stood at the water's edge near my campsite, I had to take their picture!
I talked to one of the security guys there before I left. It seems that many campers settle into this campground for months at a time starting when they open in April. I suspect that this trip was one of those wonderful flukes that you can't reproduce. If anyone else had been camped on the point with me, it would have changed my experience, since I wouldn't have the perfect peace and privacy that I had this time. Other sites are not as close to the water, but they are much farther apart and the sites are staggered so no one is looking into their neighbor's windows. I'd like to return to this campground in the spring but I doubt I will reserve this site; there's no way I could be lucky enough to have the whole point to myself (and I could always move to it if nobody is there). Maybe next year right before they close I can try for it again. If you can get to this campground during their season, I highly recommend it!