I had camped here once before, back in 2005, when I was still tenting. I found the traffic noise from I-75 to be just too loud at night, and I didn't return. Now that I am in a camper, I thought I would explore it again. (As it turns out, I could still hear the semis rumbling and roaring by on 75 at night even with the windows closed, but it was muted enough to be a non-issue.)
There are two types of Florida state parks--the manicured ones and the somewhat more unkempt natural ones. This is a natural one. The sites are fairly narrow and many of them are on uneven rock with pebbles embedded in the rock. If you are tenting, be sure to get one with a tent pad, since there's no way you could stake a tent in that rock. I was in site 35, which was fairly typical. The ground around the rock and near the road is an odd light clay-like substance, which was mostly gritty mud while I was there, given all the rain.
It rained nearly the entire time I was there, which limited my explorations somewhat. This is an ideal park for biking since the distances between spots of interest are significant. It's a great ride from the campground to Lake Wauberg, and from either of those to the visitors center. One of the two full days I was there gave me a little sunshine and so I was able to put the camera in the bike basket and ride around. There is an eagle's nest near the visitors center--I saw the nest but no sign of eagles. So I rode to the lake. There is a wonderful boardwalk near the parking lot that overlooks the lake in an area popular with wading birds. This great blue heron and egret were having some lunch and watching the lake while I was there.
The heron decided to try his luck a foot or so away and hopped over to a new spot.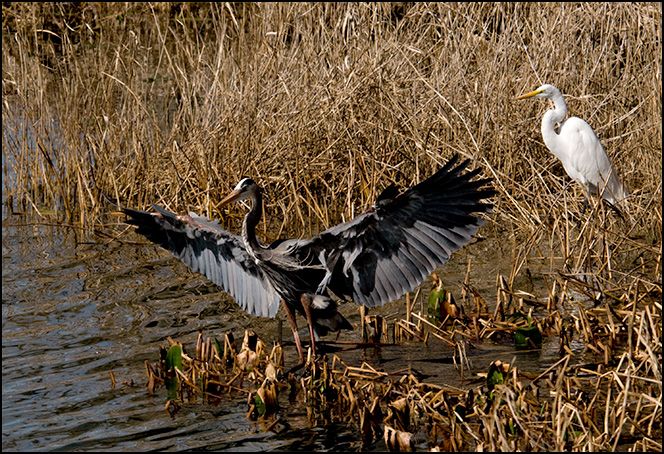 Something made the egret perk up, as the heron was geting itself settled: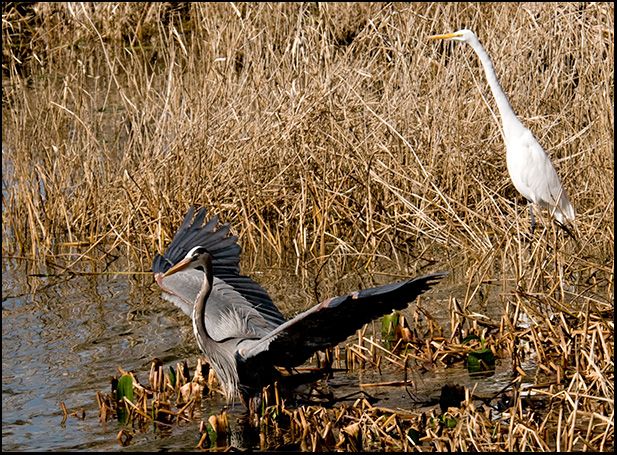 And so off goes the heron.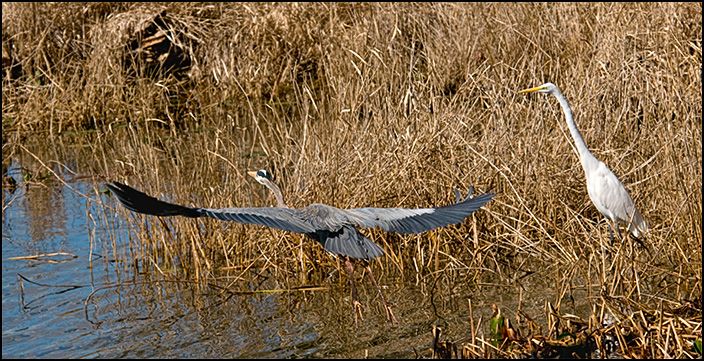 ---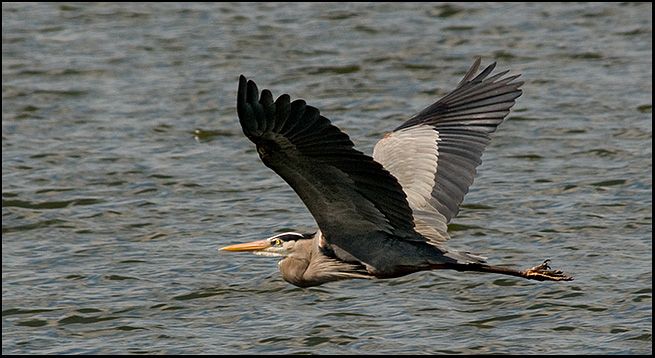 The egret was not far behind.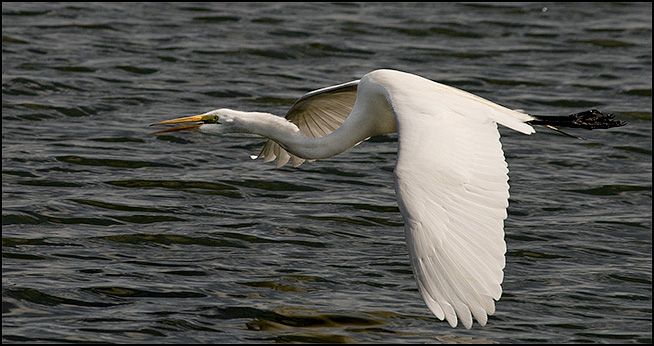 There were a lot of sand hill cranes in the area--I did not see any within the park, but saw several in fields alongside the roads near the park. I didn't get any photos since taking gray cranes against gray clouds makes for a very, well, gray photo. I drove out looking for them on the sunny part of the one clear day, but did not find any.
This is a pretty good park--better than some, not nearly as good as others. The sites are very private and arranged well, so that none of them are directly adjacent to any others. Site 35 had a large expanse of woods on either side. The campground road is narrow but paved. At about 9:00 in the morning on the day I was leaving, there was a knock on my door. It was the campground host, informing me that a water main had broken and there was no water and would likely not be any for most of the day. Good timing for me since I was going to be packing up anyway and could wash my breakfast dishes and so on when I got home (I use bottled water for coffee and so had not turned on the tap yet). I assume this outage is a rare event there.
I'm off to a new campground (for me) next week.