I've been to this park several times over the years. As with other GA state parks, you can't reserve a specific site, so, while there are many sites right at the lake, you may also end up in a site that views the lake through trees and past other campers. I was lucky this time, it turned out that I arrived shortly after someone had vacated site 11, which is a lakeside site I have had before. More on sites later. This was taken after I had set up: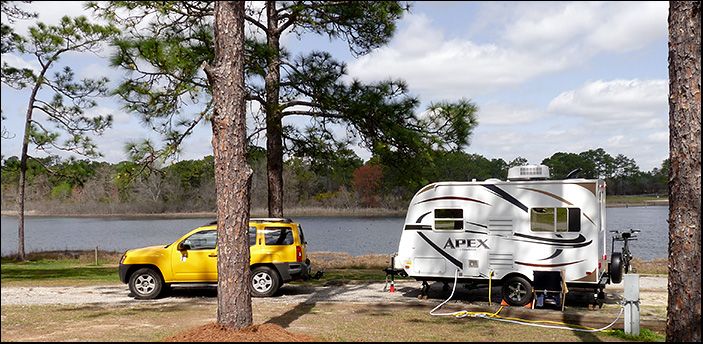 This is the view from the back of the camper, looking toward the main part of Lake Seminole (the park is located along an inlet):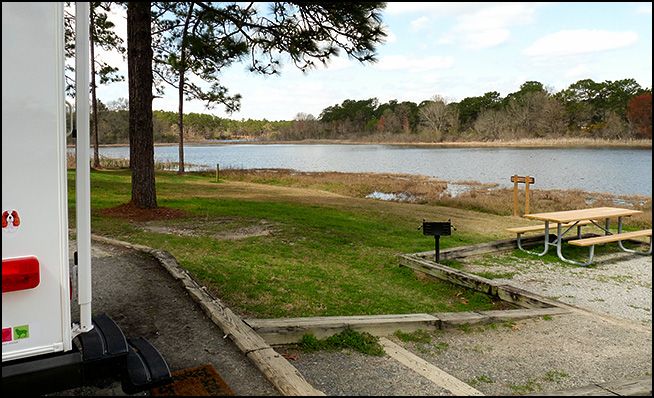 I had wonderful neighbors on this trip, Billie and Bud from Chicago, who were camping with their wonderful Springer, Sunshine. They got Sunshine from Springer Rescue in Alabama.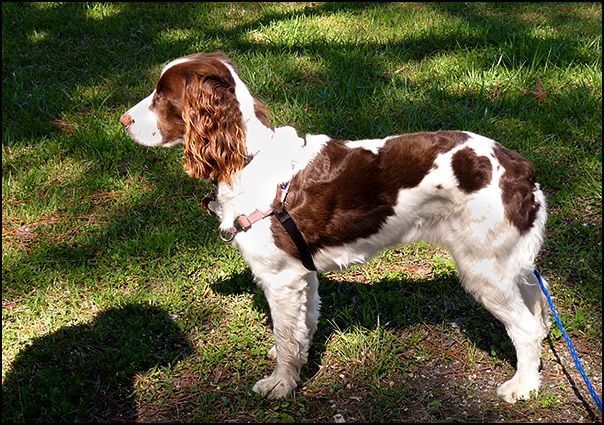 I spent a lot of time chatting with them; it turned out that I am currently reading a book that Bud had just finished.
As always, the Canada geese were there, though it was too early for goslings. I like these geese a lot (possibly because I don't have any around my home, so I don't see them as pests--I know that they can create problems sometimes).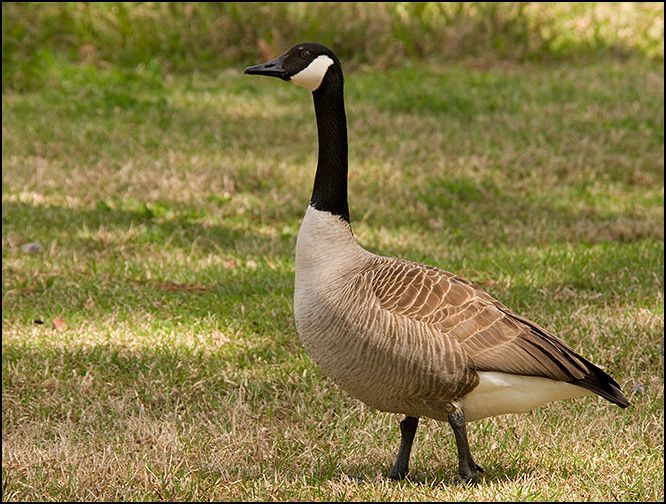 ---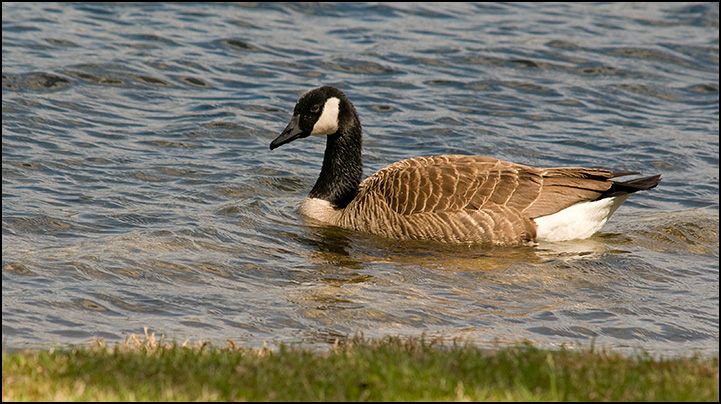 I arrived in a terrible storm, but the weather cleared and warmed up over the 3 days I was there. One day I was sitting outside reading and enjoying the view when I heard a bird call that was unfamiliar to me. I looked around and spotted, much to my surprise, a bluebird perched on a nearby signpost. I have not seen a bluebird for years. Of course I had the camera next to me. I put the Kindle down, picked up the camera, and took several photos of the bird as it flitted from signpost to signpost and into the branch of a tree.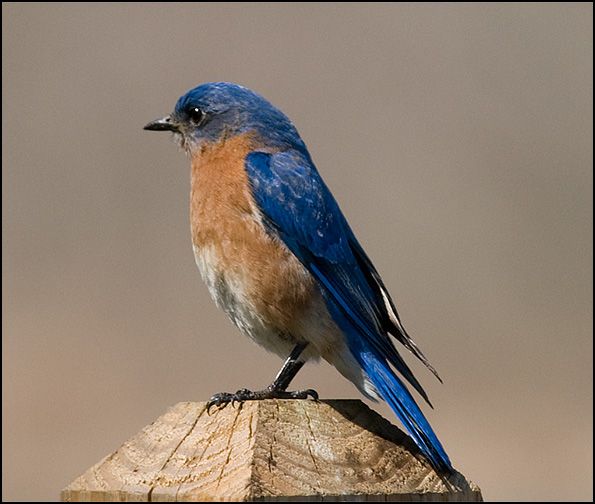 ---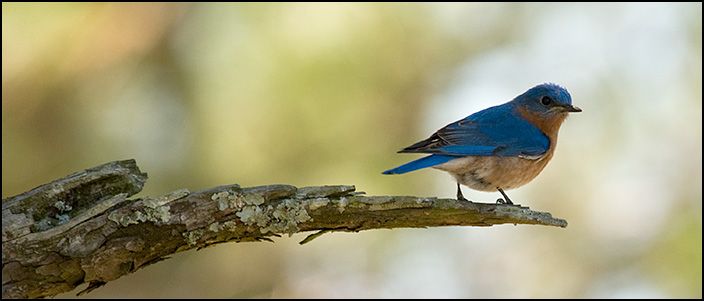 ---
---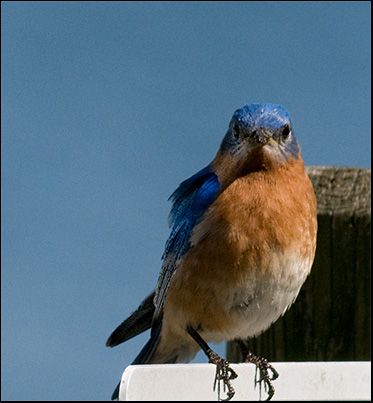 Here's the thing about the sites at this park. I went for a walk to explore the sites that were closed, which are out of sight of the part of the lake that the rest overlook, but they had views of both the lake and the wetlands that are along a hiking trail. These sites are grassy, level, wonderfully shaded, and quite large. All of these sites would be better for tents than the gravel ones close to the lake. In fact, all things considered, I liked these sites a lot better. But they are closed off. I talked to one of the hosts about when they were opened, and she said that they open them when the front sites fill up. She said people want to take the sites all the way at the far end of the closed section and then complain that the bath house for those sites is closed. Apparently it's expensive to open/operate a second bath house, which makes sense. However, I think that these sites are greatly preferable to many of the ones on the lake side, which are neither lakeside nor woodsy, just somewhere in between. I would like to get back to this park again soon and I plan to ask if I can use one of those woodsy sites, well aware that there is a short hike to a bath house. It seems a shame to me that the best sites (IMO) at this campground are closed (they have been closed every time I have been there, but perhaps they are opened in summer?). Lakeside is really nice, and I enjoy the geese, but there are more powerboats and jet skis than birds in that section of water. If you are a tenter and you encounter the "This Section Is Closed" sign across the gate, and there are no other good sites available for tenting, you might want to ask about those sites. It's so pretty and peaceful and green back there. Oh, and one site, I think it might have been 28, had a bluebird house next to it!
Next planned camping trip is to a new (to me) campground--I'll let you know how that goes.