It's been a while since I posted here, though I have been camping since the last post--to places that have already been well-covered on this blog. And now it was time for the long spring trip, most likely the last camping trip of the season.
I stopped at Pine Lake Campground on the way north, which is near Bishop, GA. I had stayed there before and posted some photos here, so I did not take any this time. Pine Lake is an okay campground, owner is very nice. There seem to be a lot of permanent residents of the campground. I did not bother unhitching the camper since I was only staying one night.
The next day at around 3:00 I arrived at Springfield Campground, a COE campground directly on Lake Hartwell near Anderson, SC. Lake Hartwell is a huge lake with a lot of fingers and islands--this campground is on land that juts into the lake and so there is water on three sides of it. Almost all the sites are on water, though a few are across the road from the lake.
One very neat thing about this campground is that not only is the campground map available online (nothing new there), but so are photos of all the sites. If you go to
this site
, page down to Springfield, and click on the map link, you'll get there. I tried to just put that photos link here, but Blogger wants to add odd formatting to it, making it useless. If the link I added also doesn't work, you should be able to get there via a search.
So, I had selected site 53. This was a very good site--it looks like a pull-through on the map but is actually a back-in site. Great view of the lake. Site 54 is a pull-through with a great view and a large patio area by the lake. Here is my site: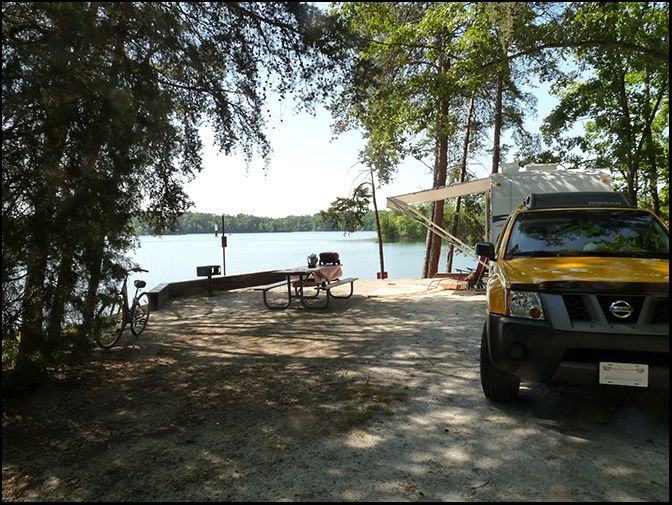 This is the view while sitting outside the camper (where I spent a lot of time, reading):
I suggest avoiding weekends if possible--my stay spanned a weekend and there was a significant difference between those nights and the ones after the weekend folks left. On one side I had three families tenting with kids; the kids were loud, but that's what kids do, and they quieted down after dark. They were not a problem at all. On the other side, however, I had the Country Music Fans. This couple played their music at a very loud volume, starting from sometime before I arrived and continuing that first night until about 11:30. I found out the next day that the tenting people had complained to the park staff about them. A ranger apparently had come out around midnight, but by then they had gone to bed. The next morning, the kids were at the playground across from the CMF site, yelling "Turn your music down!" Later that day the couple came to my site to see if I was the one who had complained. I said no, it was probably the people in the tents...without windows to close against the noise (hint, hint).... At any rate, the tenting people left, either went home or to another site, the ranger made more visits to them, and then finally they left and peace reigned. I spent some time riding my bike around the campground; they were the only ones producing that much noise, but there were other campers that looked like less than ideal neighbors. After the weekend ended, it was back to more of an older, state-park-like crowd. I strongly recommend picking weekdays if possible.
In my opinion, the best sites are 44 and 37. Any one from 34-38 is great, as are 43, 45, and 49. If you have a boat, any of the sites near the boat ramp would also be very good. The sites are all level and a mix of pea gravel and white clay. The roads are paved. The bath houses are clean.
Within an easy drive you can get to three large grocery stores, two liquor stores, and a Walmart. There is no wifi hotspot at the park, but there is a McDonalds nearby that has wifi. The town of Anderson, with all the usual shopping center stores and restaurants, is very nearby and easy to navigate. I had a very strong Verizon signal at the campground. There is a gate that is closed at 10 and opened again at 7.
In addition to the boat ramp, there is a beach.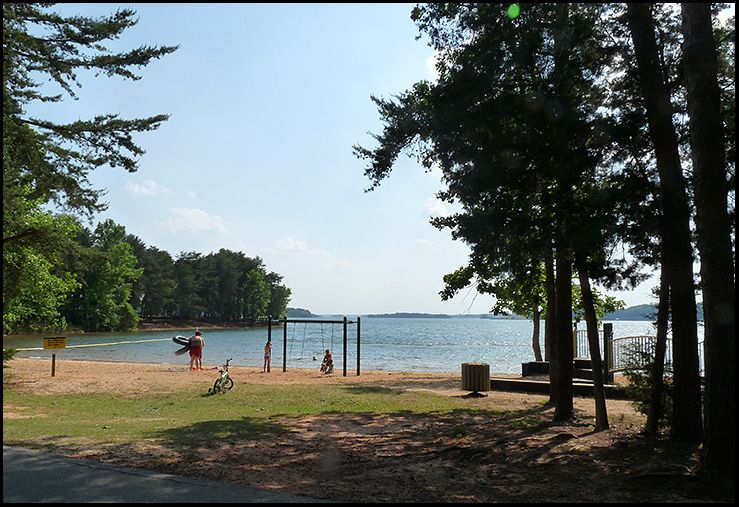 Sites 27-32 are in the trees to the left, going out along that point of land.
There were Canada geese! And they had babies with them.
They brought the youngsters up onto the grass below my site. So cute!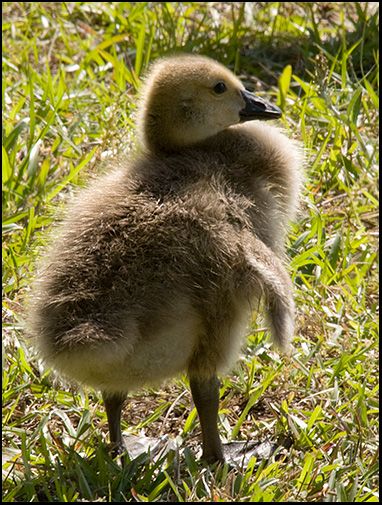 And off they go into the sun...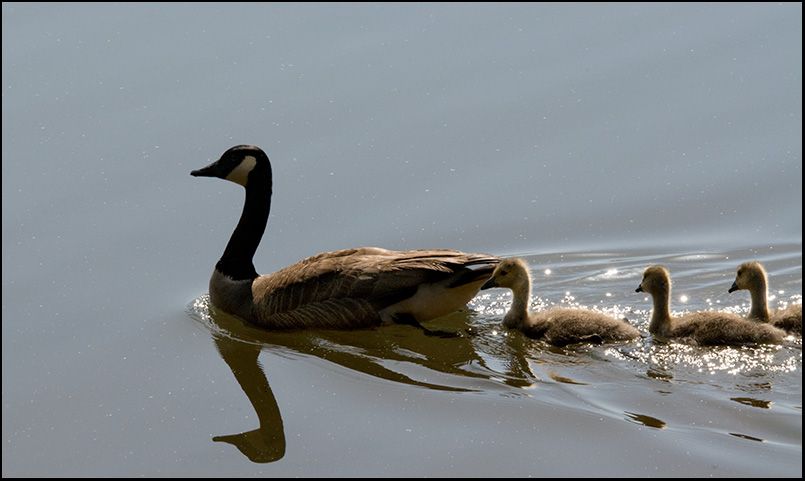 One day I was sitting outside and saw this go by out on the lake: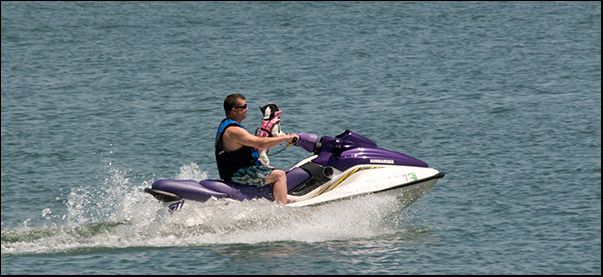 I kept the camera up and he circled back closer to my site.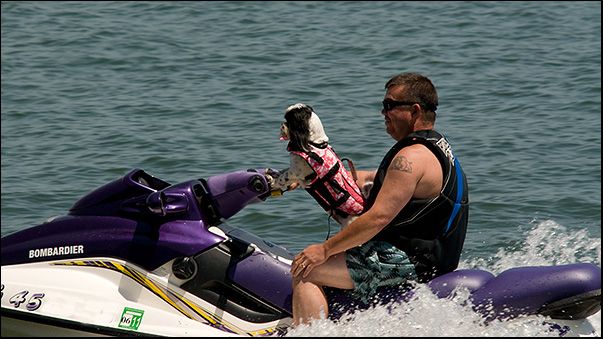 He was close enough to see me taking the photos. Later he stopped by my site and asked if I got good pictures. He said the dog seems to really love being out on the water, that it will try to get on the jet ski by itself. It certainly seemed to be having fun!
As much as I rail against the air boats on our placid, narrow Wacissa River (where they simply don't belong and they are a safety threat to both wading birds and paddlers), I think that jet skis are perfectly suited to large lakes like these. I've never ridden on one, but I think I would like it; it just looks like fun to me. This guy was out there swirling around and nearly getting lost in the plumes of water.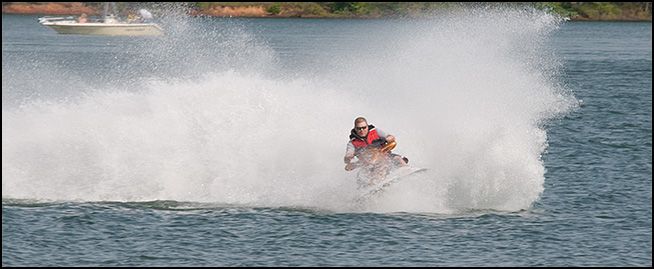 This campground is not far from the South Carolina Botanical Gardens in Clemson, a beautifully laid out park (no admission fee). I went there one day. I took a lot of flower photos, most of which require no caption, so I will just post them. And then I will be back to ramble a little more...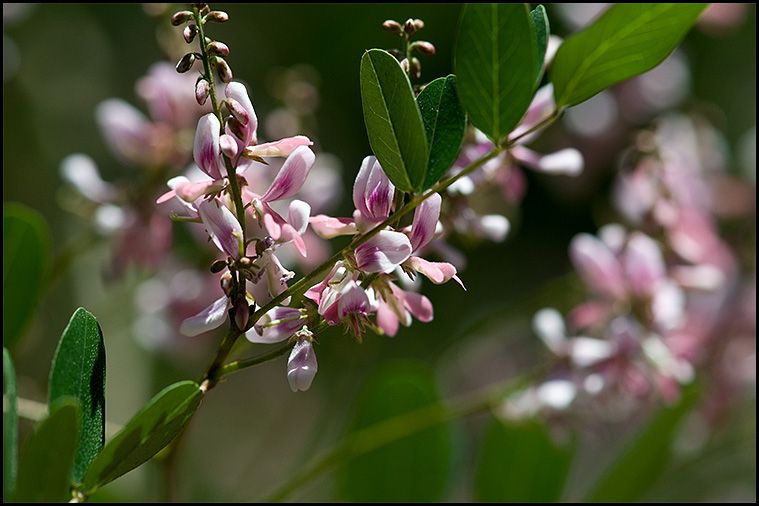 ---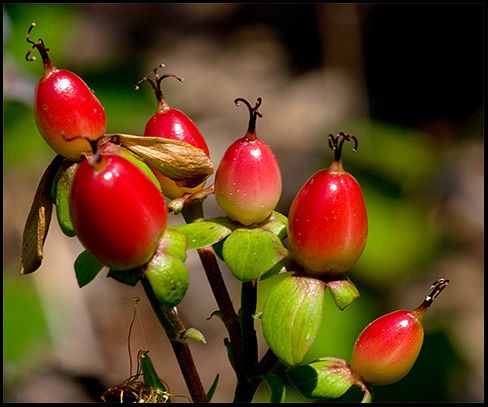 ---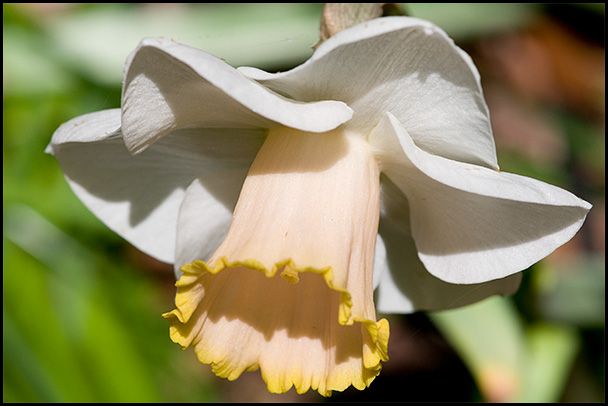 ---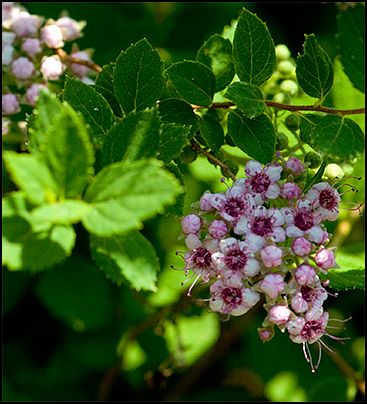 ---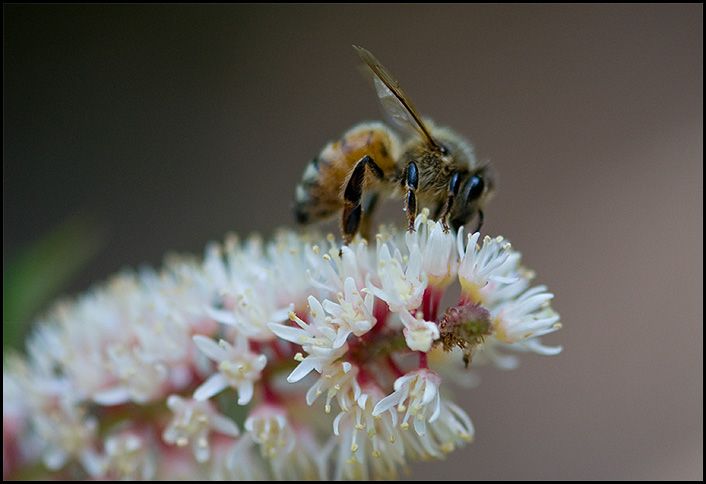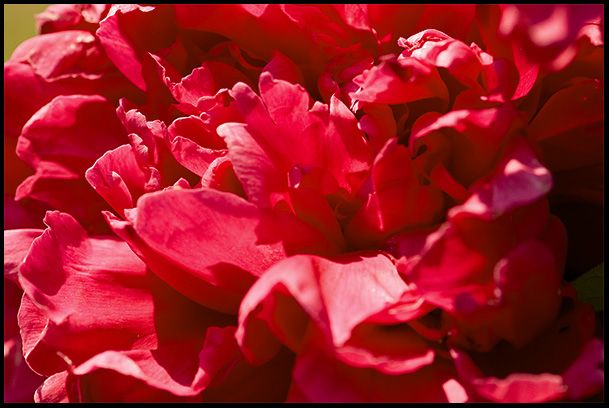 ---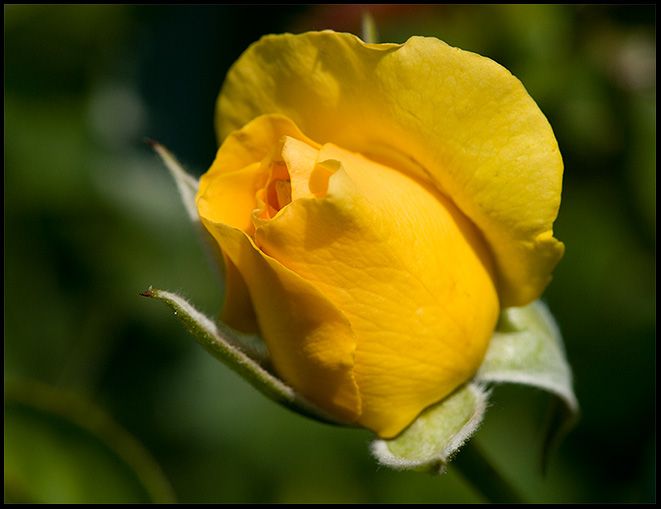 ---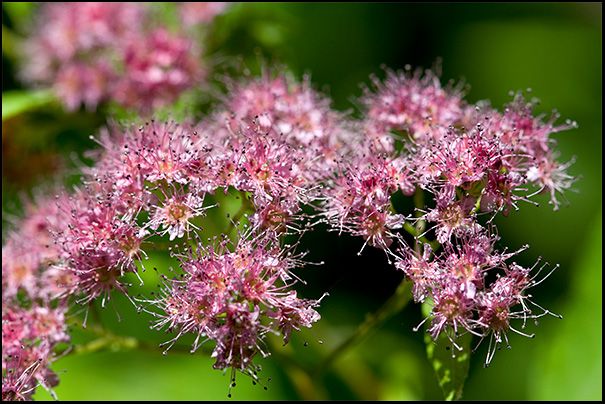 ---
---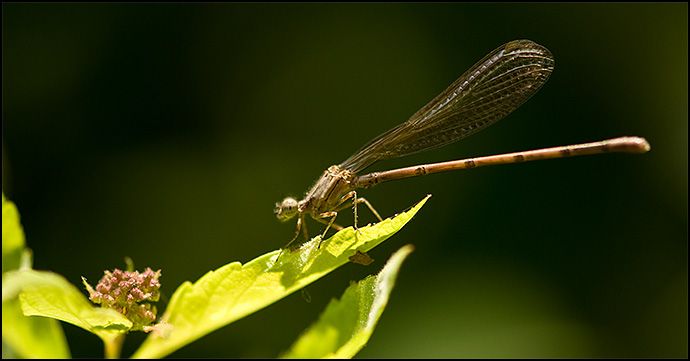 The walkways in the garden area meander around through trees and past ponds.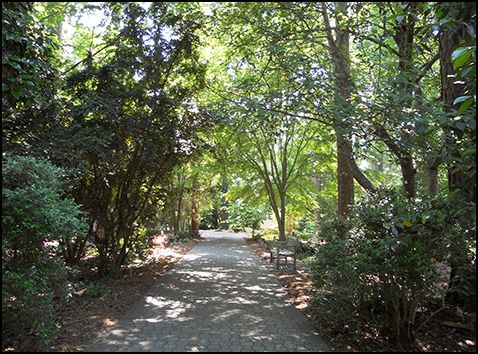 This one shows the hosta garden in the foreground.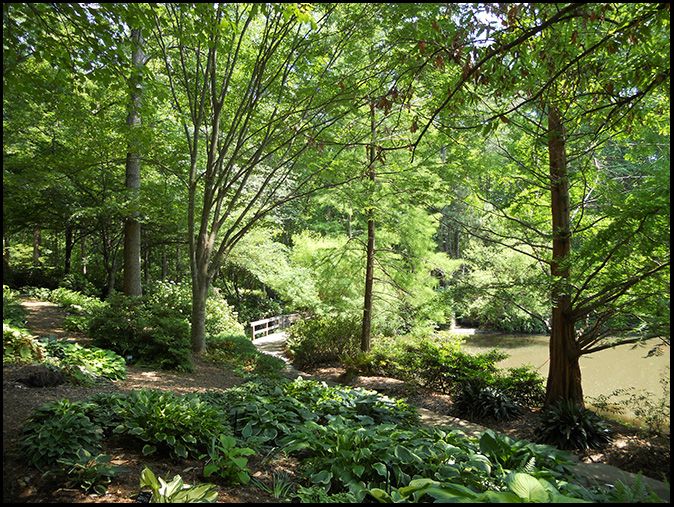 So then I went to the duck pond to see what I could see.
There were two mallards there, and this goose.
I saw a footpath that led alongside the pond, so I left the paved walkway and started walking on that, with the hope of getting closer to the mallards or the goose. Much to my surprise, I heard a splashing from bushes between the footpath and the water, and out swam a mother wood duck with her babies!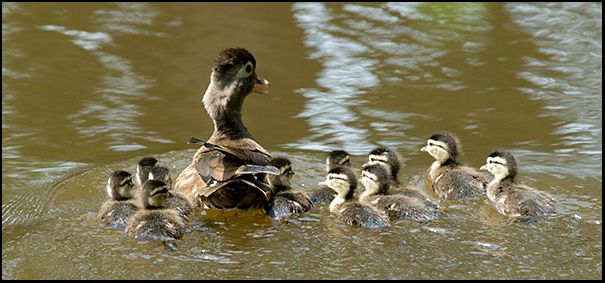 Ooops. sorry! Didn't mean to bother her. She swam over to the other side and settled under a different bush. No sign of a male wood duck, but there must have been one at least briefly!
I caught up with the goose.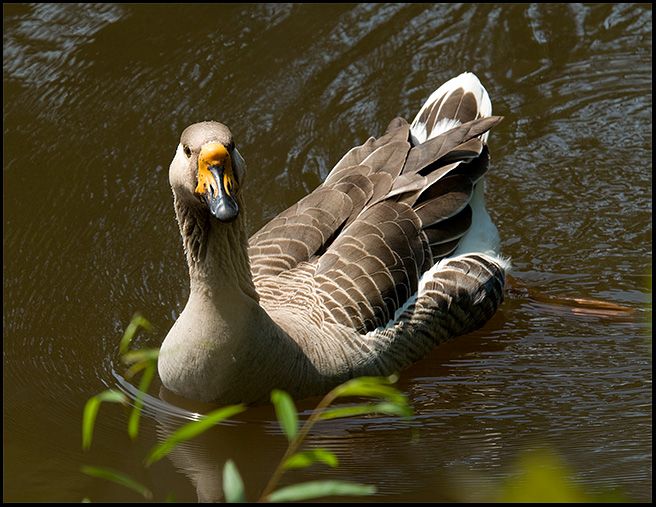 I really liked this one; a very handsome goose. I took a lot of pictures of it.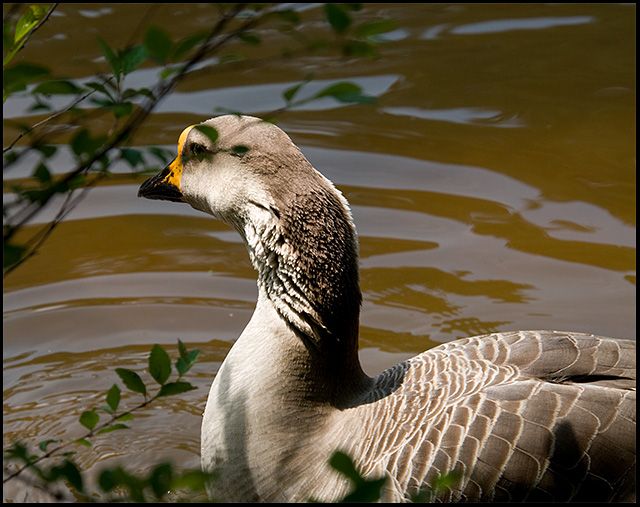 And then finally I headed back to my campsite.
In addition to the Canada geese, there were a couple of mallards that visited my site every day. This one was the bolder of the two.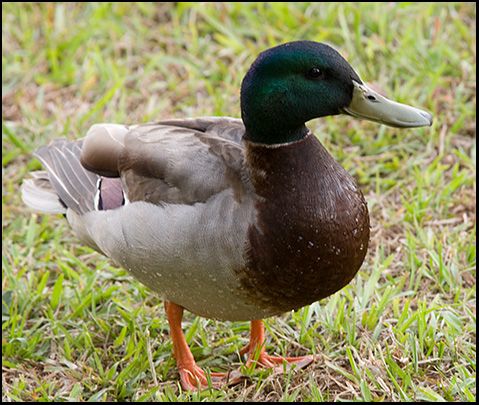 One day I was sitting outside reading in the late afternoon. I didn't have the camera with me, but I did have my cell phone next to me. My duck buddy jumped up on the little ledge and was eyeing my birdfeeder. I knew he would leave if I got up to get the camera, so I took a photo of him using the camera in the phone. The duck never did attempt to get closer to the feeder, although it pecked a bit at the seeds that had fallen.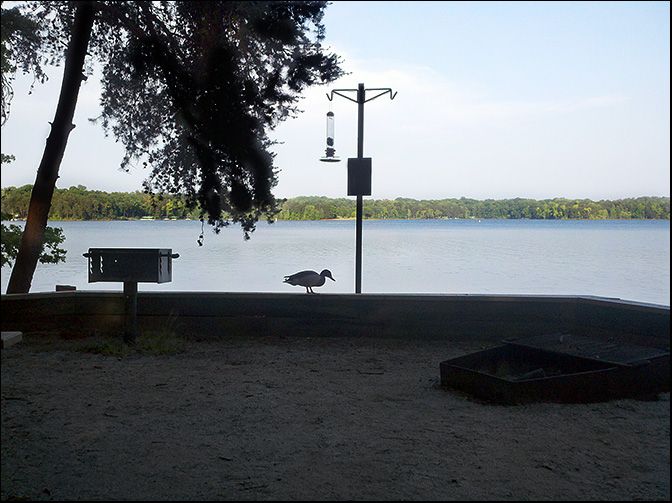 After enjoying the lake for five days, it was time to head home. I had made reservations at a KOA in Forsyth, GA, between Macon and Atlanta. I have never stayed at a KOA before; mostly this campground was in a good location as a midpoint stop, it just happened to be a KOA.
Strangely, while it could not be more different from my usual choice of campground, I enjoyed the night I spent there. I was pretty tired by that time. Having someone escort me to my site was greatly appreciated. Again, I didn't unhitch, but I did connect the power and water. While I was doing that, the guy came back with two huge homemade chocolate chip cookies--they give them to all arriving campers. They have a pizza kitchen set up in the office area; you can order a pizza and they will bring it to your camper. This was also greatly appreciated. The campground was not at all appealing, at least not the area I was in--RVs were parked very close together, many were clearly longterm residents, with potted plants and flags and little fences and assorted other things around their campers. Some, like me, didn't even have a chair outside. The campground is directly adjacent to I-75, which might have been terribly noisy if it was cool enough to have the windows open, but I was back in AC-worthy temps now and so I couldn't hear traffic noise over the AC unit. What a great spot for people-watching out my window! I went into the bath house but it was very mildewy, so I opted to just shower in my camper that night. I could see a pond they had with a fountain in it, and even spotted a Canada goose with babies! I was too hot and tired to take the camera over to them, though. It was time to go home! While this is certainly not the kind of place I normally recommend, if you need an overnight spot and don't care about trees or privacy or traffic noise, I suggest you check this place out. I actually kind of liked it. I doubt I will go back (this was an experimental route home; turned out not to be the best way), but if I do ever need a place to stop in that area, I would pick this one again.
I will absolutely be going back to Springfield Campground. They close November 1 and reopen on April 1, so I won't be able to do any winter camping there, but I can fit a couple of trips in next season.
Meanwhile, October 1st, the usual start of camping season here, is only about 141 days away (from today). I doubt I will get out camping again till September at the soonest, so this blog will probably languish for a few months now. Maybe it's time to get back out paddling...