At about noon on Tuesday, I realized that we were in for at least two days, starting Wednesday, of cool (82-ish) days and nights (60-ish). Sounds like camping weather to me! Since over the summer I have gradually been removing things from the camper for use in the house, this meant scrambling to get it re-stocked. I had to wash the summer dirt and dust off the outside. And of course choose a campground. It was a rushed afternoon but by Tuesday evening the camper was hitched to the car, clean and white again, and ready to go.
I picked
Eastbank
, a campground I had discovered online over the summer. It's a Corp of Engineers campground on Lake Seminole near the town of Chattahoochee, which is less than 2 hours from where I live. I stayed 3 nights.
I got there at around 1:30. The air was cool, there was very little humidity and a wonderful breeze coming off the lake. What a joy to be setting up camp after so many months--it has been a long, hot summer for everyone. I had site #4, which was an excellent site, very close to the lake.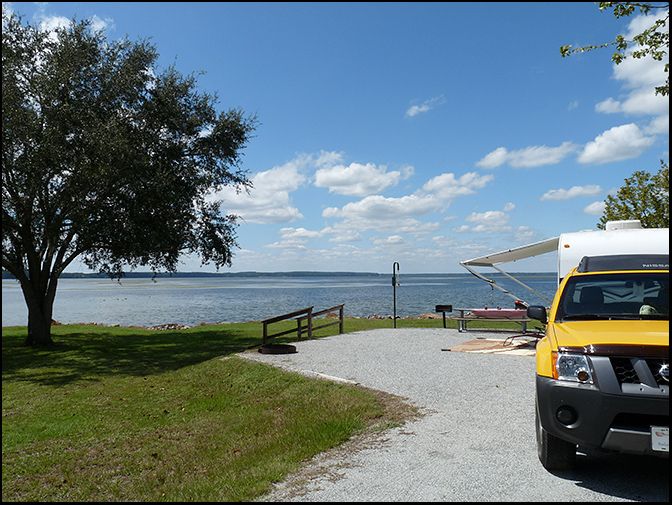 Here's the view from the chair, where as always I got in a lot of reading on this trip. Note the "dangly thing" (thanks, Pam!).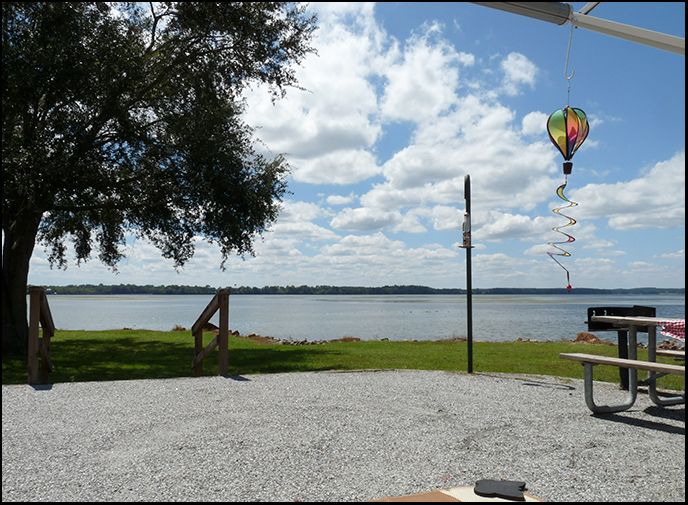 This is the view from my site across sites 5-8. Lots of grass, very little shade in this section.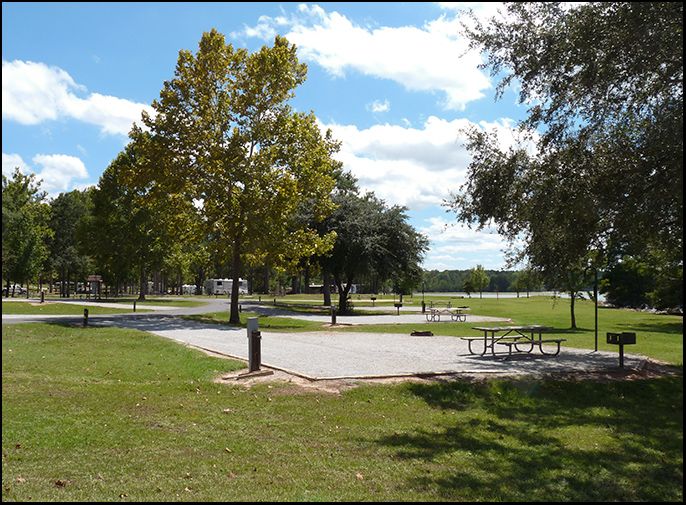 There was a great blue heron that hung around the campground a lot, particularly on a little grassy spit of land at the end of the section I was in. I saw him down there one day while I was sitting and reading. So I grabbed the camera and walked to where he was.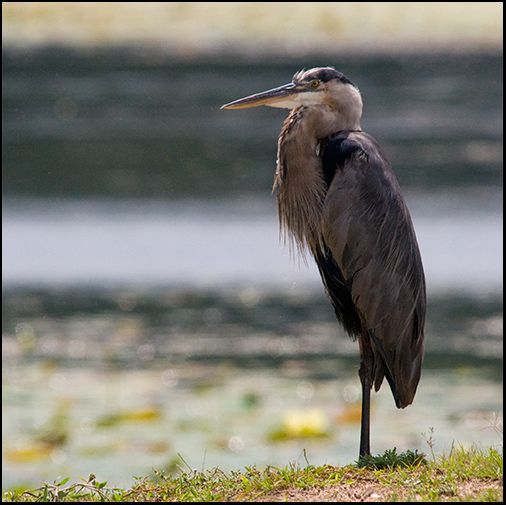 He let me get just a bit closer.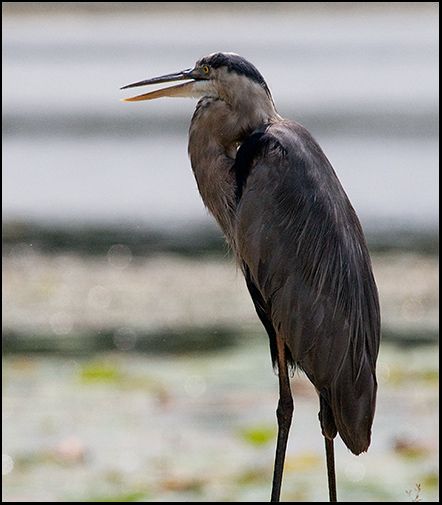 I decided that was close enough and went back to my site. He was still there hours later. He could be heard squawking after dark.
I saw a few egrets, heard Canada geese one night, and this little blue heron stopped by my site one day.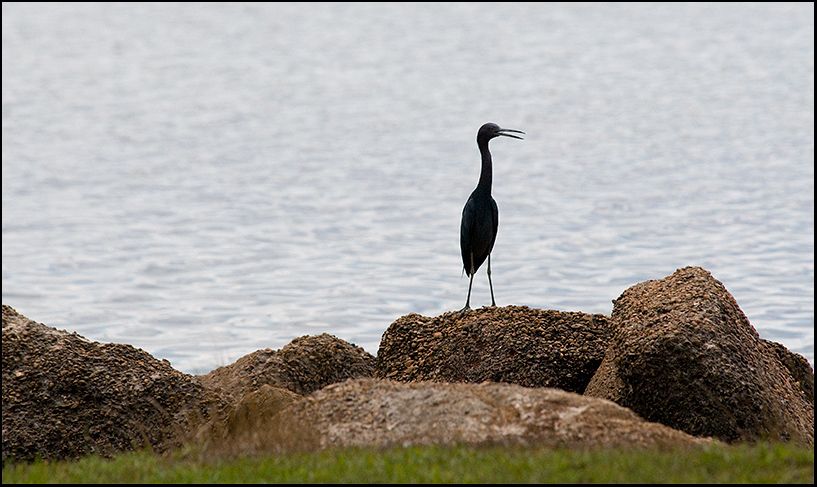 Just down the road in Chattahoochee there is a Subway, a fairly well-stocked IGA grocery store (with a very minimal wine selection), and a restaurant or two. I drove in one day to get gas for the car and pick up a sandwich. On my way back I took this photo of my camper. As you can see, while there is no greenery to give privacy in this section, the sites are roomy and far apart.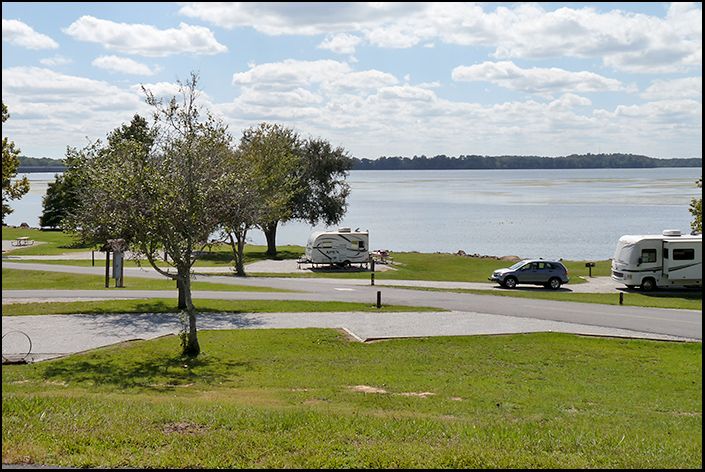 I camp next to lakes or the Gulf fairly often but I almost never see any photo-worthy sunsets. It wasn't too bad on Thursday night of this trip, though, so I got a few photos.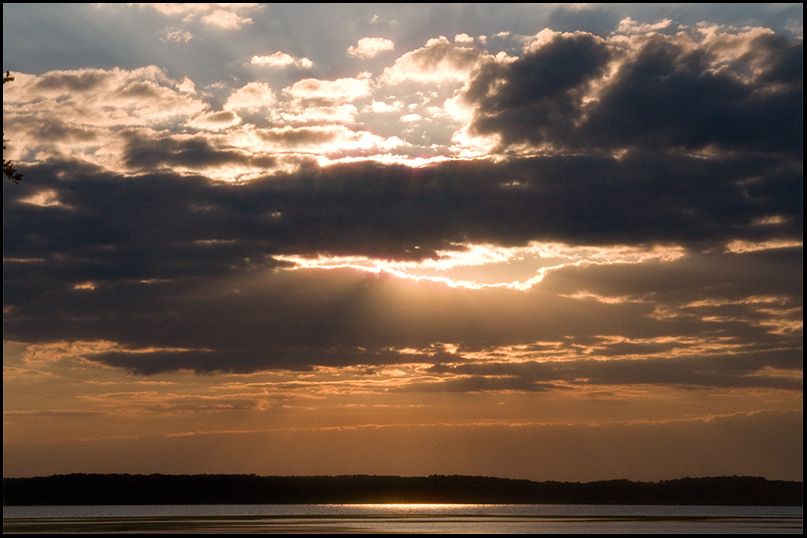 ---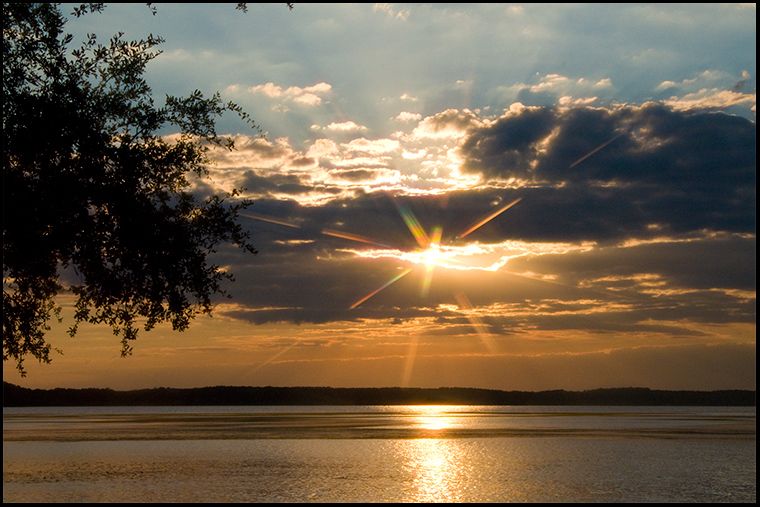 ---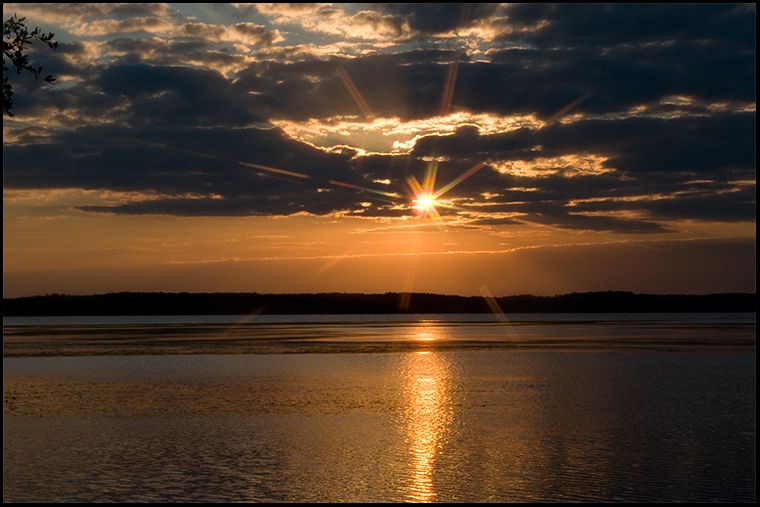 The showers in the bath house are just plain weird. You push a button and warm water shoots out of a pseudo-showerhead. The water stays on for one minute, at which time you have to press the button again. And again. And again. There are four uni-sex shower rooms. I used the shower in my camper for all showers except, unfortunately, when I needed to shampoo my hair. This took a long, long time. Given a choice between the push-button shower or filling my gray water tank, I think I will opt for filling the tank next time! There was the option of using the old bath house, which was in a section with only one extremely shabby RV in it. There was no way to lock the bath house door and the showers only had curtains. Didn't seem like a good idea.
One day I walked over to the boat ramp. Next to it, down steps from the parking lot, were two little areas with picnic tables and grills and fire rings. I thought they had been set up for boaters. I walked over to them and noticed they had numbers on posts, like the campsites. Ah ha! These were tent sites. They were pretty nice, especially since I don't think this boat ramp ever gets much use (but I don't know that). This one, 64, would have you right at the edge of the lake, with a fantastic view at dawn.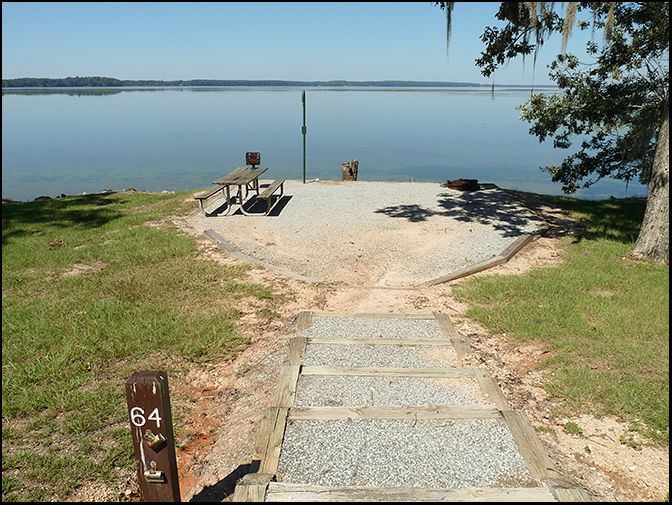 This one, 65, has more shade and more privacy from anyone on the water.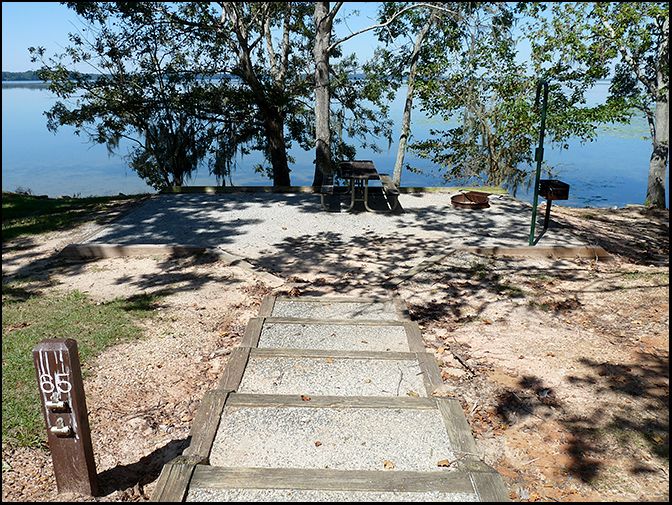 The down sides of these sites are that they are right off the parking lot, didn't seem to have power or water, and they are quite a distance from either bath house. They were also small. But what a great view!
There are 3 sections of campsites. The one I was in was grassy with little shade but many sites were very close to the water. The section where the two bath houses are had a lot of trees and was very shady, but with little or no lake view. The third section was on the lake but most of the sites were farther from the water. However, there were more trees. The sites I liked were mine (4) and 2, 5, and 8. I also liked sites 26 and 28 in the other lake section.
Verizon cell service varied from strong to almost nonexistent. There is a phone in the campground that can be used for local calls or with a calling card.
I picked my days right. Friday, my last day, was warming up again, enough so that I had to use the AC in the camper in the afternoon (probably wouldn't have been necessary with shade). And now we are back in the 90's again, so I don't know when I will be able to get back out....but at least I got a start on the season!