I had reservations at St. George Island, my favorite campground. When I got there and went into the ranger station to check in, a man was there asking for a refund. Evidently he had just arrived and was swarmed by mosquitoes when he tried to set up. I thought
well, maybe he is kind of a wimp when it comes to bugs, it might not be that bad.
I asked him where he was from. He said South Florida, and that he often camps in the Everglades but they have never been this bad there. Hmm. Then one of the rangers said that he couldn't walk from his house to his car without inhaling mosquitoes. I had planned this trip based on weather; I had forgotten about the bug problem here before our first actual cold spell. This just didn't sound like the makings of a good time, so I cancelled those reservations. I immediately thought about Holiday Campground, a place I always pass on my way to St. George. I called to be sure they were open (on this trip I saw no campers there when I passed) and if they had any sort of bug problem. Yes, open, and no, no bugs.
This campground is right on Ochlockonee Bay, at the bridge where Hwy 98 crosses the bay. Angelo's Seafood Restaurant is across the street, the Mashes Sands beach area is across 98 and down a short road. I had my choice of sites and selected #10.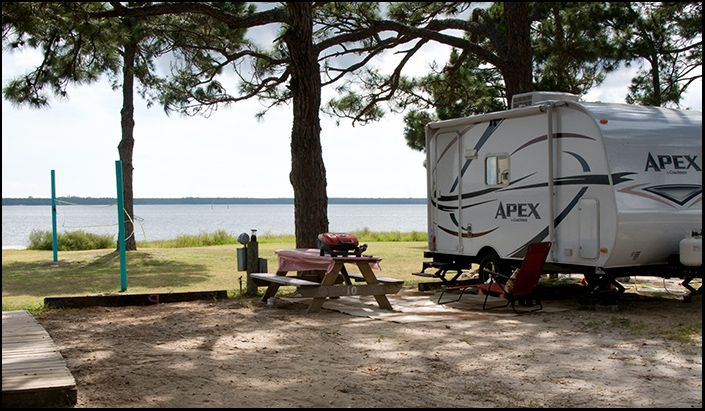 (Note how that is actually sites 9 and 10.) There is a fishing pier near that site; this is the view back toward the campground from the end of the pier. The large building is the bath house.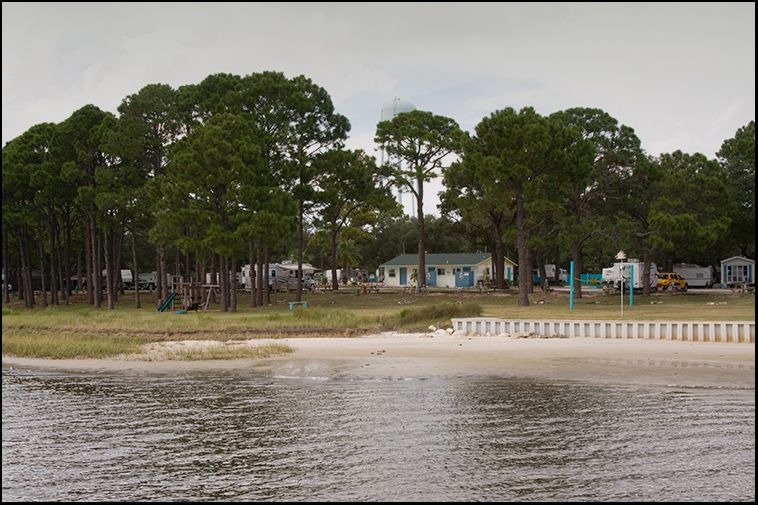 This is the first campground I have been in with this camper that has sewer hookups. I see why some people insist on them--very handy! In fact, this park has a lot to offer. There is a pool, which looked to be well-maintained. The sites, while extremely close together (there were only 3 campers in the 27 or so sites along the water, so this was not a problem for me), are sandy and level. The picnic tables are clean. Their wifi signal was very strong at my site. The bath house was not only clean and new-looking, the women's side in bright blue and white, but it was air conditioned--a real treat since the switch to this place meant a significant increase in temperature for me. I find shampooing easier in the roomy bath house showers at campgrounds, so I had a chance to use their facilities. The woman who was at the desk most of the time was extremely nice and helpful; the men who assisted her slightly less so. Verizon had a good signal there.
There is a very nice beach at the far end of the campground.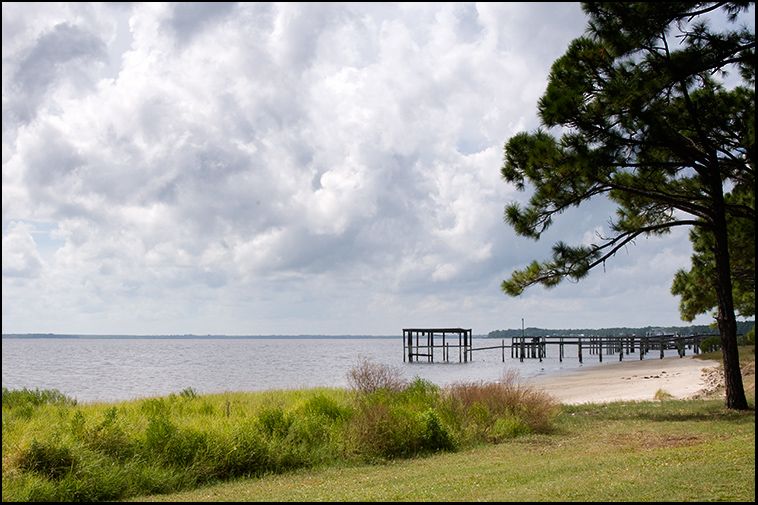 I drove over to Mashes Sands beach one day to see what was there. It's a nice beach, not too long, with only a little parking.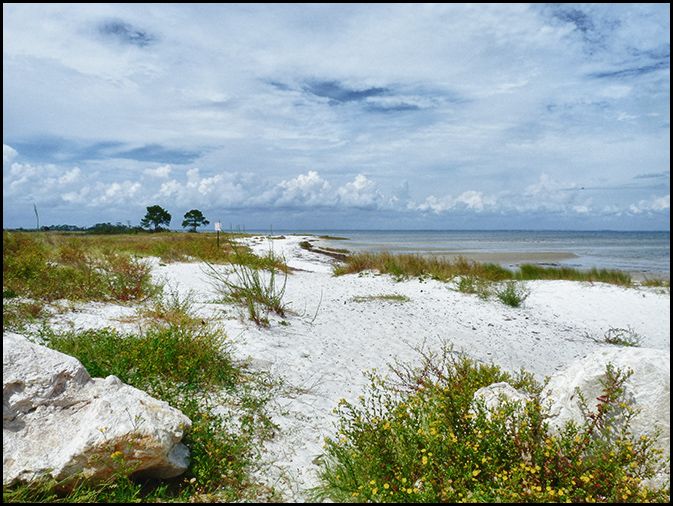 I walked the beach for a while. Right before you get to the beach, there is a very small area of tidal pools, which had a lot of egrets in them. This is the view across part of that area.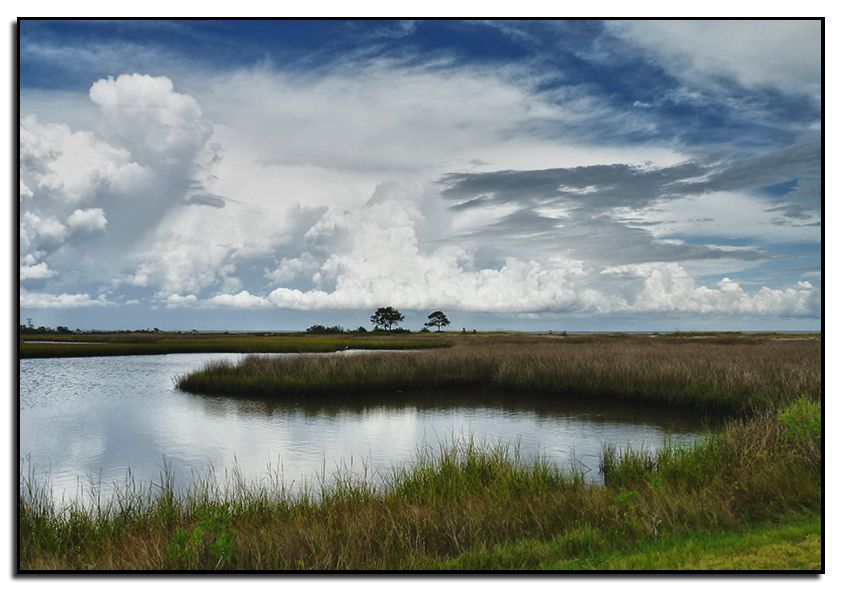 I spotted this egret in the grass by the water.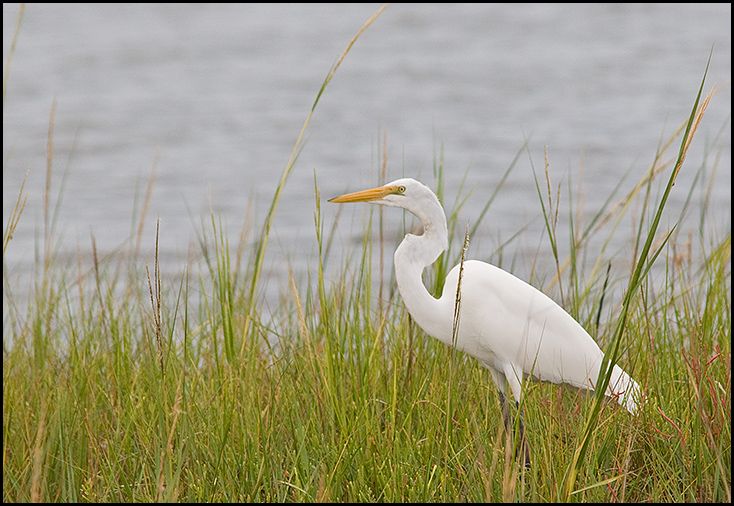 I guess he didn't like being watched...off he went.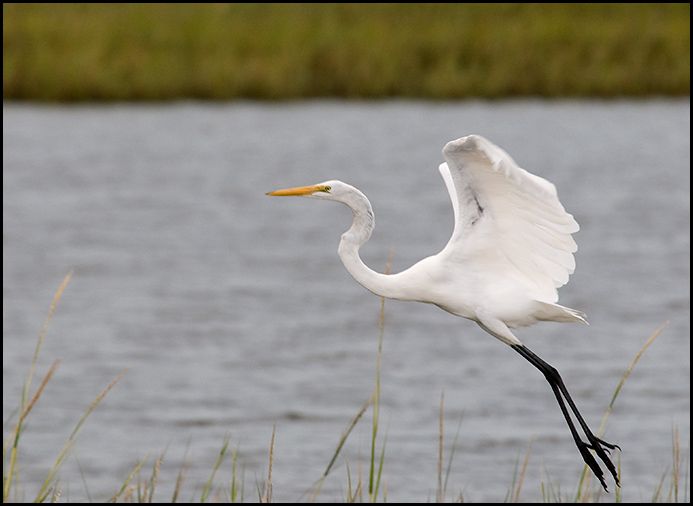 ---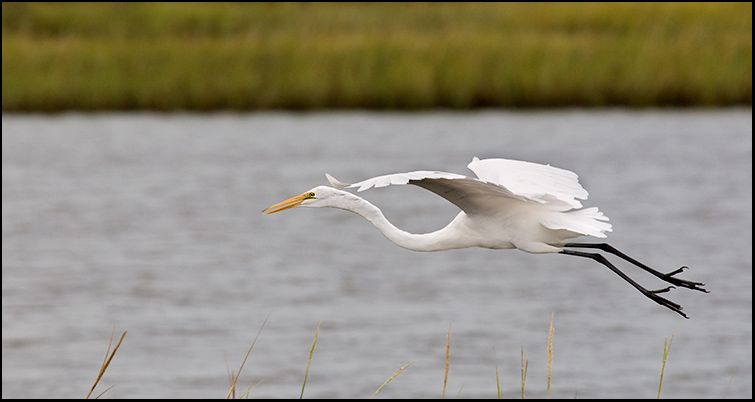 He didn't go too far, just to another grassy area. Coming in for a landing...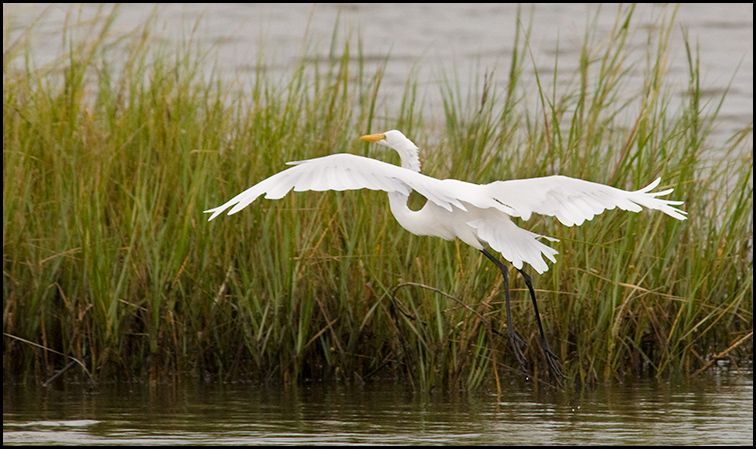 ...and touch down!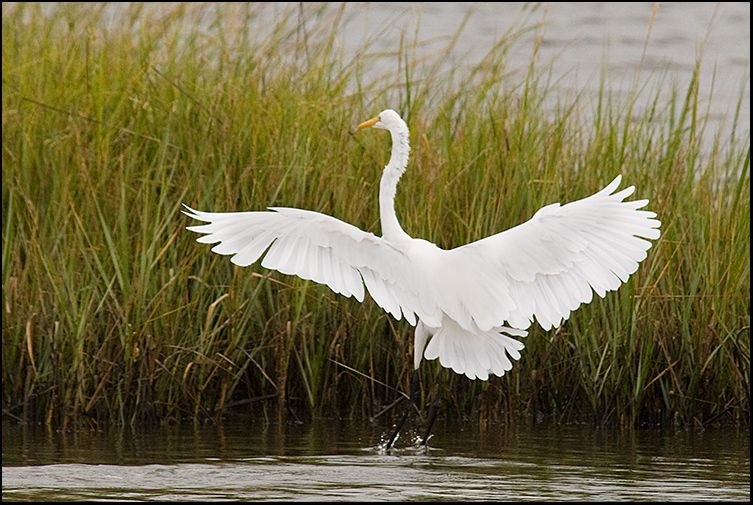 On my second day, I was sitting on my couch in the camper reading, occasionally looking out the back window at the water or the traffic on the bridge (were all those RVs also fleeing St. George?). One time I looked up and was thrilled to see a pod of three dolphins swim by just beyond the fishing pier!
I have been lucky with sunsets in my last two trips, after not seeing any good ones for a long time. One evening after dinner I noticed the sky turning red. The sun moves fast and so I grabbed the camera and went down by that beach pictured above to get some photos.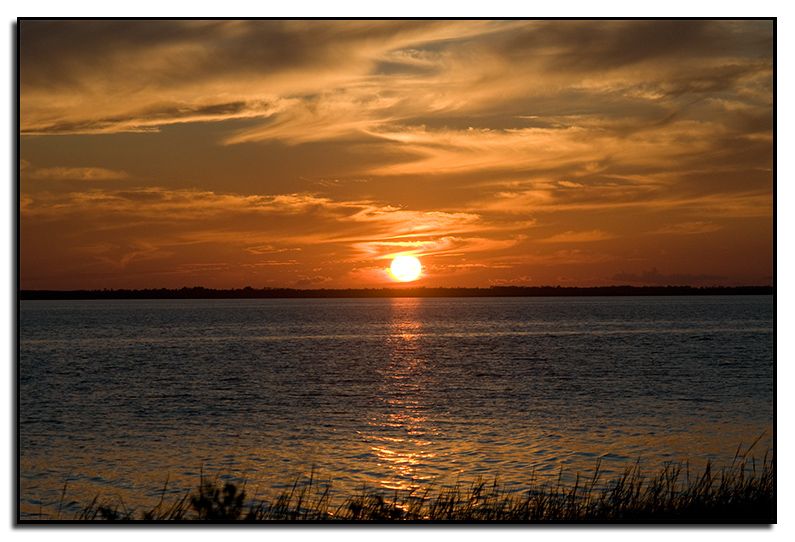 And it got lower,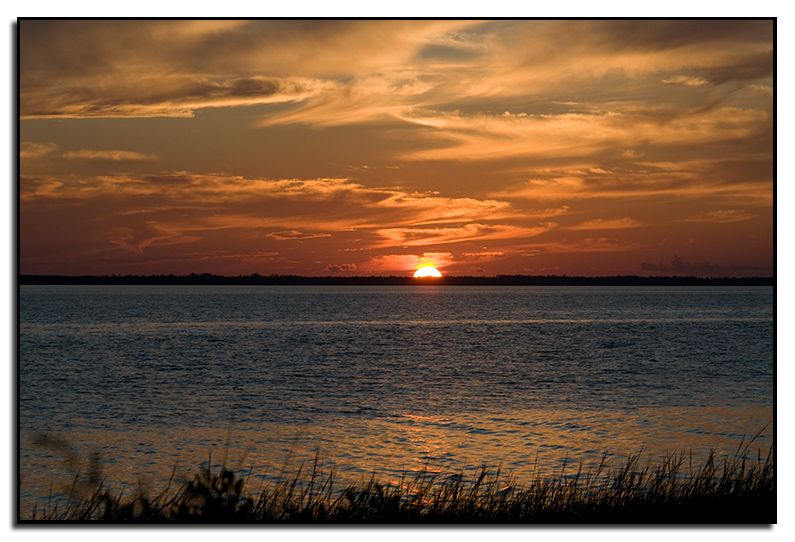 and was nearly gone.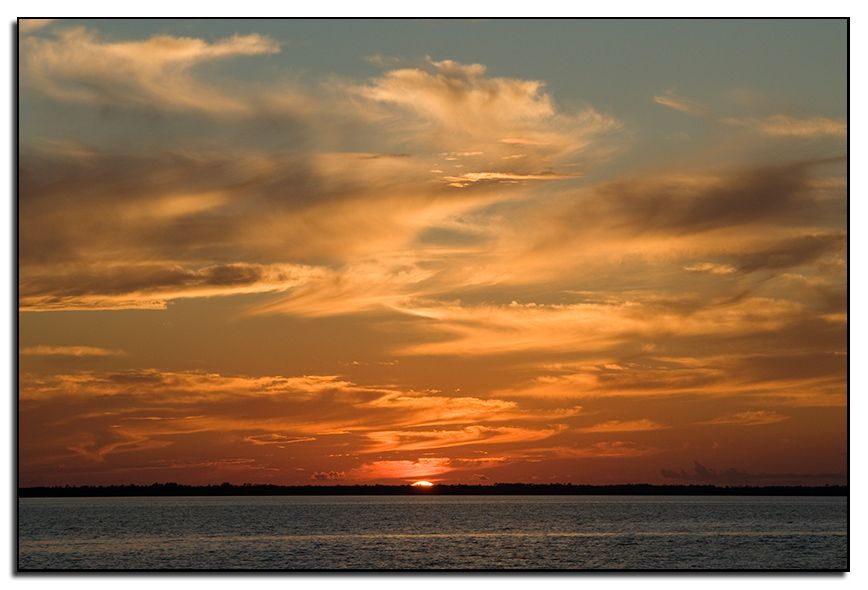 As has become fairly typical, it began raining just before dawn on the day I was to leave, and in fact was not only pouring but also thundering with the occasional flash of lightning while I was packing up and getting the camper hitched and so on. I'm pretty used to it by now, although I wasn't crazy about the lightning part. My car seat is still wet as I write this.
On a weekend during their busy season, I couldn't recommend this campground just because of how close you would be to your neighbor. However, mid-week when things are slow, such as when I was there, is a good time to camp here. Unfortunately, they don't allow tents (I doubt a tenter would appreciate the closeness, either).
I plan to wait to camp again until it gets cooler. I was glad to be out and I appreciated the change of scenery (and seeing the dolphins from the camper), but having to close the windows and run the AC all the time takes a lot of the pleasure out of camping for me. Hopefully when October rolls around we will have better weather. I have a new place in mind for the next trip.