The last time I was at this campground was in November of 2006, when I was tenting (the post is in this blog). Since this is very close to my home, I decided to visit it again.
It's a small campground that consists of two loops, 1 and 2. Loop 1 has a newer bath house, otherwise they are essentially the same. Sites are positioned on either side of the road, with the outer ones generally being more shaded. As is the case in other Georgia state parks, you cannot reserve a specific site. The campground was somewhat crowded when I was there since there was an Ag Expo going on in a nearby town.
I selected site #5 in Loop 1, which was a nice pull-through site with a pretty view out the door side of the camper.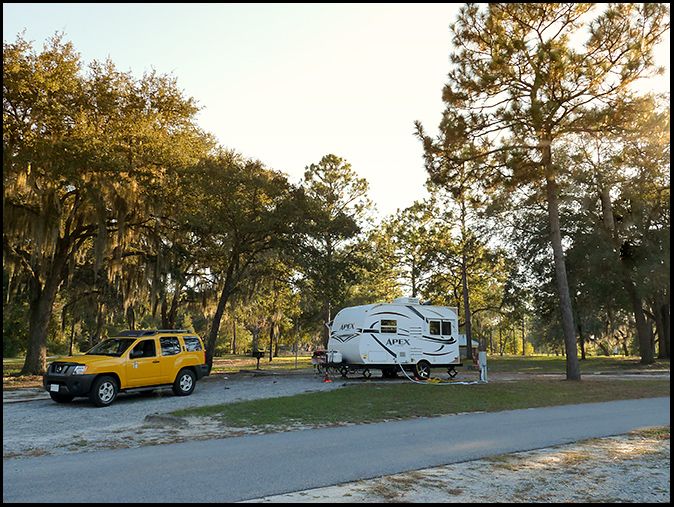 This was my view out the door. Beyond the grass is the park road, and beyond that, the lake.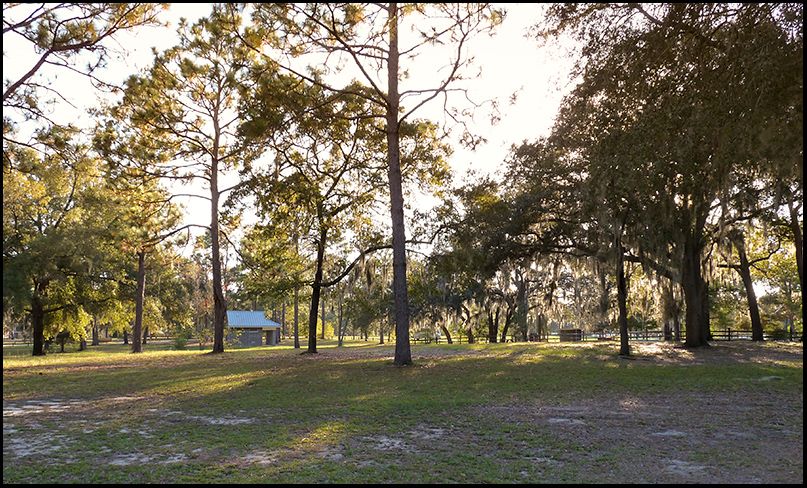 This was the view toward the rest of Loop 1: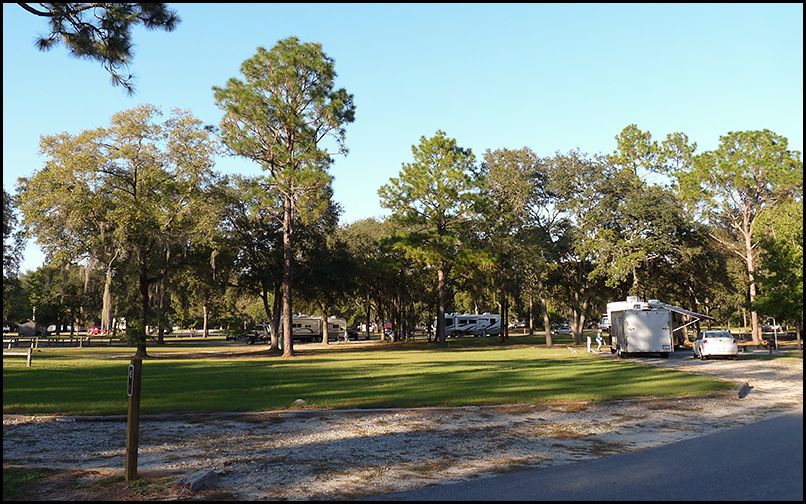 This campground is only about six miles from the I-75 exit. Near that exit is a grocery store, some fast-food restaurants, and what used to be a huge outlet mall but is now a few small shops.
There is a 375-acre lake that leads to a river. Here is the lake view from one of the fishing docks.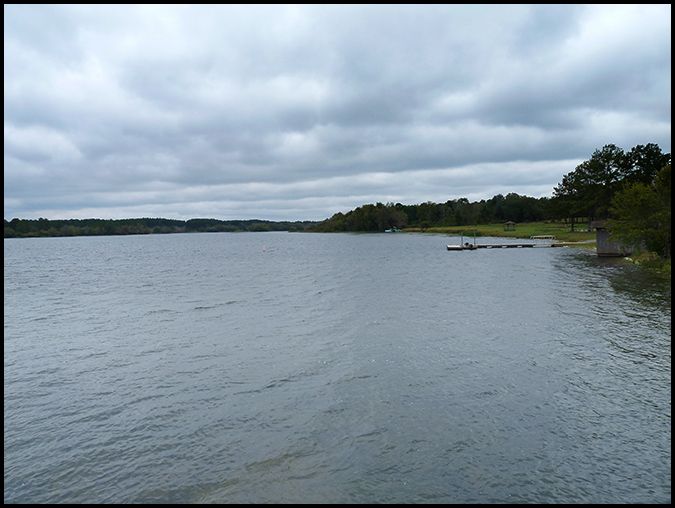 (I had rainy weather for a day and a half.) There is also a beach with a pavilion. This was taken from the same dock: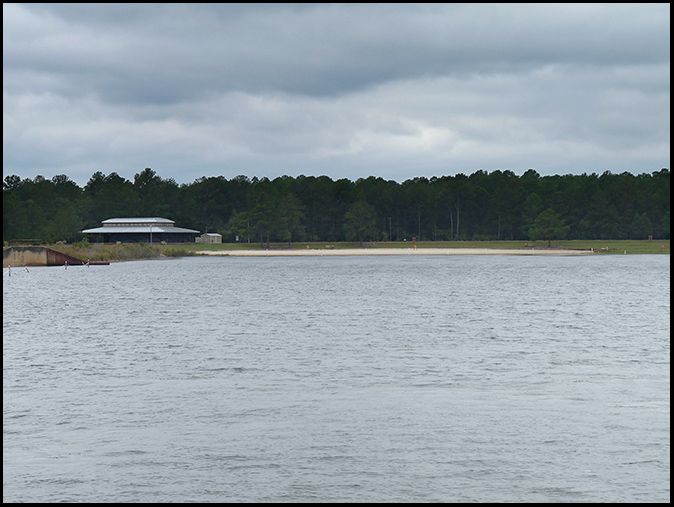 There is good biking at this park over the paved roads, and many trails to hike. Because of the weather, I only walked on one, a short half-mile loop through the woods called the Gopher Tortoise Trail.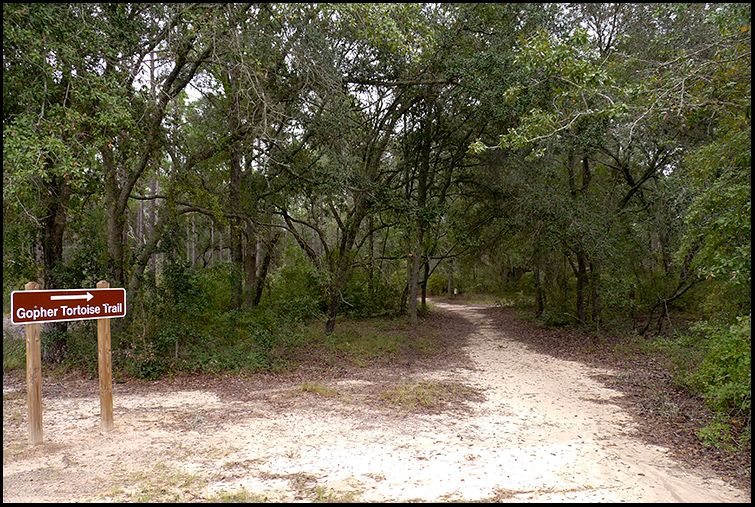 The Gopher Tortoise is the Official Reptile of Georgia, and there are evidently several at this park. This sign was alongside the park road.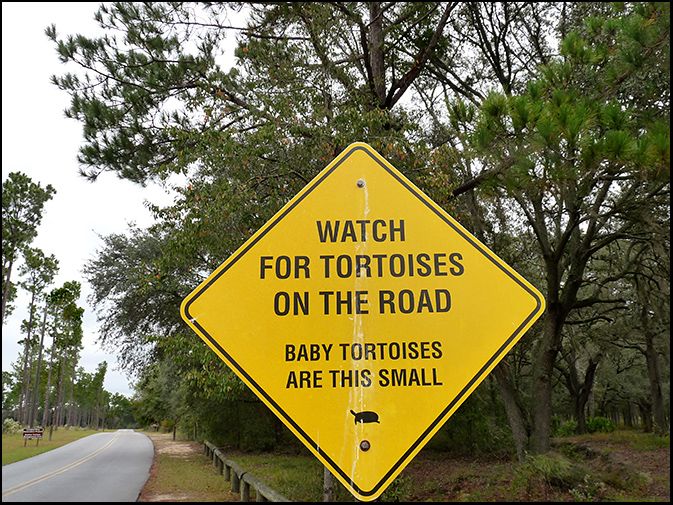 And in fact, there appeared to be a Gopher Tortoise Corral just outside the campground.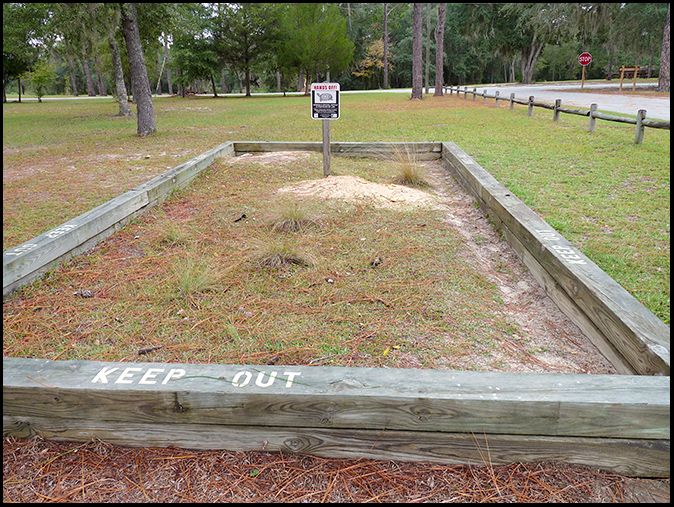 I never saw any sign of life within the corral, but there was a deep hole near that tuft of grass to the right of the sign, so perhaps one was hiding out.
There's nothing particularly special to distinguish this campground, but it was very peaceful and scenic. Park employees and hosts were very friendly. There was a mix of camper styles, from large fifth wheels to several tenters. My site was level and the others appeared to be so as well. Verizon cell service was strong, and there is wifi available in the office and the area around it (where there is a picnic table conveniently placed). The bath house was clean, with two showers and two stalls. There was a washer and dryer in the bath house area.