It's been a while since I posted a camping trip! I was out of commission for about a month late last year due to a mega-flu that hit me and would not go away. After that, my camping trips have been to spots that have been covered in this blog. Until, that is, my recent trip, which was to a new (to me) campground.
Cotton Hill is a COE campground that officially opens on 2/24. At the time I went, there were only 38 sites open, which was fine with me.
I reserved site 38, which had a long view of a river-like finger of Walter F. George Lake, across an expanse of grass.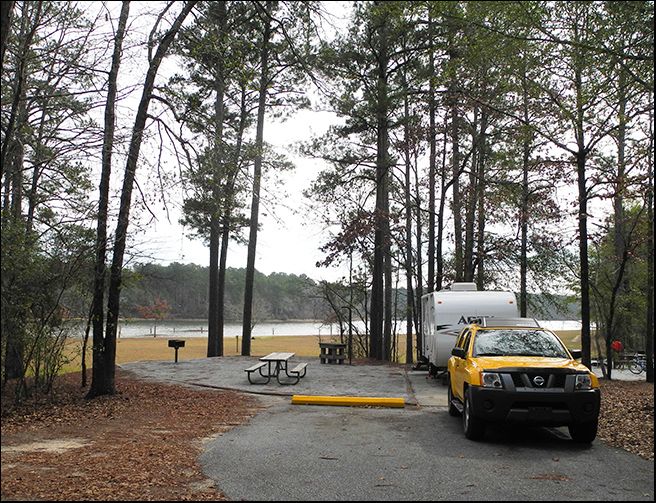 Walking down the short hill and across the grass takes you to this view toward the main part of the lake.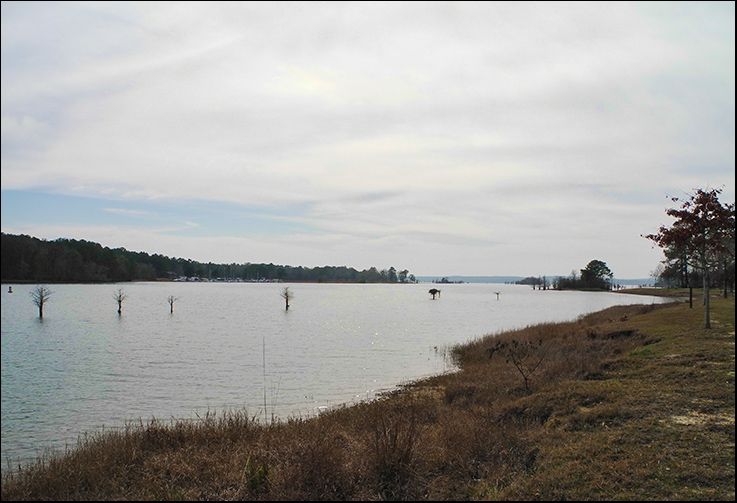 This is a good place to take a bike, it's a little over 3 miles to circle through the three camping areas (I didn't take my bike this time, so I walked. A lot). I was in the old Mill Road area. I didn't care for Marina View area at all--no trees and the sites are extremely close together--since all those sites were open, they were all full, which may have led to it looking so crowded. From there I walked over to Pine Island area, which is my favorite. This is where the beach and playground are. This is looking toward the beach and playground across site 88: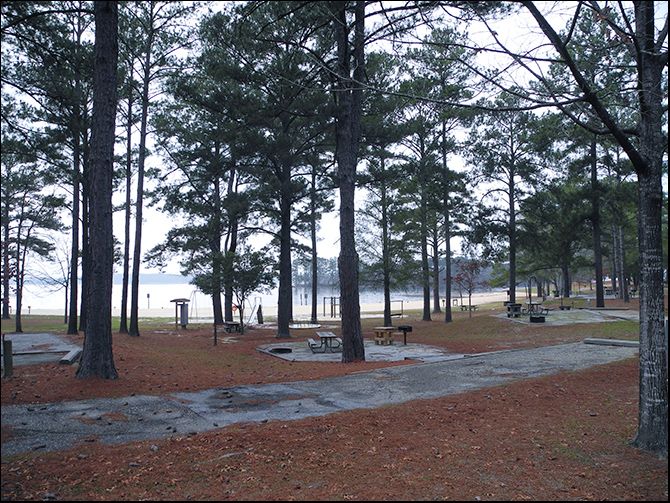 And the beach area itself: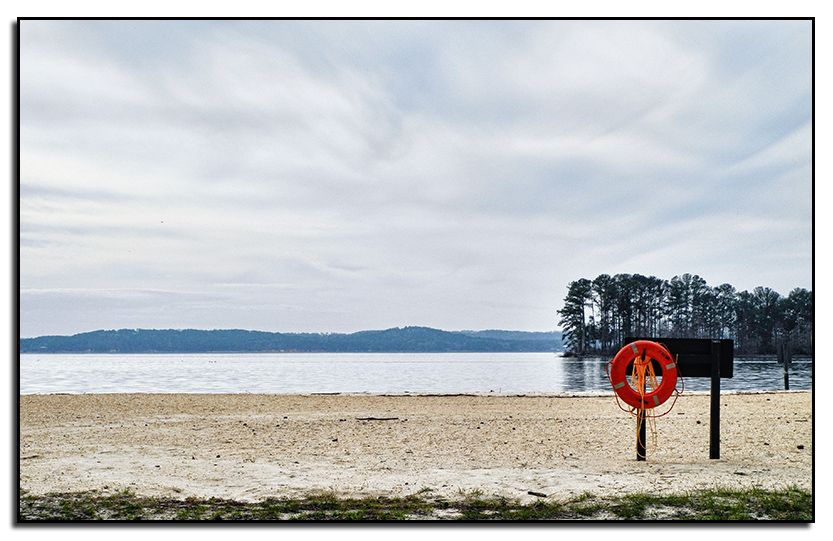 Sites 95 to 104 are tent sites. Their map refers to them as primitive, but they all seemed to have power boxes. They are pretty well spaced, have a nice view of the water, are in amongst some pine trees, and looked flat. There are only a few reservable non-tent sites in this area, which are, in my opinion, the best sites (why do they always make the best ones not reservable?). Sites 74-81 are not reservable, but they are wonderful sites--they are down the road a bit from the playground and beach area, but still have a stretch of sand in front of them. You could easily launch a canoe or kayak from any of these sites. This is the view looking across those sites.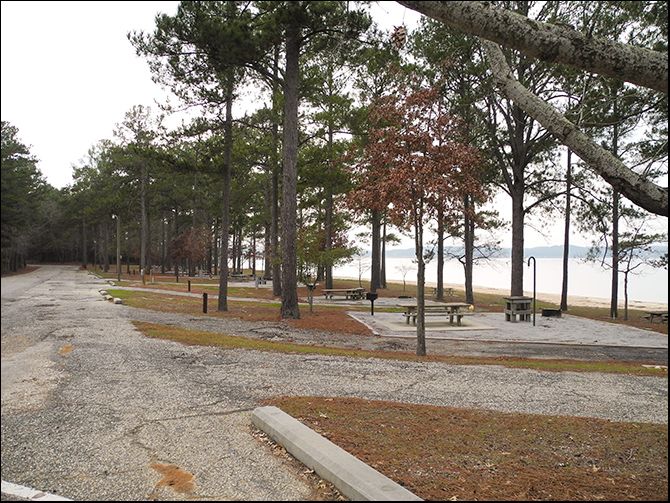 It looks like they are very un-level, but that's the the approach--the parking areas of the sites are all level. This is the shoreline from the edges of those sites: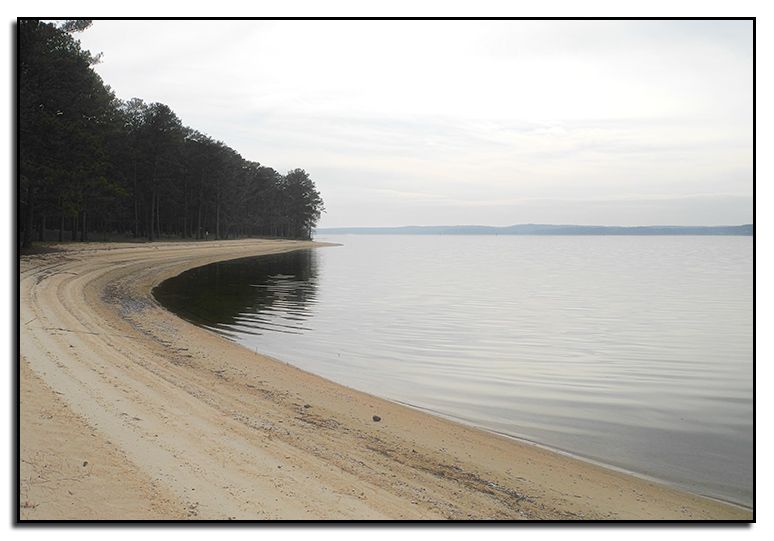 The water in this lake is very clear. I stood at the edge near the playground and took this looking straight down through the water: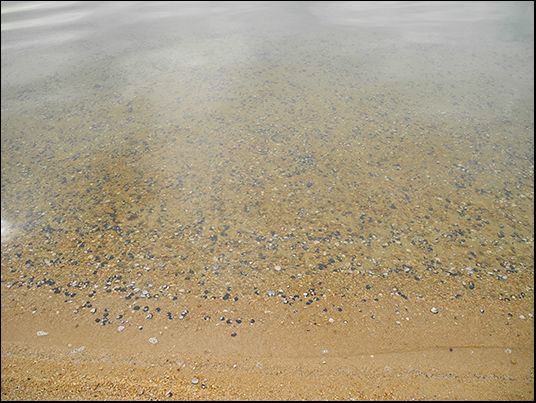 Here are a few more photos I took on this trip.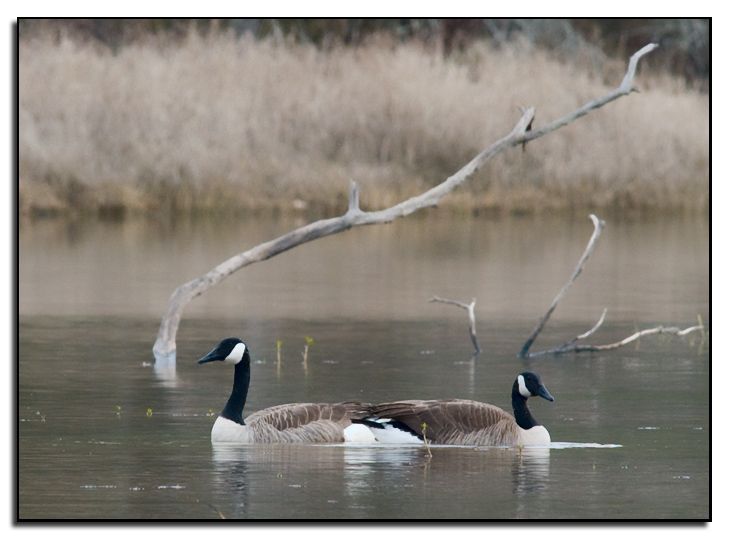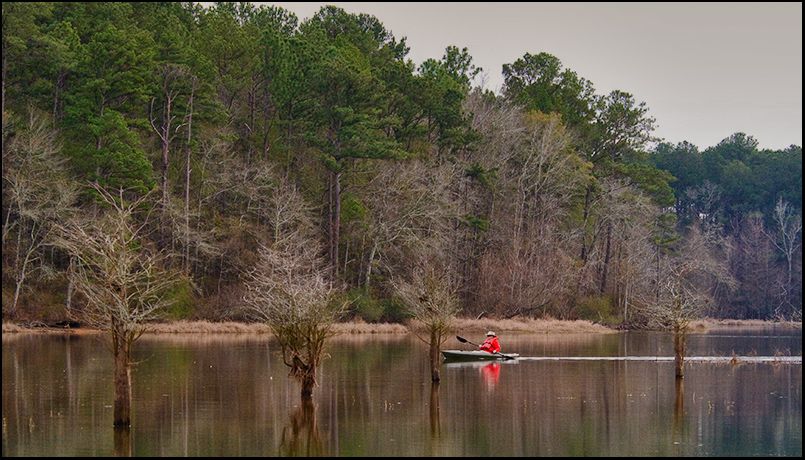 This campground has very typical COE bath houses. First, they are spaced very far apart. According to my handy-dandy pedometer that I wore while walking around, the bath house in my area, Old Mill Road, is a mile from the nearest other bath house, the one in Marina View. Keep this in mind if you are in a tent or vehicle with no facilities--if you put yourself in the middle of those two, you will have quite a walk. I didn't visit the facilities in Pine Island, but I did note that the bath house in Marina View is better than the one in Old Mill Road. As with other COE bath houses, there is no security whatsoever in the shower area--curtains instead of doors, and an outer door that does not lock. And a great big sign outside the door that says "Womens Showers." And of course, no private changing area, just very small shower stalls. Marina view also has curtains instead of doors but the showers and toilets are in the same part of the building, and the stalls are long enough for changing.
Of the sites that can be reserved, I recommend 23 and 32, which are both pull-through sites with good views. I also liked 8, 9, 11, 12, and 27. There is a loop in Old Mill Road that has sites 13-20. Of those, 16 and 20 are okay. The rest in that loop have a severe incline from the RV parking spot of the site to the road. I tried to get a photo of what I mean by this, but the angle didn't show up. Nice sites, close to the water, but access is terrible.
Verizon cell service was at about 2-3 bars, enough for texting, but calls tended to drop out. Do not use the street address they give on the recreation.gov site for this campground to program your car's GPS, it will proudly announce you have arrived when you are actually about 7 miles away.
This campground is fairly remote, with only a small grocery store, liquor store, and some jiffy stores nearby. However, I discovered one thing that made it appealing to me as far as surroundings. George T. Bagby state park is about 3 miles down the road. There's no campground there, it's a "lodge park," with lodge rooms and cabins as accommodations. However, there is a restaurant in the lodge. A really nice restaurant (Pilot House Grill), which serves breakfast, lunch, and dinner. There is a large fireplace in the middle of the room, and a wall of floor-to-ceiling windows at one end that provide a view of the lake. There is also a deck outside those windows for dining outside in nice weather. Free wifi is available in the lodge lobby and restaurant (I used it while I had lunch there one day, I'm not sure what their policy is for anyone just wandering in and sitting down in the lobby, though it may be just considered part of the park admission fee). If you need a Walmart or the like, those can be found in Eufala, about 15 miles from Cotton Hill (I didn't go there).
There's nothing that stands out about this park, and I wouldn't say it was worth a long drive if you have lakeside campgrounds closer, but if you are going to be in the area, it's certainly nice enough.