This is a different type of campground for me, unlike the state parks or COE campgrounds I usually go to. Based on the site arrangement and the A-frame office building, I wonder if this might have been a KOA at one time. I decided to try this campground based on its proximity to my home, the fact that it offers wifi and full hookups including sewer, and because she has ducks; I like ducks.
Their website dictates a 4:00 pm check-in time, which wasn't ideal for me since I live only about an hour away and so I wanted more afternoon time there after arriving. The manager is in the office from 8-10 and from 4-7, so she told me to call before 10 on my arrival date and she would give me a site number and I could get there early and settle up when she opens the office at 4. So that's what I did.
I chose site 36.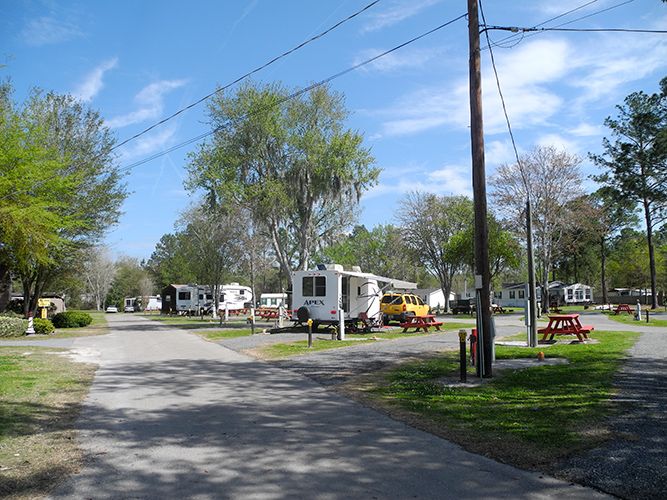 The sites are very close together. They are --is asphalt the word I want? Hard surface, mixed with some gravel, and not terribly level. Sort of as if this surface material was poured over the ground and someone drove on it before it was dry, sinking parts of it down into the ground. At any rate, my right tires were lower than the left, in a sort of shallow trough.
Here is a photo of the sites forward of mine, with my site on the left.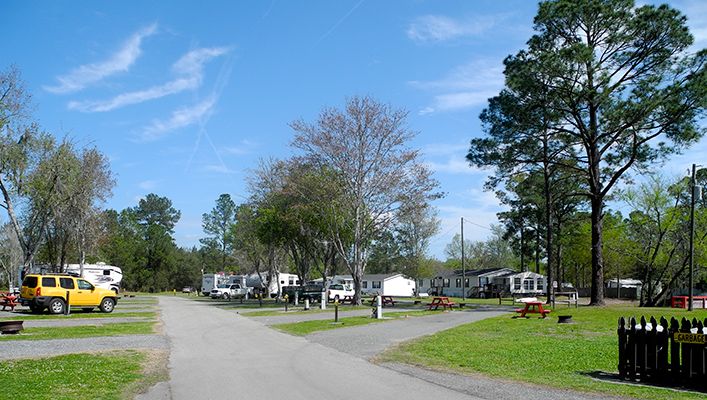 The website says that they have shady sites, but as you can see, that's not really the case. There is another section of sites for people staying long-term. It's on the other side of the office and looks pretty much like this side, only with fewer trees.
The bath house was very clean and required a passcode to get into. This campground is located directly alongside a well-traveled road and has no gate across the entrance. I'm sure that explained the locked bath house, and I had no complaints about that--I appreciated that level of security, particularly compared to some bath houses I have encountered recently.
Speaking of the road, this campground is located one mile from I-10. I heard absolutely none of the roar of traffic you get from an interstate. There was some noise from the nearby road, but (a) I like the sound of cars going by one or two at a time, and (b) it completely quieted down by about 11 at night. So road noise was not an issue at all.
She has a pond and a couple of ducks.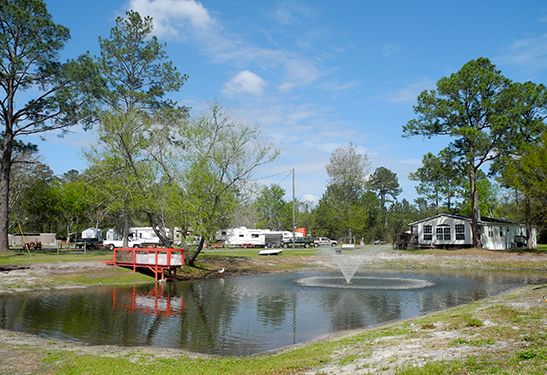 Evidently in the past, dogs owned by campers killed several of her ducks. As a result, while she allows pets, I would not call this a dog-friendly campground. There is a large unfenced dog walk area near the front of the campground and dogs must be walked there, far from the pond. One woman walking dogs by my camper said that she hoped they could hold their poop till they got to the dog walk area since she didn't want to get fined. So.... something to consider if you travel with Fido (I have no idea if there actually are fines involved).
They have a pool, which they spent a great deal of time maintaining.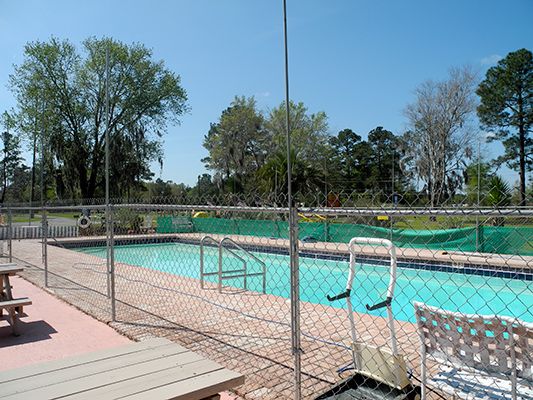 Another reason I think this was a KOA at one time is that they have several primitive cabins near two other ponds at one end of the campground.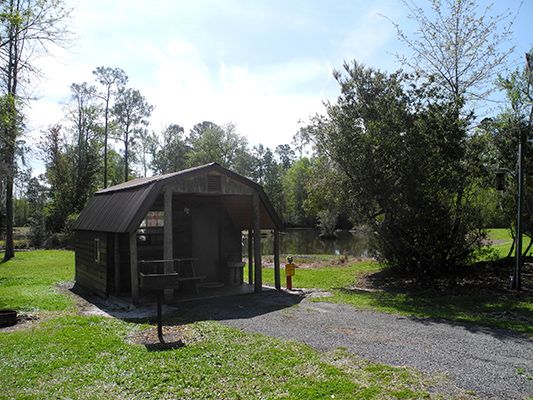 These were remarkably similar to KOA's Kamping Kabins.
I think this campground is well-suited to travelers looking for an easy overnight stop on their way to somewhere else. While I enjoyed spending 3 days there, it doesn't strike me as a destination spot. The wifi was strong, the Verizon signal was strong, and they had a plethora of handy stuff for sale in the office. Lake City has a lot to offer in terms of shopping and dining. I'm glad I went to this campground, but I don't anticipate returning.
Meanwhile, it's summer in north Florida and this may have been the last camping trip of the season. I guess we'll see.