Ok, here's the deal. It's way too hot and buggy for me to want to go camping right now. But that doesn't mean I stay at home sitting on my hands waiting for cool weather to return. I just stay in a cabin or cottage or rental house instead of my camper. So! I decided it was time to take another look at Callaway Gardens in Pine Mountain. I did that and will put a link to those photos at the end of this post.
On the following day I decided to go check out Roosevelt State Park, since it was only a few miles up the road from where I was staying. The park is over 4 hours from my home, so it is very unlikely I will ever camp there....but I can still suss it out for you!
The Welcome Center, where you get your parking pass and maps and so on, is an old building and used to house a small tavern, and the rooms upstairs were rent out (they are now offices).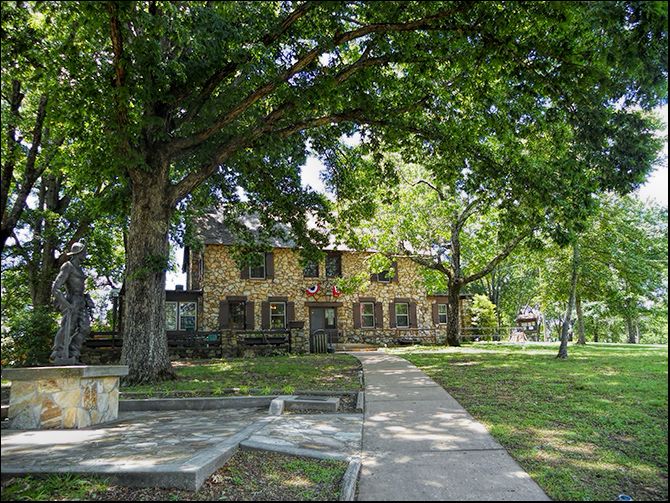 After getting my pass and map, I headed for the campground, which is on a small fishing lake. The sites near the lake are fantastic but very small--I thought maybe they were tent-only, but evidently not. This one might accommodate a 17" camper, with the car parked next to it on the other side of the picnic table.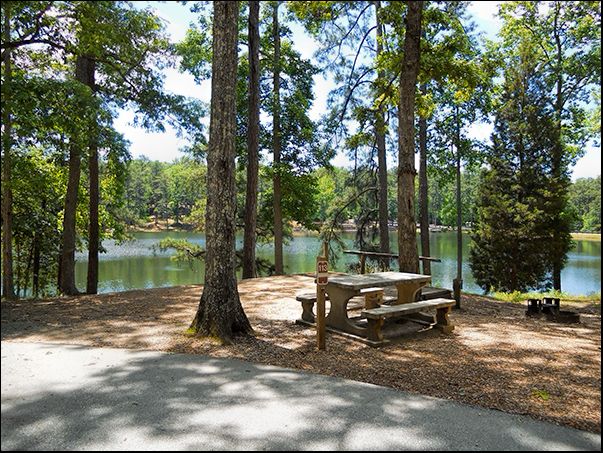 That's site 113. The site numbers are probably less important if this park is like other GA parks and you cannot reserve a specific site.
Here's another small one--fantastic view but could be a problem for almost any size RV, but a tent would work.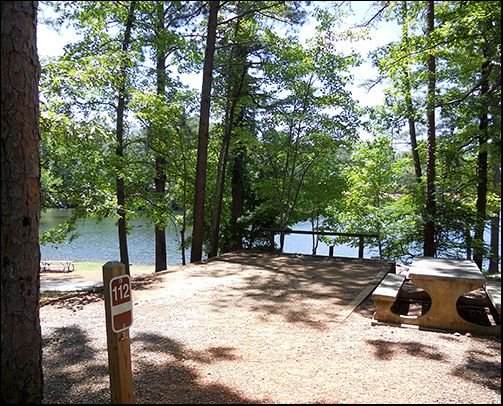 This campground has 3 sections. Those lake sites are pretty far from the bathhouse. Moving away from the lake, we come to a more woodsy site, which is also roomier.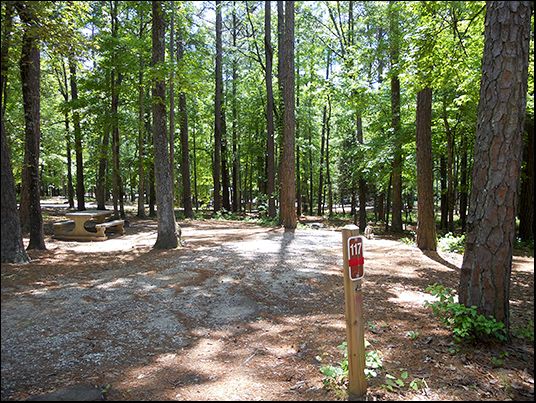 By the way, although this was a hot day, it was surprisingly breezy, and bug-free, in the campground. Staying in the second section, this site, 212, was quite large, certainly suitable for a large bus-type RV.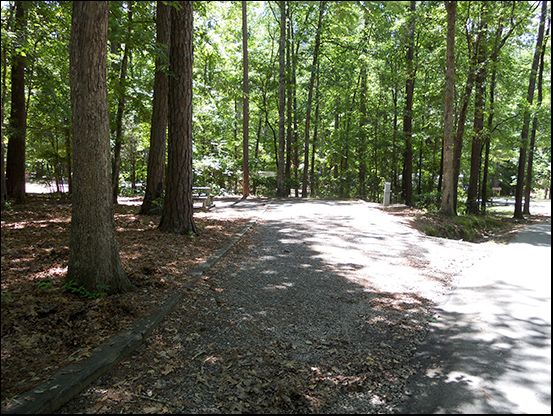 There is a nice, lit picnic pavilion in the center of this section.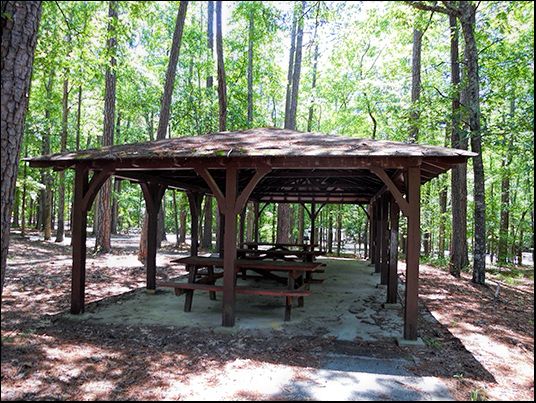 Here is a view of the campground from across the lake.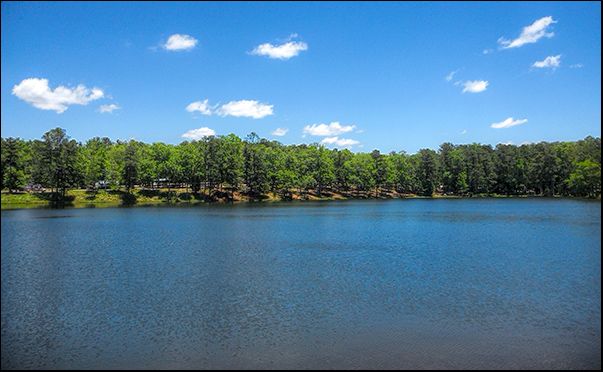 Now, here's something very great. Twelve miles down the road is Franklin Roosevelt's Little White House, where he (and often Eleanor and some of their kids) spent some time. To be honest, I have never had any particular interest in FDR. But, it was early in the day and I'd already been to the gardens, and I could get into the Little White House with my pass, so I headed out that way. To get there from the park, you drive over a mountain pass. Here's a view from one of the little turnouts they have provided: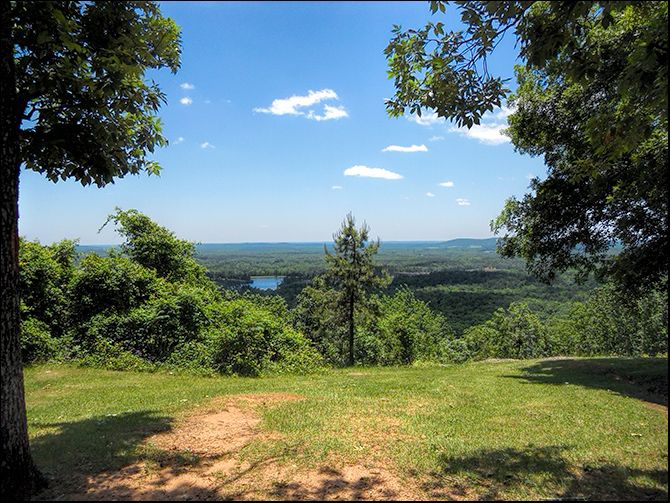 I want to stress that I had no great expectations regarding this side trip. I turned out to be mistaken. The first thing you see when you get past the place where you enter is their museum. There is a wealth of information about Franklin and Eleanor in there, as well as two of his cars (I can tell you from personal experience that if you really, really just have to touch, say, the blue one, no alarms will go off....just in case you wonder about that...). It's well worth it to look at all the photos and read all the informational signs they have up.
Ok, so you then leave there and have some choices of things to look at. Given the heat of the day, I headed right for the guest house and the servant's quarters, which you pass on the way to the Little White House. Both of these are interesting--you go in, and they have large glass doors closing off the actual rooms, but you can clearly see in. Also, there are actual furnishings just sitting there, such as a couch, with a sign on it not to touch it or sit on it. But it's the actual couch that was there when all this was in use. There is some information about the 2 servants that stayed there when FDR was there.
Then, through the Bump Gate (ask the ranger about that) and down to the Little White House itself (and it is little).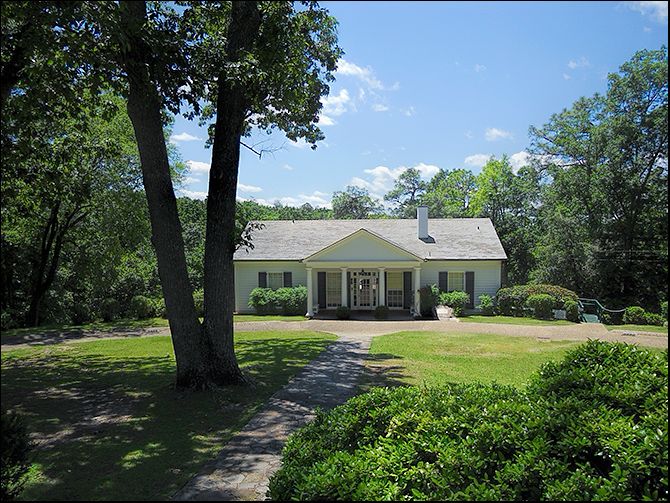 This has been left exactly as it was when FDR died there. Everybody just left. While you can't wander around and sit on his couch and so on, only those velvet cord things separate you from the rooms--and in the kitchen, you can touch the stove and counters and many other things. The ranger told me about how when FDR was declared dead, his cook, Daisy Bonner, unplugged the clock on the stove. And there it is, forever stopped at 3:36. You can touch the clock, pick it up (I didn't, though)--I've never seen things this accessible at any historic site before. Daisy wrote a note on the wall in pencil after FDR died--they have put that behind plexiglass, but it's readable.
Here's the living room. FDR was sitting at that card table having his portrait painted and working on something when he collapsed.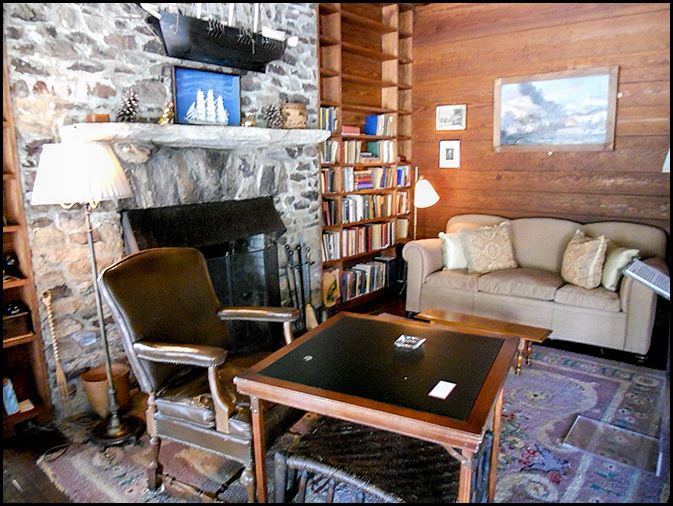 This sign is in his bedroom: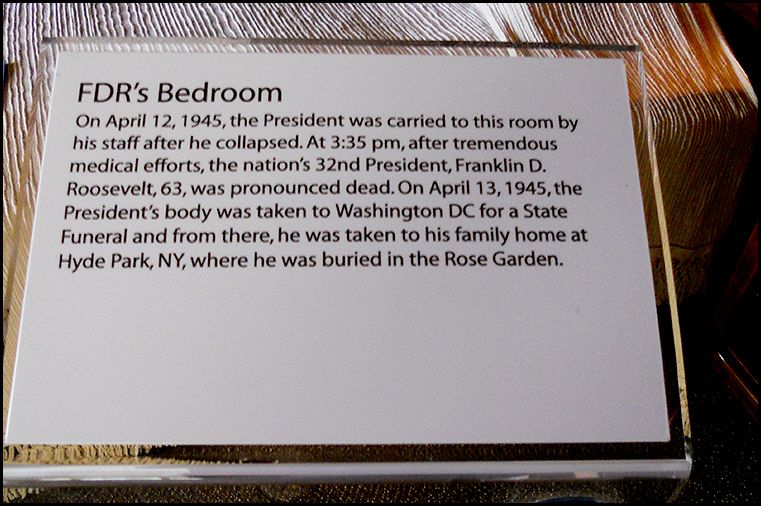 And here is the room, with the sign by the bed.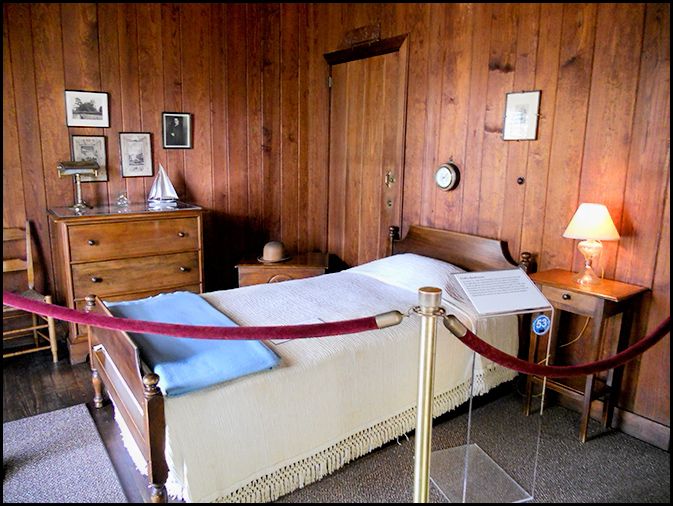 Back in the living room, you can see the scratches on the glass of the front door made by Fala's nails (his Scottish terrier), and Fala's chain leash hanging in a closet.
If you are going to camp at the state park, I strongly urge you to take the drive down the road to see the Little White House. And if you don't think you care that much about FDR, you might be surprised after seeing all this.
Oh, here's the link to my photos from Callaway Gardens, which is also within a few miles of the state park, and also a great place to visit:
I'll be back when I get back to camping, or when I can show you a campground that I haven't covered, even if I'm not camping there--which ever comes first!