Technically, this park's name is T. H. Stone Memorial St. Joseph Peninsula State Park...but it is commonly known as St. Joe Peninsula State Park. I had been here once before, back in my tenting days several years ago. This is a 4-hour drive from my home, and I recalled that on my last visit I made a vow not to make that drive again. But this was a special time--a chance to camp once again with my friend Sandy, who I only see twice a year: Once on her way south to the Keys from her home in Minnesota and once on her way back to Minnesota. This was on her way south. So it was worth the drive!
There are two campgrounds in this park, Gulf Breeze, near the water, and Shady Pines, which is a longer walk to the beach. As far as campgrounds go, I thought Shady Pines was better--the sites are farther apart and more private; it's a really beautiful campground. If you don't care much about proximity to the water, I recommend that campground.
I had site 57 in Gulf Breeze.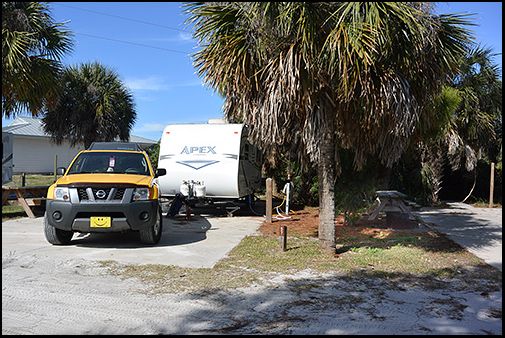 This is a paved site in a row of paved sites; some sites are hard-packed sand, some paved. I was close to the very nice bath house, and just down the road from the boardwalk that leads to the beach. This is the one advantage to this park over my favorite campground on St. George Island--this one is so close to the beach! This is the view of the road to the boardwalk from next to my site: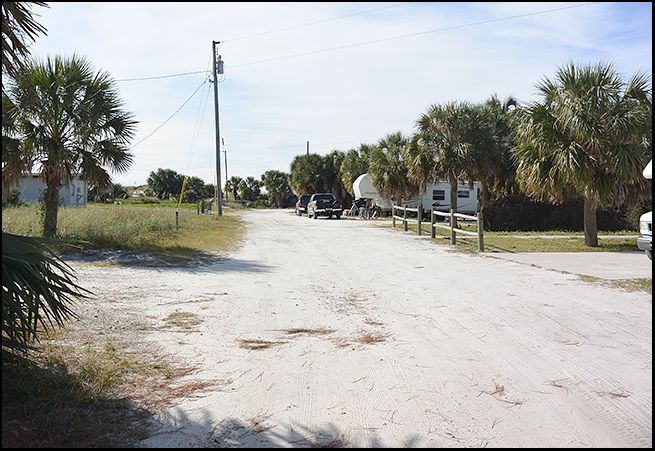 After I had set up my camper, Sandy and I went for a walk along a boardwalk (lots of boardwalks here!) that winds through the wooded area of the park.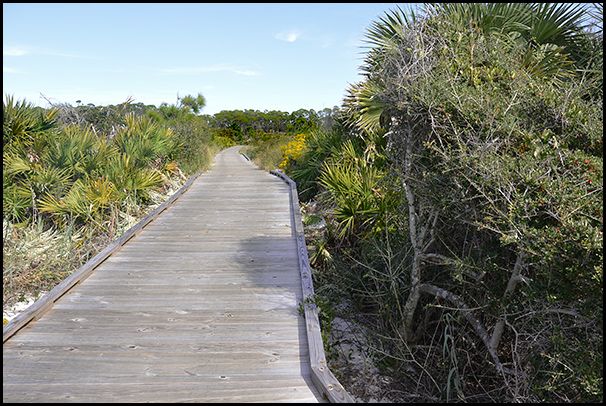 This boardwalk forks at one point, with one path leading to Shady Pines, the other to the beach. We walked to the water and then returned to the campground via the beach. Sandy's site was on the other side of the campground from mine; a little farther from the water, but she had a fantastic view from the back of her site, across wetlands with the bay in the background.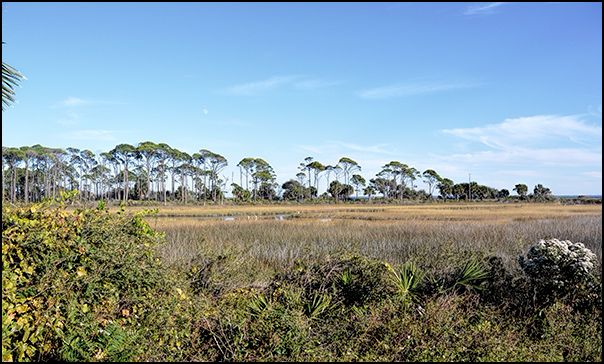 Given the drive and the time of year( it got dark shortly after our walk)., I was pretty tired by dinner time. I couldn't resist one more stroll to the beach boardwalk and took this picture from the top of it.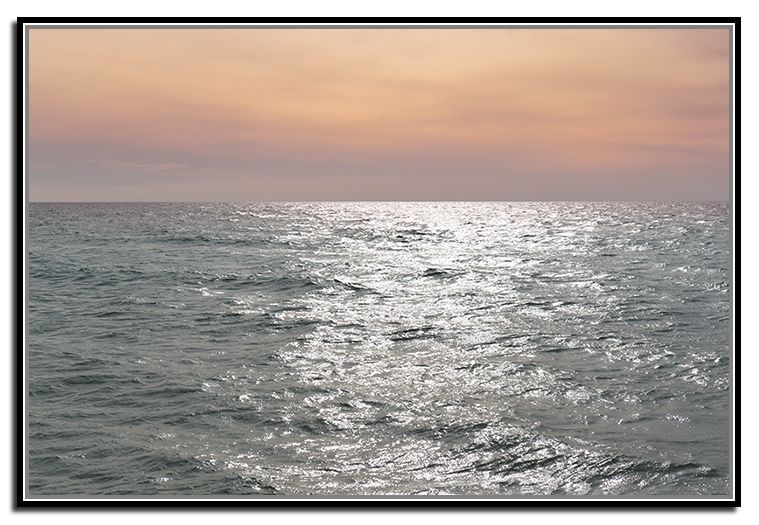 The next day was cold and windy. We went to sit on the beach for a while, me with my Kindle and Sandy with her Sudoku book. We didn't last terribly long, it was just too cold. But the waves were wonderful. I couldn't resist taking a few pictures of them--I love wave pictures. You will have to indulge me while I include them here: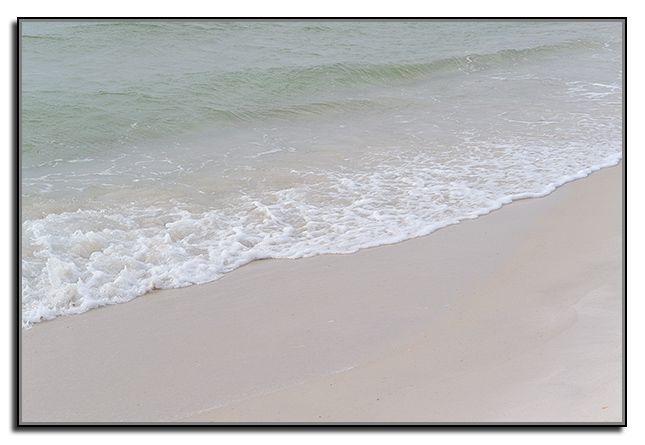 ---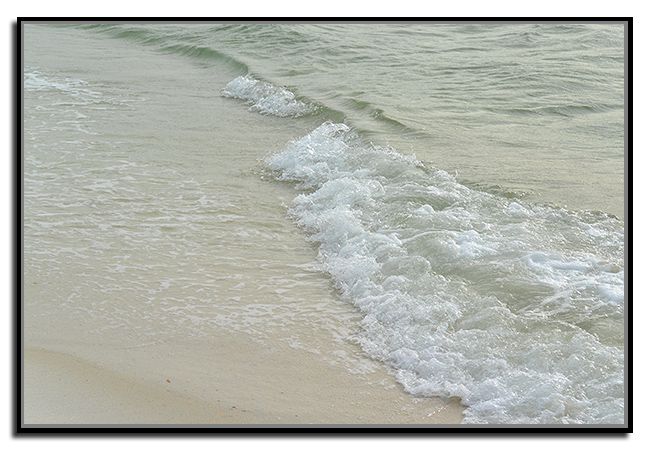 We decided to part company and go to our sites to stay warm. At about 3:30 I just had to get back out and do something, so I wandered down to Sandy's site to see what she was doing. She was reading. She asked if I wanted to go for a walk, she wanted to show me her favorite nature trail. Given the time, we were just going to take a short walk.
The trail is off a parking area near a playground--you could easily bike to it, but it was so cold that we drove. We had barely started our little hike when I looked over to the side and saw this: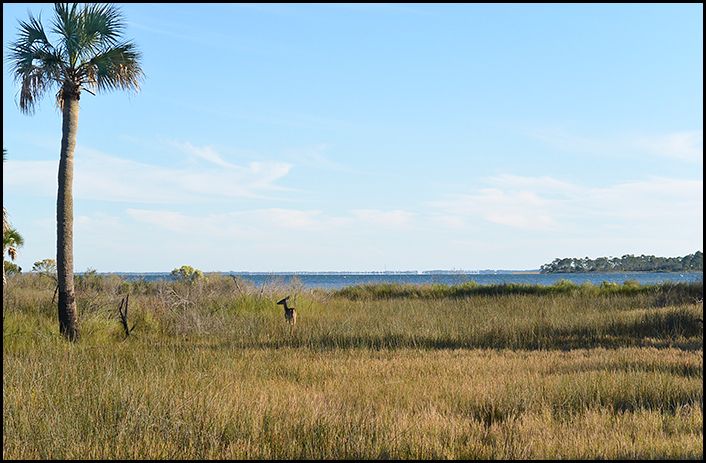 It's been so long since I have seen a deer on a hike that it never occurred to me to take the big camera, I only had my little one. The deer was unafraid; Sandy said they are pretty tame. So we made plans with the deer to meet at that same spot at 12:30 the next day, when I would have a proper camera for photography.
We were very punctual the next day, in fact even a few minutes early. Evidently the deer did not make a note about the plans; you know how easy it is to forget last-minute dates. It never showed up. So we continued walking.
This egret was high on a tree limb, fluffing itself in the breeze.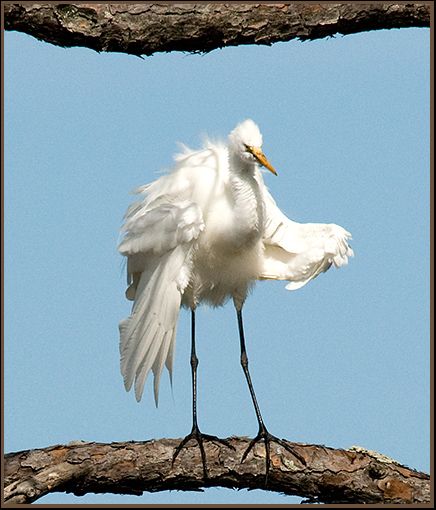 Much of this trail runs right next to the water, with benches scattered along it for resting and enjoying the view. We saw these paddlers sharing the water with the gulls.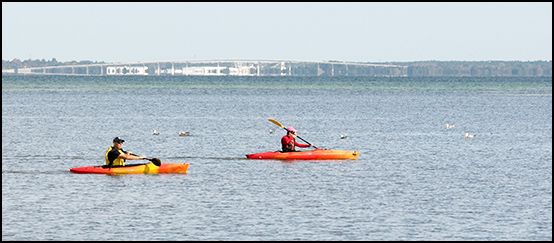 This photo is for Sharon. These little mushrooms (right term?) were growing right out of the sand on the trail. I've never seen anything like this before on sand. I thought they needed a wetter environment.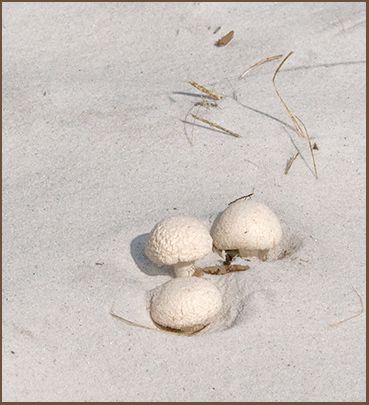 We walked for about a mile and a quarter, and then went back to the campground. We had some lunch, changed clothes, and headed out on the bikes for more exploring. We covered about 3 miles on that ride, then back to the campground again. This was my last day there, and so I wanted to go back and try beach sitting again--it was warmer on this day. So, back to the beach.
I was looking for dolphins, which are common at St. George. Much to my surprise, I saw what I thought was a dolphin, but it was swimming very close to the shoreline. Actually, I thought it was two dolphins, since I could see two fins sticking up out of the water. Sandy had binoculars with her so she could see it clearly and she said no, that was just one Very Big Fish (shark?). She said the snout was not like a dolphin's. I have no idea what it was, and this is the best I could do for a photo.

Rain was coming in and the sky was turning gray, making the water darker as well. We saw three large boats on the horizon; we wondered if they were shrimp boats.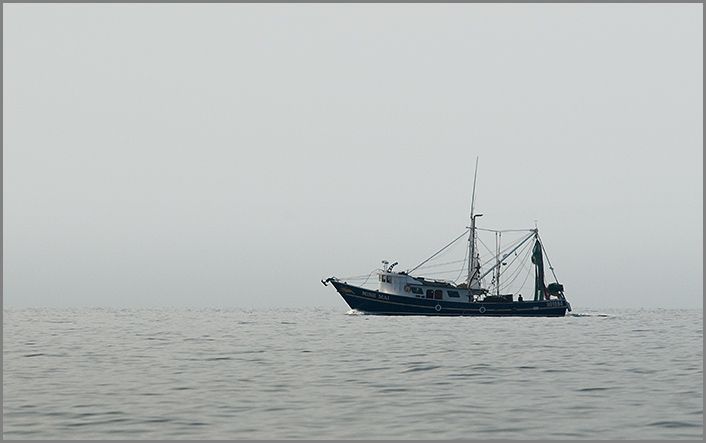 While we were sitting, a single willet came wandering by. I love these birds.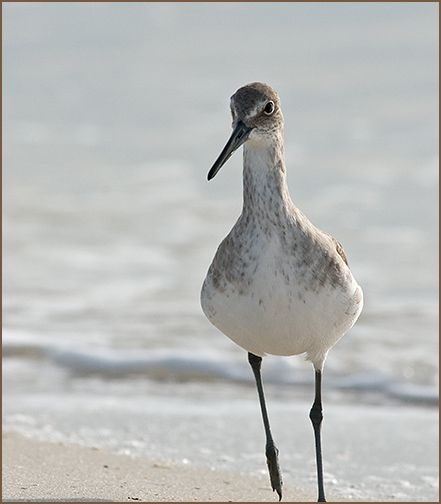 We soon got up and went to our sites to have dinner and enjoy the evening in quiet solitude. I packed up most of my site. As happens on nearly every camping trip I've had, it was going to be raining when I was hitching up the car and emptying the tanks and so on, so I did as much as I could before going to bed. (And yes, it started raining very early and it rained continuously for my drive home. It always does that.)
Sandy likes this campground better than St. George. I prefer St. George, not just because it is over an hour closer to me, but because of the conveniences close by (you have to drive a really long way just to get gas when you are at this campground, never mind groceries!). However, this one does have the beach much closer to the campground. Verizon cell service at this campground was 2-3 bars; I did not make any calls, but texts came and went just fine. There are phones available in the campgrounds for use with calling cards. This is a very popular campground for snowbirds and so the best sites are probably hard to get on short notice, but if you can get one and want to be near the beach, I highly recommend sites 52 and 51, and even 53, which are all across the campground road from the boardwalk. Site 52 looked big enough for a large bus-type RV, but check the site info carefully when reserving any site at this park--it's old and some sites are very small.
Speaking of St. George, my next trip, in December, will be there. Can't wait to get back to it!