On this trip, I was camping with my friend Kim. We had a fantastic time and were lucky that the weather was warm enough for beach sitting and eating oysters on the deck at Boss Oyster in Apalachicola.
I was in site 57 again, which is one of my favorite sites. It's at the Gulf end of the campground so I could clearly hear the surf through my open windows. Kim was next to me, in site 59, also a nice site.
As many times as I have posted about camping at this park, I wasn't sure what more I could offer in the way of information about the campground. Ah, but I have never shown you any of the town (such as it is). So I took an afternoon and walked around taking some photos.
This is the bridge coming from the mainland to the island: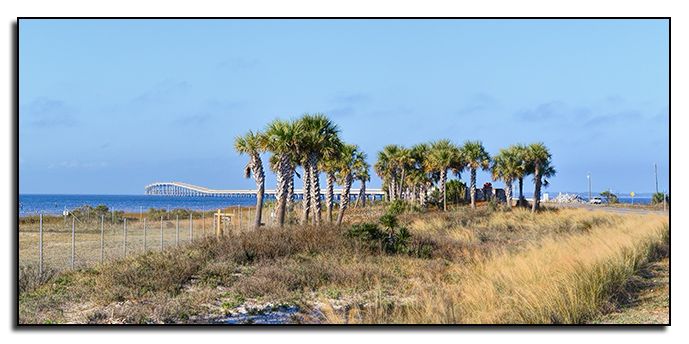 When I am camping here, I often drive off the island into Eastpoint to get shrimp to cook for dinner. It's a bit of a drive, though, so if you aren't inclined to do that, Doug's Seafood trailer is nearly always parked in a big parking lot near the bridge.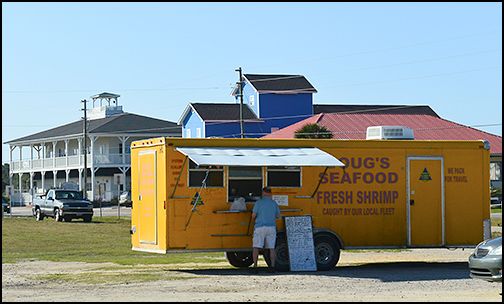 There is a sign that says "Future Home of Doug's Seafood" on a small parcel of land alongside the road that leads to the park. It's been there for years. I guess the future never really gets here, does it?
As soon as you get to the island, you see a lighthouse. This is actually a reproduction of the original lighthouse, which finally succumbed to constant battering by hurricanes and toppled into the Gulf in the early 2000's. Next to the lighthouse is a combination gift shop/museum, which has some artifacts from the original lighthouse as well as a wealth of information.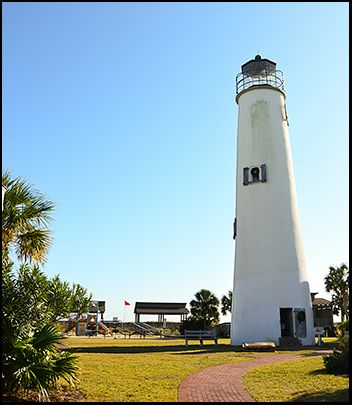 The lighthouse windows were decorated for the season.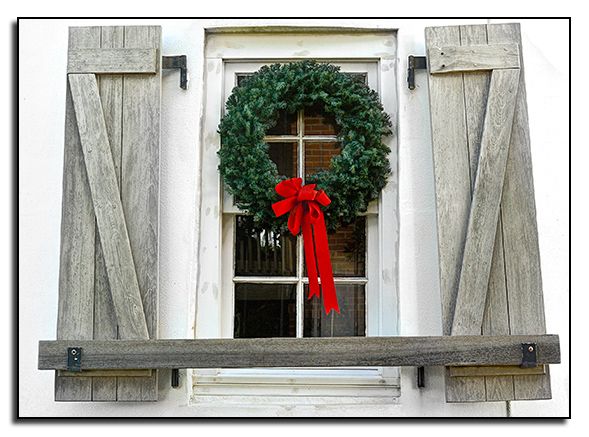 People who don't camp can choose to stay in a very tall, skinny house in a row with other tall, skinny houses on the beach.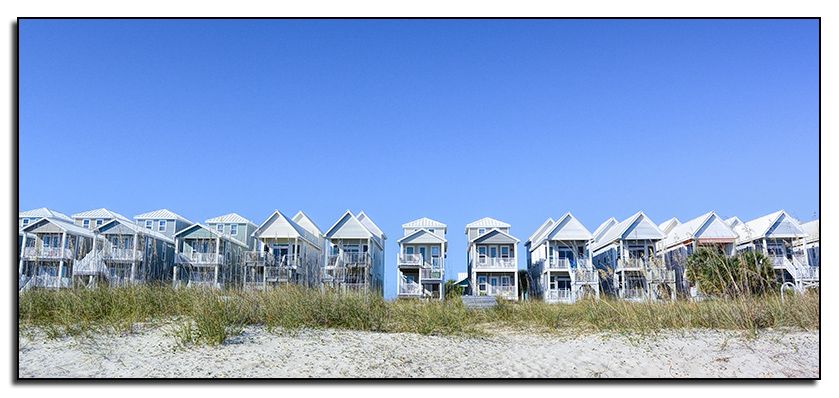 And that concludes our brief tour of town. Back to the beach now!
I like pretty much everything about this campground with one exception. This: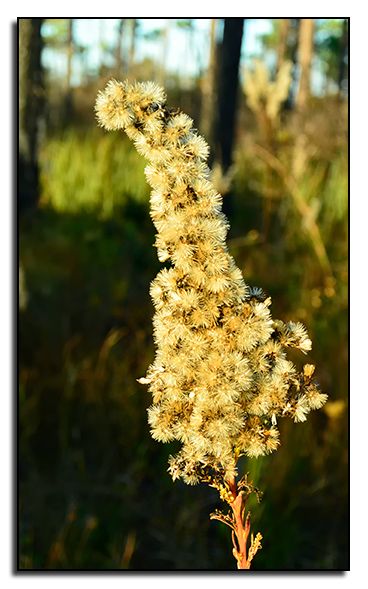 Now, if those little pointy things, aka sand spurs, would stay on the plant and up off the ground, that would be great. However, they plummet to the sand and then cling to shoelaces, socks, pants, and often feet...which is really painful. I have at least half a dozen of these presently stuck to the bottom of my shoes. They are particularly hard on dogs--not only do they dig into their paw pads but they cling to the fur between those pads and can be difficult to dislodge.
The campground has the Gulf on one side and a quiet, placid bay on the other. This is the approach to the bay, taken when the sun was low in the sky.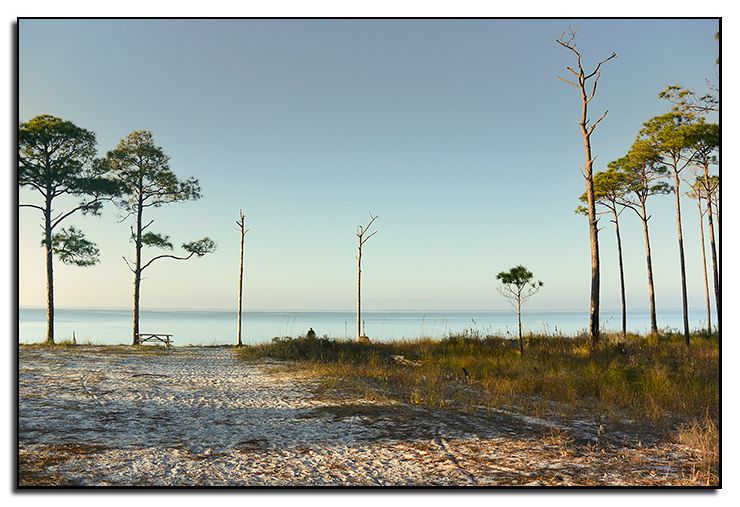 I sat at the picnic table for a while just enjoying the quiet, and then took one more picture as the sun was lengthening the shadows.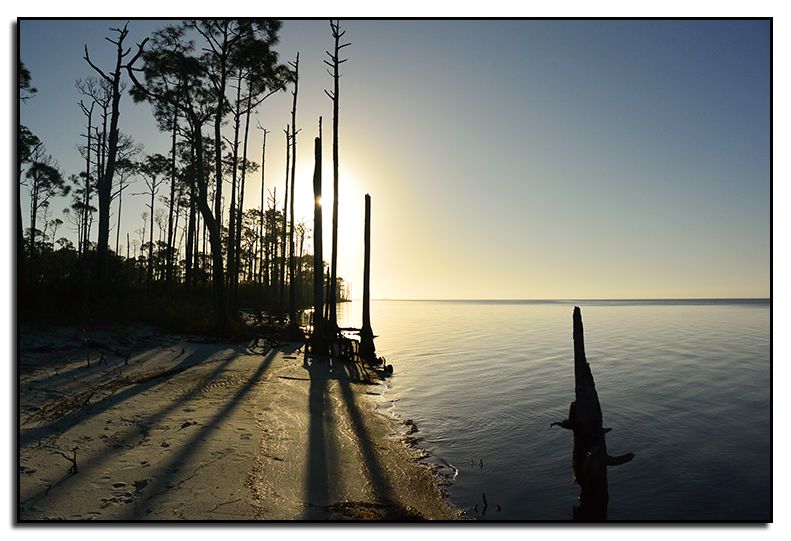 And then out to the Gulf side the next day for some beach sitting. First, the obligatory seagull photo.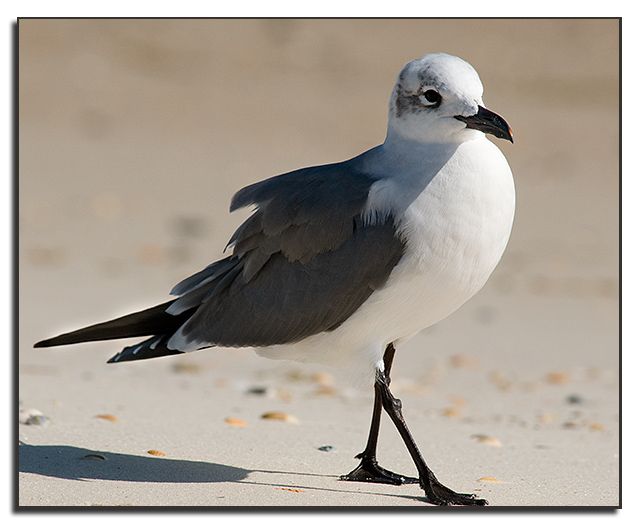 I believe this great blue heron has made an appearance in this blog before, but maybe it was his look-alike cousin...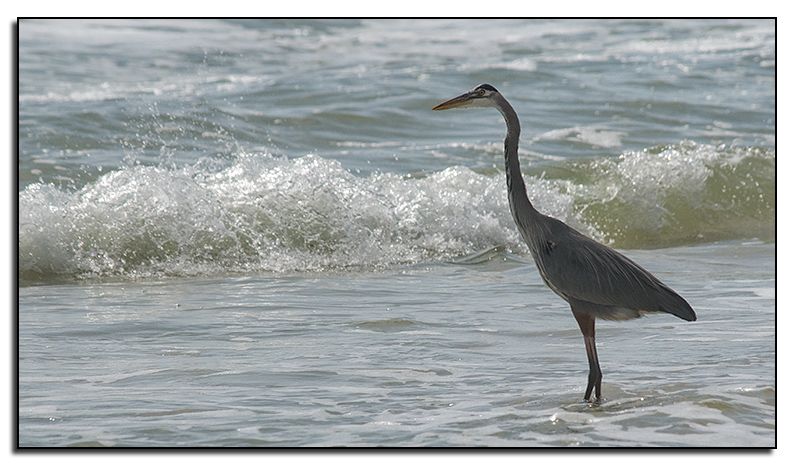 I sat for a long time looking for dolphins (no luck), and watching the little sandpipers skitter across the shallow water of a receding wave.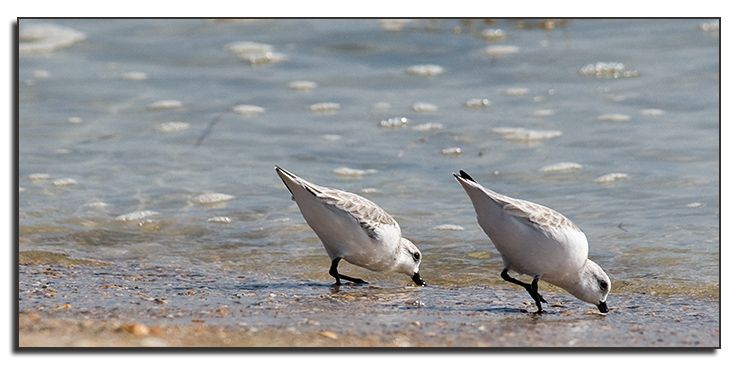 Every once in a while one would get carried away with the search for food and fail to notice the next wave coming in...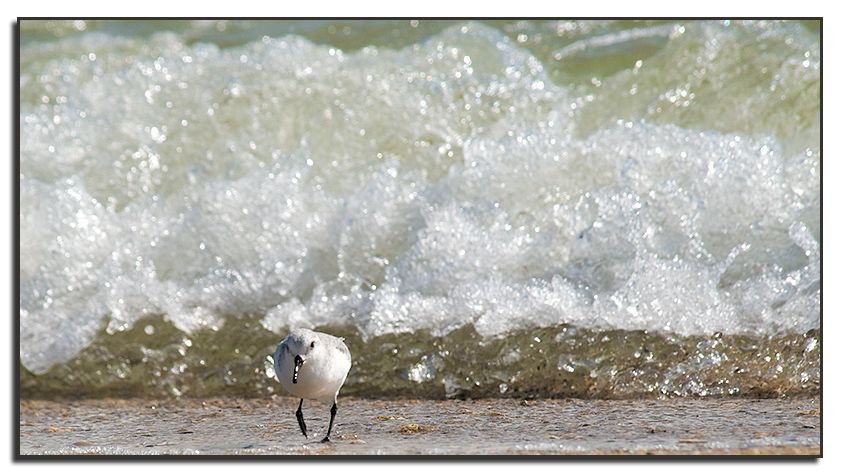 I had plans to camp elsewhere later this month, which, in addition to other future plans, would prevent me from returning to St. George until late January. While I was sitting on the beach I realized I didn't want to wait that long (I may have mentioned that we are moving to NC in May, and so my camping time at St. George is limited) (no plans to return to FL once we move). So during this trip I cancelled those plans and reserved a site in this campground for those dates. I hope to return to St. George several more times before we move, though I might not post those trips.
This was a great one! I hope the oyster population can replenish itself before I get back; Kim and I managed to deplete it somewhat.