After about four consecutive trips back to St. George Island to camp, I have finally started going elsewhere! (Only because the snowbirds are keeping that campground full....) I decided to try a new private campground in Homosassa, one that is right alongside the Chassahowitzka River, a river I have heard of but never paddled.
Here I am in my site, #22.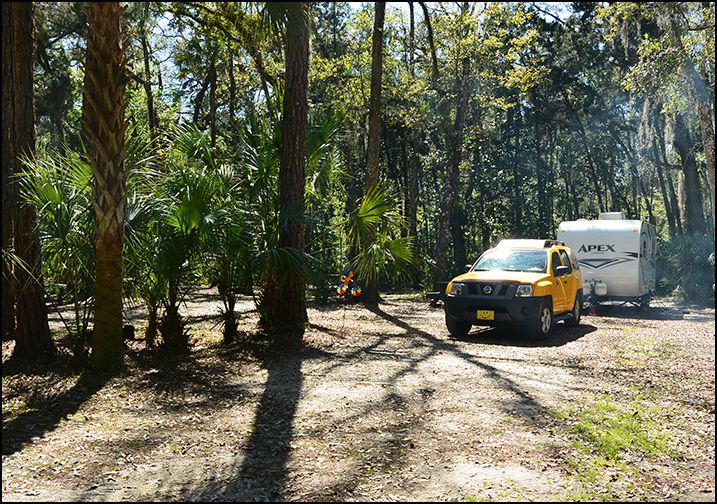 This is a very long site, as many of them are. I parked far at the back, so that my windows wouldn't be directly adjacent to the patio of the rig in the next site. While I would not call these sites close together, there is so little greenery that there is little privacy. There are, however, lots of tall trees, and each site seems to be somewhat hemmed in by them, particularly at the entrance. This would be a backing-up nightmare for anyone who has trouble with that. Also, because of the trees, very large bus-type RVs could have a problem here, though there were so many that obviously they can get into the sites. Here is a view across 2 or 3 empty sites next to me (which later were filled):
I had taken my kayak, and I went down to the boat ramp the next day to launch. This proximity to the ramp (1/4 mile down the campground road) and the wonderful sandy launch area for canoes and kayaks are the best features of this campground, IMO. They rent canoes and kayaks for reasonable daily rates right at the ramp.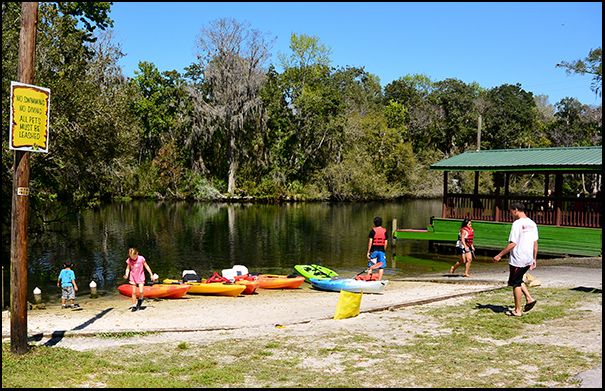 I turned left after launching, which is downriver, but at this time was against the wind and current (the tides affect the river here), so the best way to start. Here's how the river looks just off the ramp.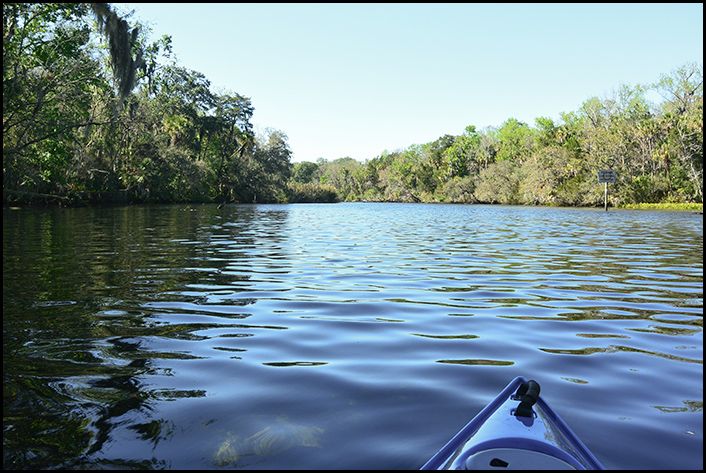 Strangely, there were no egrets at all on the shorelines. However, I did see this great blue heron.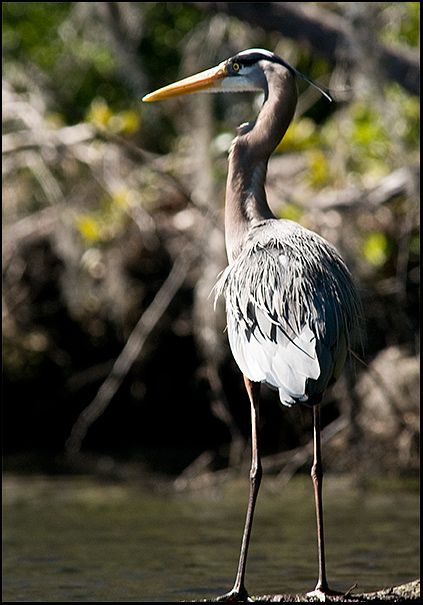 I paddled a little farther, encountering a lot of other paddlers on the river. And then I saw a surprising but welcome sight--a pelican!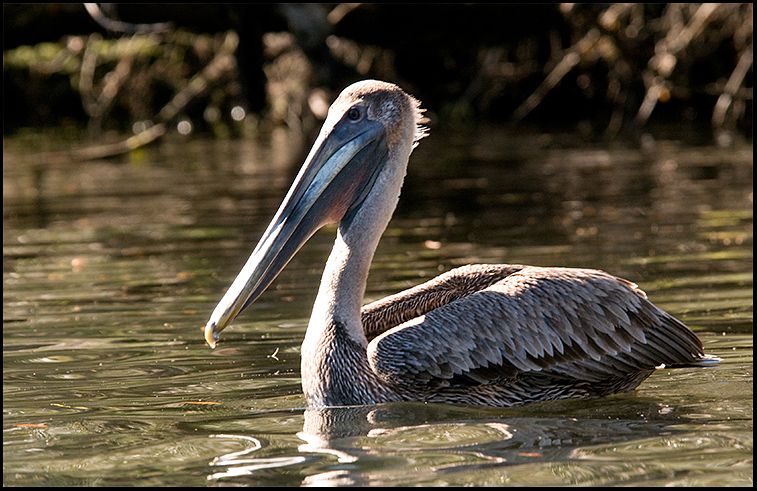 That was not the only one on the river, and over the course of two days of paddling, I ended up seeing quite a few of them. I thought I had said goodbye to pelicans when I had my last stay at St. George (we are moving to North Carolina soon, where I don't believe there are many pelicans, at least not in the mountains...).
I headed back to the boat ramp after a couple of hours. This anhinga was drying its wings in a tree.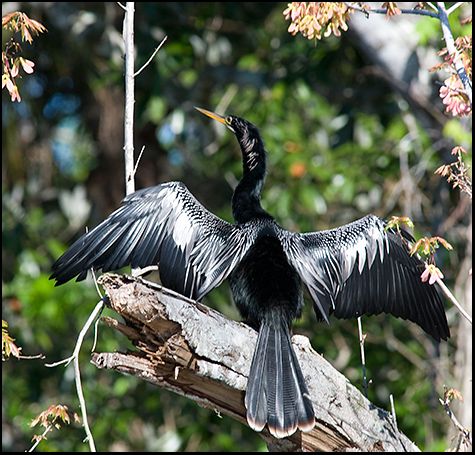 When I was approaching the ramp, I saw an osprey at the top of a tree.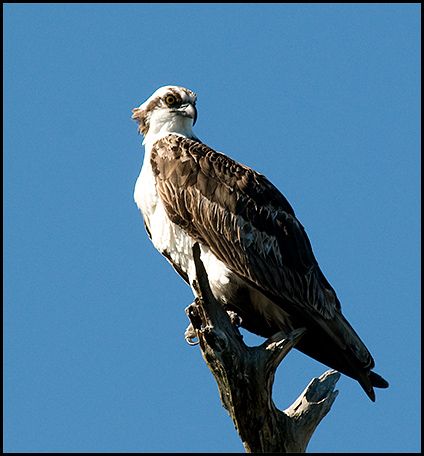 There is quite a large deal made out of the manatees that are in this river, and there was a huge grouping of them just off the boat ramp. I generally tend to keep my distance, given their occasional fun idea of bumping kayaks...I am carrying a fairly expensive camera in the boat and so even friendly dogs at boat ramps can be a tipping risk, never mind a giant manatee! But I decided to get a few pictures anyway.
This one was coming up for air next to me,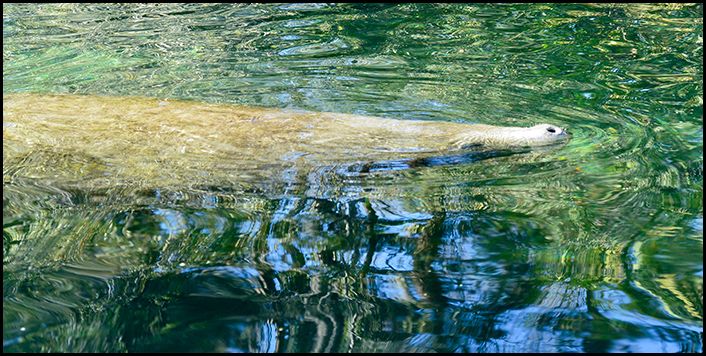 while these two are swimming away.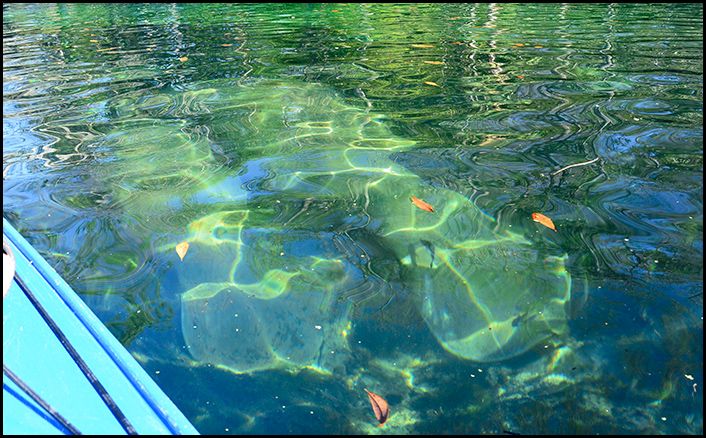 I went back out paddling the next day, repeating my downstream trip, and then drifting over the manatees to continue upstream. The river looks like this going upstream: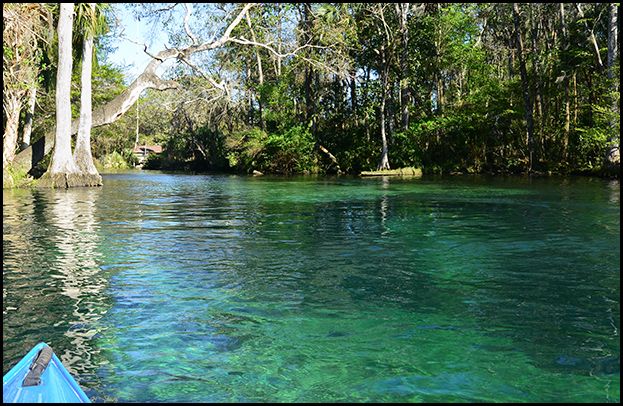 Since this is spring-fed, it is crystal clear. I paddled into a canal, one of those that has high concrete edges, with houses on either side. I passed a bait shop with many pelicans hanging around it. I went on for a way, but then it was getting late and so I turned around and drifted slowly back. And then I saw this fin coming at me, slicing very rapidly through the water ahead of me and headed right for me. My mind kind of blanked out while I watched it, but I did decide to move over to the right to get out of its way. It moved with me. Of course after a few seconds, which is all it took to reach me, I realized what it was. A dolphin! It passed right by the boat, no more than 12 inches from the side, and looked up at me as it went by. I mostly just gawped back at it as it passed. And then of course came to my senses and realized that I had been sitting there with not one, but two cameras in the boat....and had gotten no photos of it. Ah well.
Here's the boat ramp area from the water.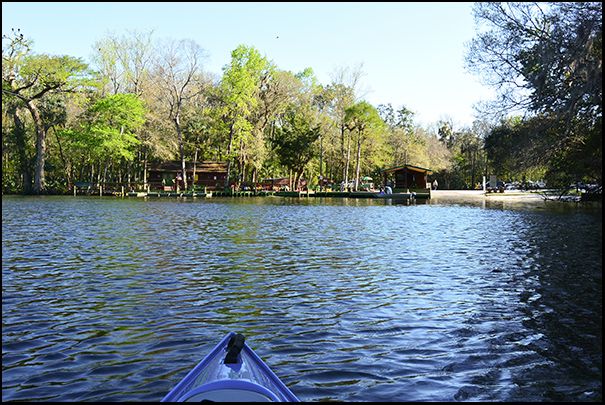 On Saturday I wanted to go for a hike. I prefer state parks to private campgrounds for a lot of reasons, one of which is the trail system they all have. I had to drive into Crystal River, some 13 miles away, to reach the Preserve, which has trails. Actually, I had chosen a trail that was even farther, 20 miles away, near the visitor's center (which is closed on weekends, as is, oddly enough, the nearby Nat'l Wildlife Refuge). The trail was nicely cleared at its start.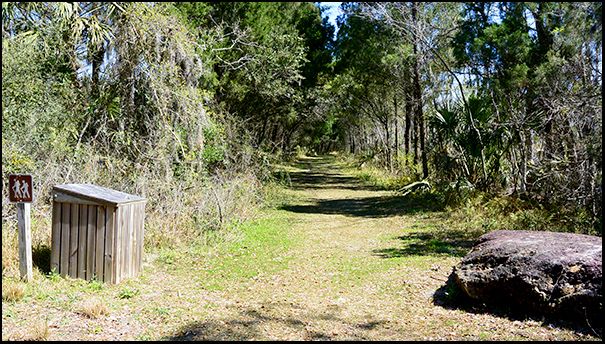 There are no signs on the trail at the many points where it splits into 2, 3, or at one point, 4 different directions. No indication of trail length or whether it is a loop. I took one of the forks at one spot and it dead-ended. I was fairly frustrated with it all and decided to just go back to the campground. Then I came to a hub with 4 different trails going off it, and two people with fishing poles emerged from one of the spokes. Ok, maybe there is water not too far down that way. So I headed that way. Within half a mile, I came to water on both sides. This side had a no-wake sign, so it must be a tributary of the river.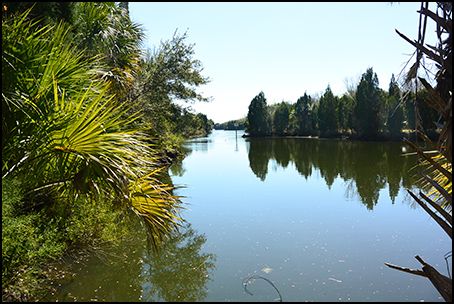 This side seemed more like a small lake.
And then I headed back to the campground.
Here's some campground info. Verizon cell service was 2-3 bars. My Verizon Mifi hotspot got a very strong signal--as a result, I can't report on the campground wifi since I never used it. The bath house is clean and heated (nice!). There is a Publix supermarket very close by, and a Walmart not far down the road. The Publix has a Chinese restaurant in the same shopping center as well as a Subway, but that's about it for restaurants close by. This was a huge drawback for me. If you want anything besides Chinese or Subway, you are going to have to drive at least 15 miles one-way (hmmm, the Pizza Hut might have been closer than that). In addition, there's just not much to do in the area! There is a very nice wildlife park in Homosassa, but once you have seen that, you have exhausted the local attractions. So, this would be a great place if you want to cook all your meals and spend all your time either on the river or in your site. This is a surprisingly empty part of Florida. When you check in, the person at the desk will give you a list of the campground rules, which are for the most part the same as you always see. She will then tell you that they are particularly firm about two of them--quiet time is 10 pm to 6 am, and no alcohol is allowed in the park. I'm not sure how they expect to regulate that last one, and I have never encountered that before.
Next trip is to a familiar place with a couple of friends. I have to get in as much Florida camping as possible before we move!