This was my first stop on my trip north to NC with my camper, which will be stored near our house while we make our move in a couple of weeks (and thereafter, since I am not keeping it at the house). I decided that if I was going to make this drive with it, I might as well make it a camping trip, and I routed myself so as to avoid all interstate and Athens, GA (which has a difficult interchange on its bypass that I wanted to avoid at all costs). So, this was my first stop. This was to be a one-night stop, so I was not even going to unhitch.
This park has a huge golf course, a lodge, a restaurant, cabins, and a campground. It's expensive for a night of camping ($35 if you don't have any discounts). I expected it to be pretty nice.
I suspect that the park spends its funding largely on the golf course, followed by the restaurant, then the cabins, then the lodge, and if anything is left, it goes to the campground. If this is the case, then evidently there is rarely anything left.
I was astounded at how un-level most of the sites were--you would be much better in a back-in site than a pull-through. The back-ins were situated on the same hilly terrain. but an effort was made to shore up the low side. When you drive into the campground, you are going up an incline. I decided to see if sites at the top of the incline, but before the downhill side, might be flat--this was a particular concern since I was not unhitching so I would not be able to do much leveling of the camper, and the height of the hitch mattered. I did find a site at the top that was sufficient. I'm sure the person in the next site wondered why I had to park so near them when there were so many empty sites....or maybe they figured it out.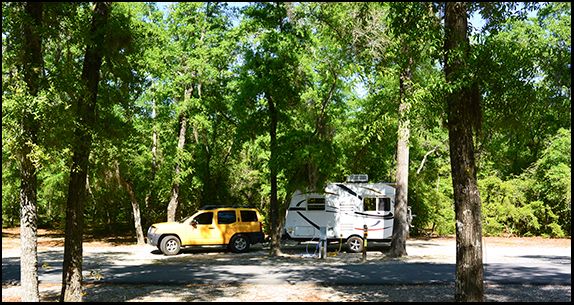 Here is the back of my site, which was very nice, with a fire pit, grill, and picnic table, facing woods.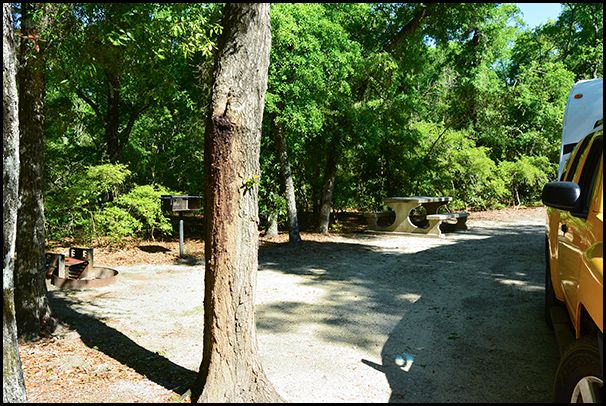 On my way to the bath house I noted one of the uneven sites and decided to see if I could show it in a photo. My camera has a built-in level, which enabled me to be certain I was holding the camera level (which is also shown by the bath house in the background). This site goes left-to-right, on the gray gravel. Perhaps you can see how slanted it is.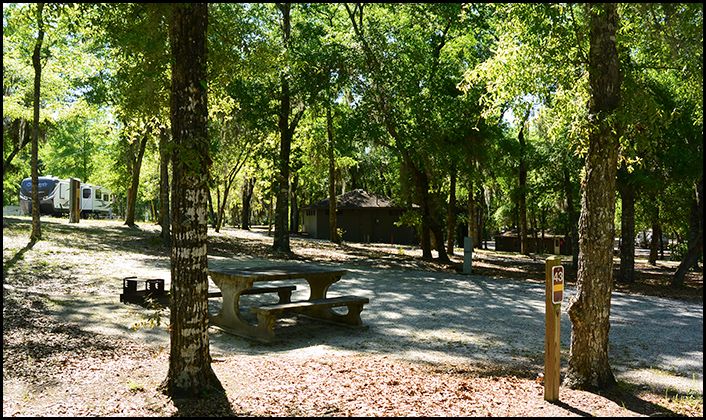 The bath house has flaking paint on the walls and a somewhat mildewy odor to it. It was clean, as far as that went, but far less nice than you would expect at a park like this.
Verizon signal was 2 bars and Mifi was strong enough to stream Netflix. I was not here long enough to explore the area or check out any hiking trails.
I'm sure there are much better campgrounds in this area and I suggest skipping this one if you plan to visit the area. I was eager to get going to my next stop, Watson's Mill Bridge State Park, where I was meeting friends and taking a few days to relax before continuing on to NC.