I was headed the next morning to Watson's Mill to meet up with Sharon and her husband Ron as I continued my trip to NC with my camper (where it would be stored). I got a later start than anticipated, and it rained for the last hour of the drive. I got there about 30 minutes after Sharon and Ron. They had their dogs Sheba and Sunni with them, and it was great to meet them, too!
This campground was quite a contrast to Ocmulgee! Just beautiful--and of course getting there at the height of spring was a help! The dogwoods were blooming and the trees were in all the shades of spring green. The photos tend to look oversaturated with green, but that's genuinely how green it was!
Sharon and Ron had picked a site with another site directly across from it (which I took, of course). This is unusual in this park--most of the sites are not only huge but they are staggered in such a way that you have a great sense of privacy. It's a small campground. I believe there was only one other site taken when we got there, though it might have been two. Later there were a few more campers scattered around, but never any in sites adjacent to either of us.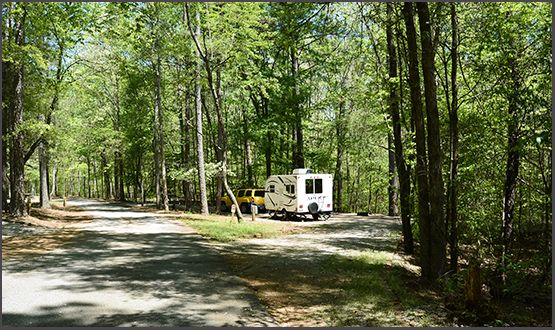 This would be an excellent campground for tenting. Sites have tent pads, and they are well-placed. I would have loved putting a tent here and having that woods view out my door!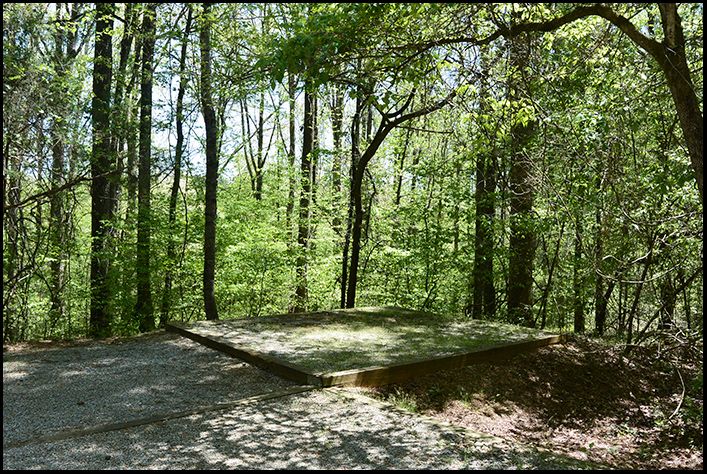 Given the wet weather and the hour, we didn't do much our first day there except chat. The next day was sunny and wonderfully breezy with very low humidity so Sharon and I went for a hike on the nearby trail while Ron stayed with the dogs. It's a very rustic trail, narrow with roots and rocks to watch out for. Also somewhat hilly. There were a few wooden bridges that crossed over low spots. Here's Sharon on one of those bridges.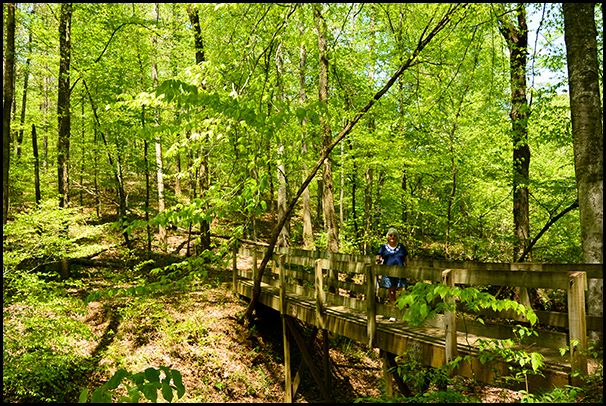 The trail came to a canal running through what used to be a powerhouse. We crossed over the canal and continued our walk.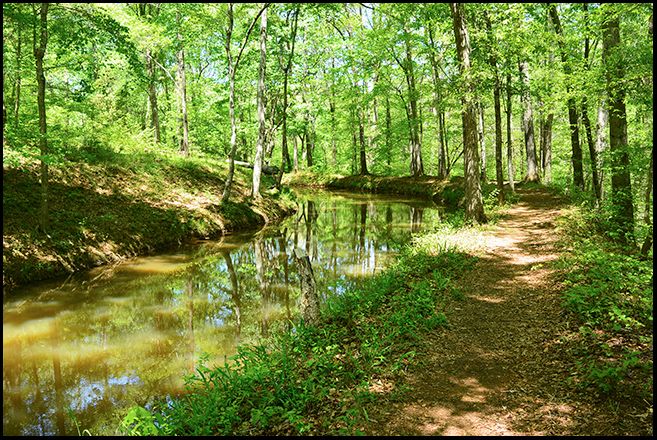 The trail led to the covered bridge. This is the longest covered bridge in Georgia, stretching 229 feet across the South Fork River. It was built in 1885. It is supported by a lattice truss system held together by wooden pins.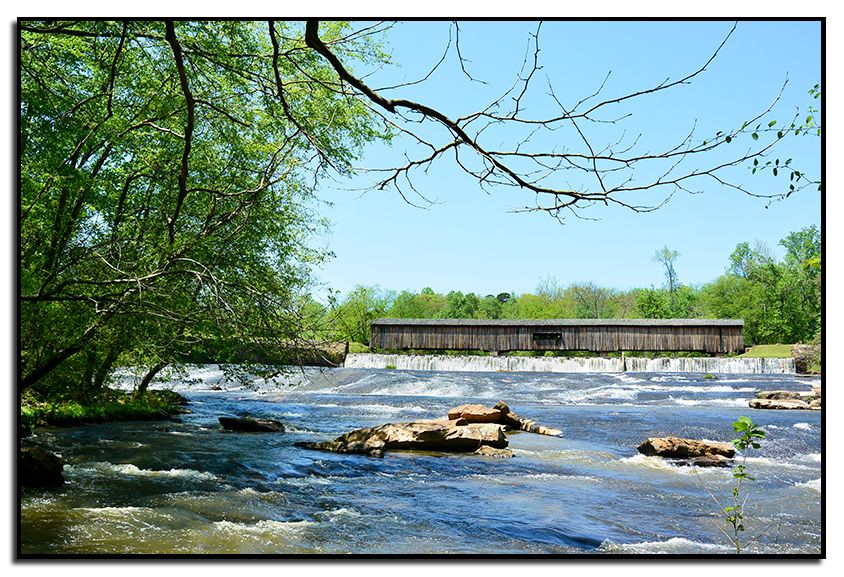 After I took that photo, I looked down at the water swirling around the rocks. Very pretty spot.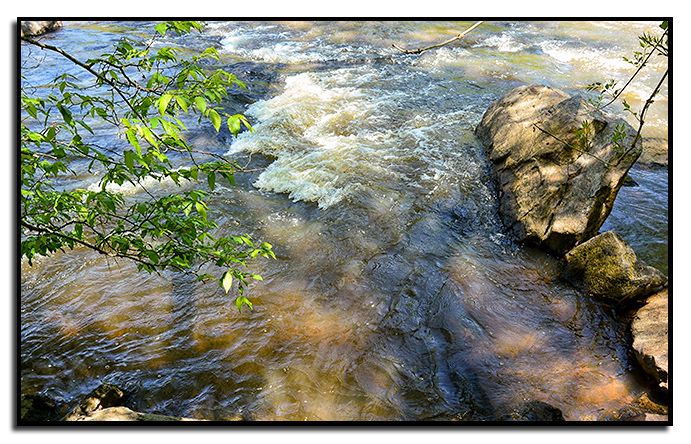 So, back to the bridge being held together by wooden pins. We did walk through it, but I wasn't completely comfortable with that! Cars also drive back and forth through it. Perhaps the processing of this photo reflects my spooky feeling about it. (A car was heading our way when this was taken.)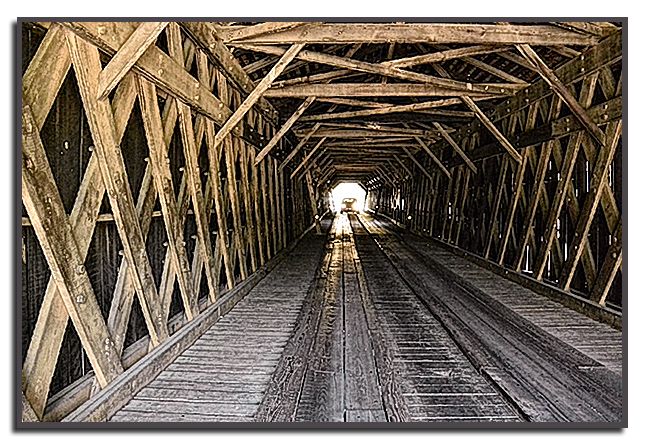 We were there for 3 days and during that time did more walking and a lot of chatting.
Verizon signal was pretty weak--texts went out after some hesitation and calls might have worked, but I was at one or two bars the whole time. Mifi seemed ok for web surfing but was not strong enough for Netflix streaming. The bath house was not new, but it was clean and the hot water and water pressure were fine. The dumpster for trash is farther from the campground than I have ever encountered before, but it's a nice walk on a paved road. There's not a lot to do nearby, so this is a campground better suited for relaxation than sightseeing. There is a Dollar General and grocery store in town, a few gas stations, a Subway and a nice cafe, and some shops which may or may not actually be open for business. There are two ways into the park, one of which is through the bridge. It has a 9' clearance so keep that in mind if you are planning your route to this park. You cannot reserve specific sites here, but on our walks through the campground I didn't see a single bad site--you might want to drive all the way around and see them all before making your choice. There are no sewer hookups, and the dump station is in an odd spot--next to the bath house near the entrance to the campground. So most campers have to circle all the way around the campground and back in again to get to it (this was probably so that it could share the sewer system with the bath house). When you get there, check in at the Visitor Center--you can drive up the driveway rather than parking across the street and walking up the hill--there is a turnaround at the top. The road to the campground is between the Visitor Center and the bridge--it cuts over to the right before the bridge.
I highly recommend this campground.
My camper is now in a storage facility about a mile from our house in western NC. I can't wait to get out and start exploring the campgrounds up there! I don't anticipate ever camping in Florida again, but I will be spending time in north George campgrounds, as well as NC and SC spots.