This is one of those "I didn't camp there but I walked around the campground" camping posts. It was my plan to return to camping a month or two ago, but we got a new (old) dog from the local animal shelter and so my interest turned to spending time with her here at home while she adjusted to her new life and her new dog and cat siblings. I'm still not quite ready to be away for a few days, so it looks like camping will recommence in the spring. I have already found two campgrounds that I look forward to trying.
Meanwhile, I had heard about this Standing Indian recreation area and campground, which is not far from our house. I knew that this campground would not be one I would choose since they do not have water or power hookups at the sites. There are water faucets scattered here and there (and, oddly, one right at site 8), no power hookups, and a small bath house with hot showers. This is an ideal campground for tenters--particularly Loop 1--and would be fine if you have a generator.
You cannot reserve sites, but I don't see that being much of a problem except possibly at peak season in summer. This place has a LOT of sites. Here is a random empty one in Loop 1.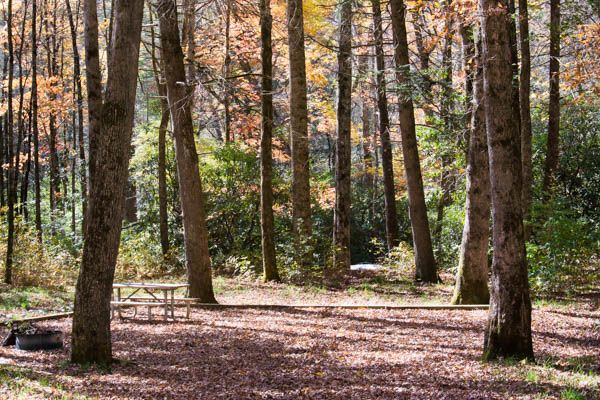 Loop 1 is very woodsy, with most of the sites being quite large and either far apart or with trees between them so the privacy was good. It does not seem to be maintained in any way as far as raking leaves and trimming vines and so on. As you circle around the loop, you find many sites near Nantahala River, which rushes over rocks right next to the sites.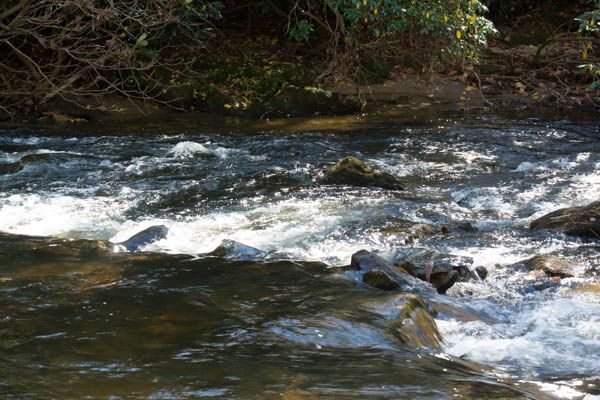 That would be very nice to hear at night!
Here is a view of two sites with tents in them.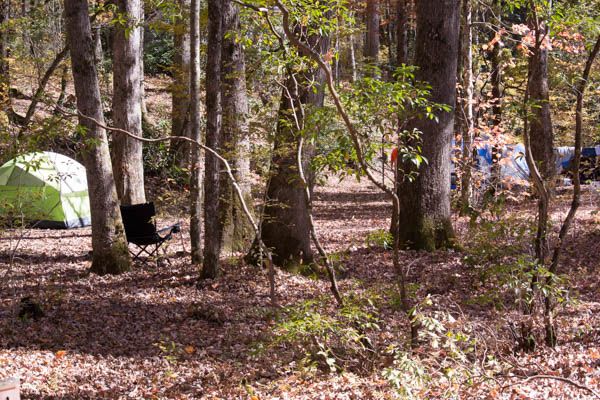 While it is true that there isn't much low greenery between them, they are pretty far apart.
Here's that same site with the green tent, with the bath house above it.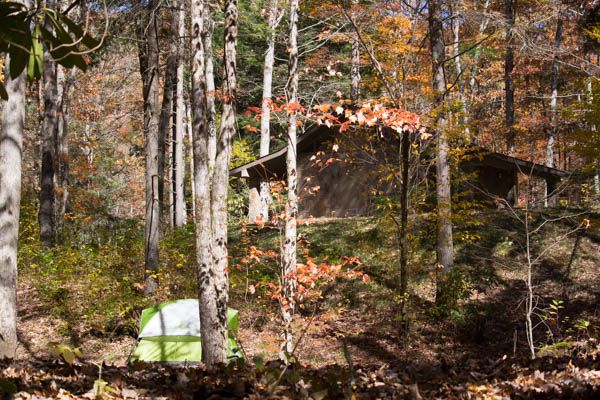 This is the road through Loop 1.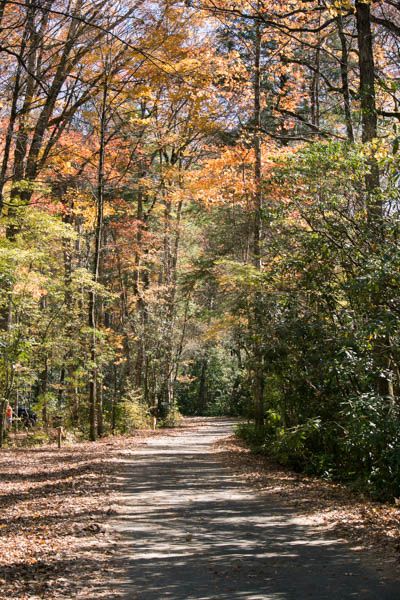 This site is at the end of the loop near the road, another indication of the size of the sites. This one is across from the river.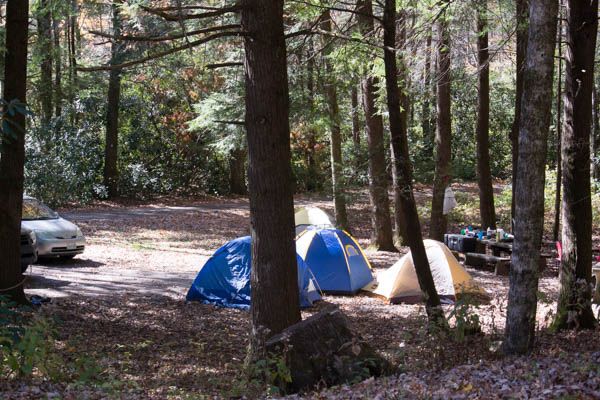 The sites in Loop 1 did not appear to be perfectly level, which is less a concern for tenters. If you are in a tent, this is the loop for you.
Leaving this loop and moving on to the other loops (I think there are at least 5 loops), you cross a bridge over the river.
This is a view of the river from the bridge (a more calm section).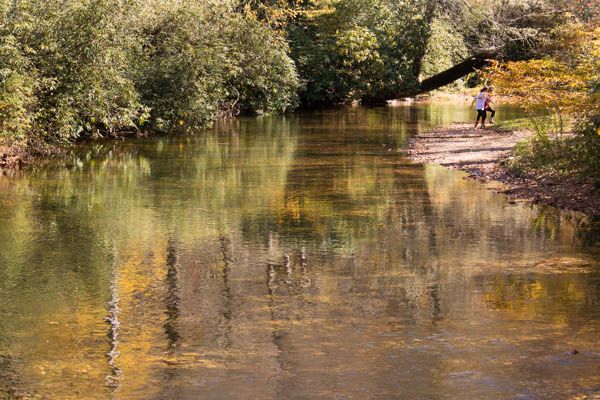 So we continued on to see what the other loops looked like.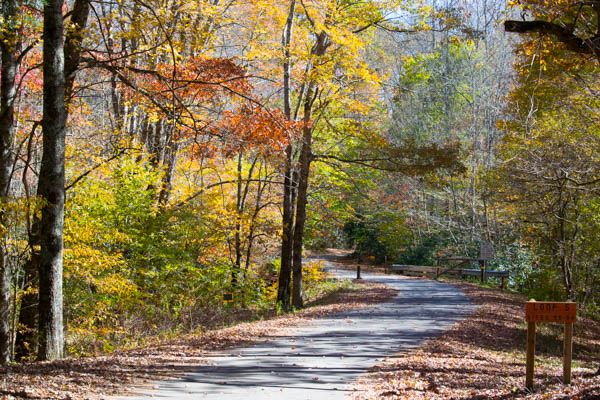 WOW, there is a huge difference between Loop 1 and the other loops! These are wide open and grassy (clearly maintained). Almost all of the sites that we saw were a good distance from other sites, so even though it was mostly grass between them, you still would have privacy. Again, no hookups (which really seemed odd in this section). We parked to look around.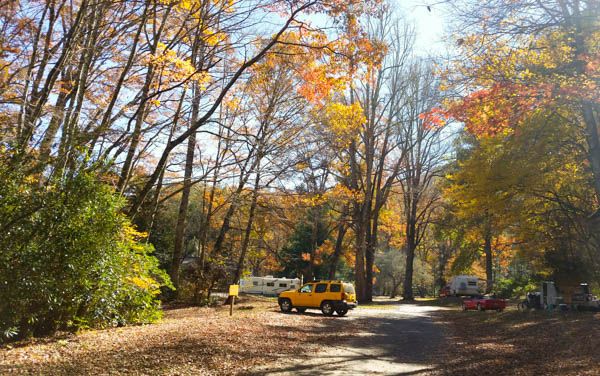 (My camper may not be in this post, but at least my car is!)
I took several photos while we walked around, here they are: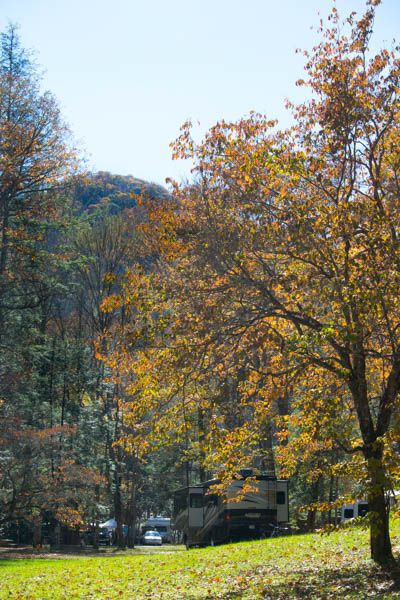 ---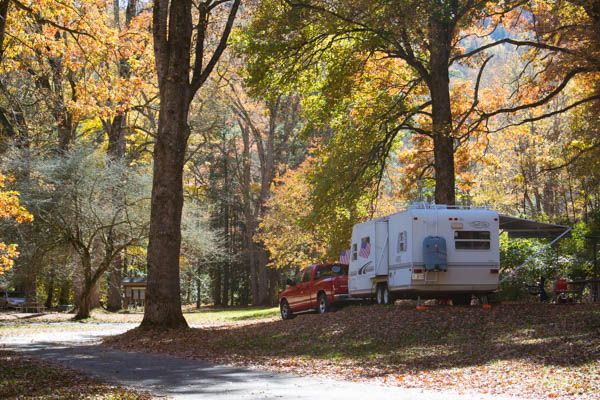 ---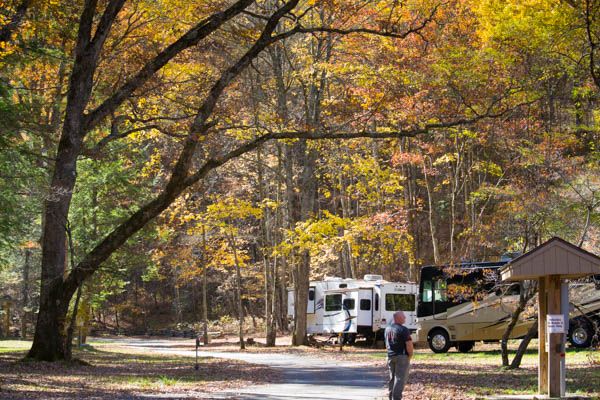 This campground is about 10-15 miles from shopping and restaurants in Franklin, but it's a pretty drive, with a scenic overlook that is a breathtaking view. In the other direction is Hayesville, and Lake Chatuge, which would be ideal for fishing or paddling, and there is a large Ingles (grocery store) and a few other things along the road near the lake. This recreation area is also for day use ($2.00 fee) and has many hiking trails.
If we visit any more campgrounds in this area that I know I will not be camping at, I will certainly get some photos to show you. If not, I will be back to this blog in a few months when I will get back to camping!