As odd as it is for me, I have not started camping yet! By this time in Florida, camping season would be over, since temps are nearing 90 degrees there. Here in NC, it's still a tad chilly. Maybe in a couple of weeks I will get out for the first time in over a year!
I recently went on a trip to Myrtle Beach, SC. I wanted to get back to the beach (I do miss St. George terribly!), and I wanted to visit Huntington Beach SP, where I had read there were long-legged waders to photograph (another thing I miss terribly....not too many egrets in the mountains).
I had not realized that there was a campground at this park. While this is much too far away for me to consider camping (I didn't even like the long drive from home to Myrtle Beach when I wasn't towing a camper), I thought I would wander through the campground so I could post pictures and info here for anyone who is considering that area and this campground.
It's very nice! Not very big, unless it extends out at the far side from the entrance--I had been walking for literally miles that day between this park and Brookgreen Gardens, which is just down the road, and so I only walked far enough into the campground to get some photos of the look of it. Here's how it looks when you first enter the campground: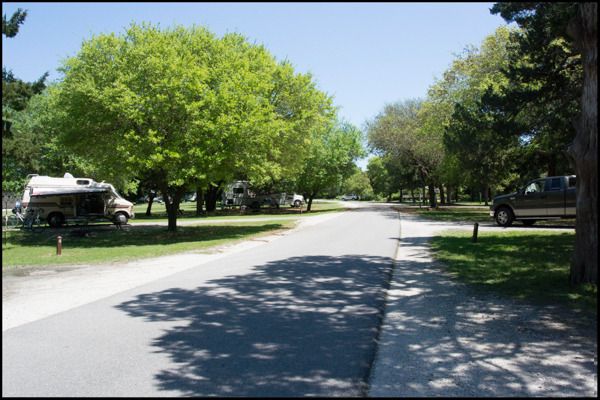 I took this standing in a site, looking across at other sites.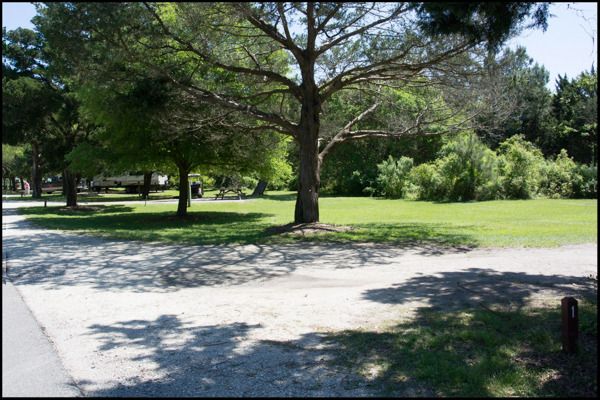 And this one is of site 4, a fairly typical site based on the empty ones I saw.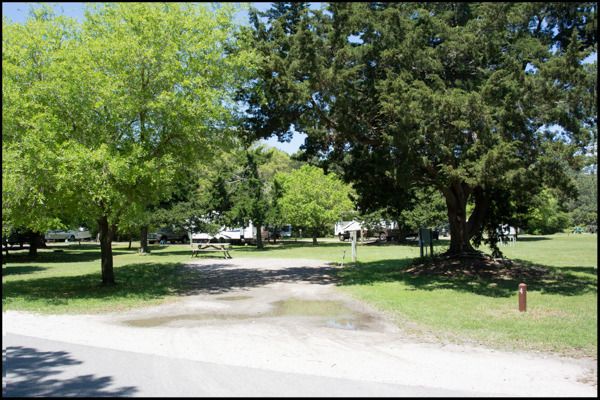 There was a good mix of very large RVs, smaller campers, and I even saw a tent there. Sites are level, most seemed shady, and they are spaced nicely.
This park has several things going for it. This is Low Country and so there is marshland there. There is a causeway you drive across and can park and walk back across that has deeper water on one side and marsh on the other. You could walk or bike to that causeway from the campground. A little farther from the campground, but still biking distance, is a boardwalk that stretches over a wetland area.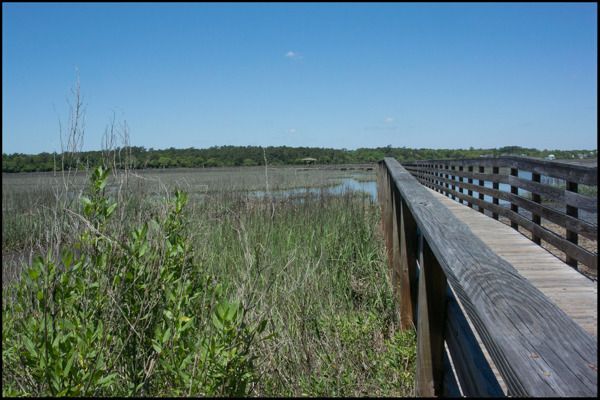 In contrast to that, just beyond the entrance to the campground is a picnic area with shelters, and beyond that, the beach.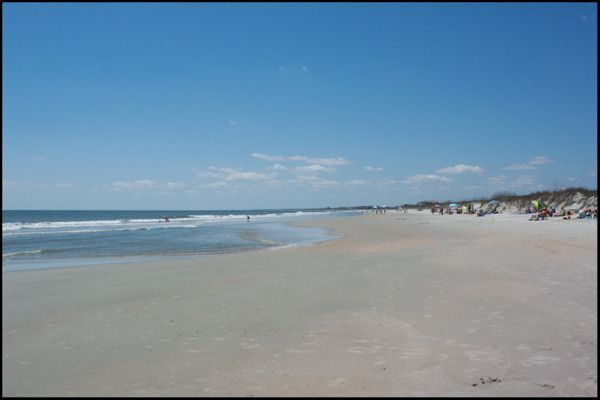 About a quarter-mile down the road is Brookgreen Gardens, which is a very large area (well, seems large as you wander around, but in fact the woman in the Welcome Center told me it is only a mile from end to end) filled mostly with statues and sculptures. In addition to the statues, they have an animal park with an aviary and assorted mammals, and also a small butterfly house. You can easily spent most of a day there.
I took a lot of pictures there, which will ultimately end up on another blog, and I am including two here. Oddly, they seemed to work better in black and white, so that's how I processed these. You get the idea.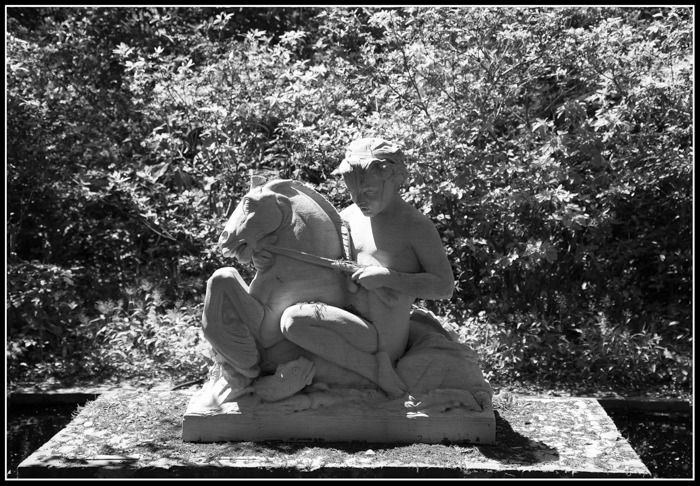 ---
Myrtle Beach is about 20 miles down the road. There's a lot to see and do there, and if you have kids of any age, they will love it. I passed this Hollywood Wax Museum several times while driving around, and took this out of my car window while at a traffic light.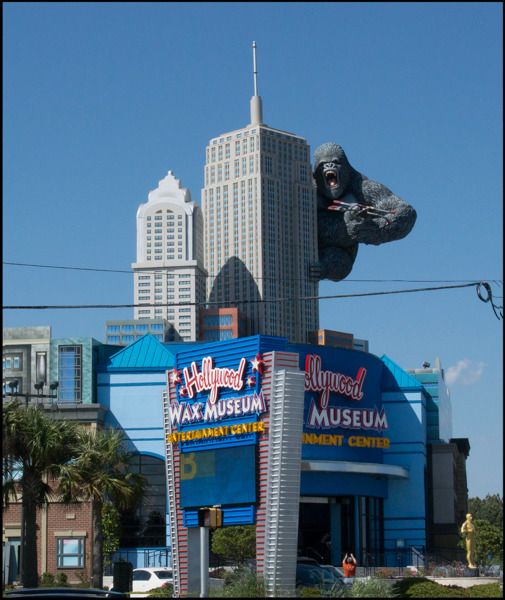 I didn't make it to the wax museum on this trip, nor to Planet Hollywood. I did, however, go to a place called Broadway at the Beach, which was really great and would be ideal for kids. Shops, restaurants, attractions, a small zip line, and a place called WonderWorks that I kind of wish I had gone into. And more--I didn't see all of it since I had reached my walking limit for the day by that time!
I recommend this campground!